Free Wheelchair Mission Transforms Lives with the Gift of Mobility
A wheelchair signifies much more than just the opportunity to be mobile. For years, the international nonprofit, Free Wheelchair Mission (FWM), has set out to provide the transforming gift of mobility to the disabled around the world. Through its good deeds and missionary work, Free Wheelchair Mission makes a wheelchair signify hope, dignity and independence.
Based in Irvine, Calif., FWM's mission is to provide free wheelchairs for the impoverished and disabled in developing nations. Since 2001, the faith-based organization has placed over 670,000 wheelchairs in 86 countries.
"We must spread the message about the more than 100 million children and adults living without mobility. For families who live on less than $2 a day, the cost of a wheelchair is beyond reach. Many either crawl or wait to be carried, or they spend their days in relative darkness. They are victims of polio, birth defects, viral infections, accidents, brutal mutilations, land mines and warfare. This is why we exist," said Angela Gomez, donor development officer.
While vacationing in Morocco, FWM founders Dr. Don Schoendorfer and his wife Laurie witnessed disabled people struggling to drag themselves across dirt roads, being ignored by crowds. The Schoendorfers could not forget this scene upon arriving back home to Southern California.
Using his background in mechanical engineering and inventing skills, Schoendorfer came up with a simple yet rugged design for a durable wheelchair with easily replaceable parts. Motivated by Jesus Christ's love for the poor, Schoendorfer decided to turn this profound idea into reality.
By putting together wheelchairs using parts already being produced in high volume, Schoendorfer was able to create a very low-cost wheelchair. The cost to produce, transport and deliver one wheelchair to the receiving country is only $71.88. One overseas container of 550 wheelchairs costs $39,534.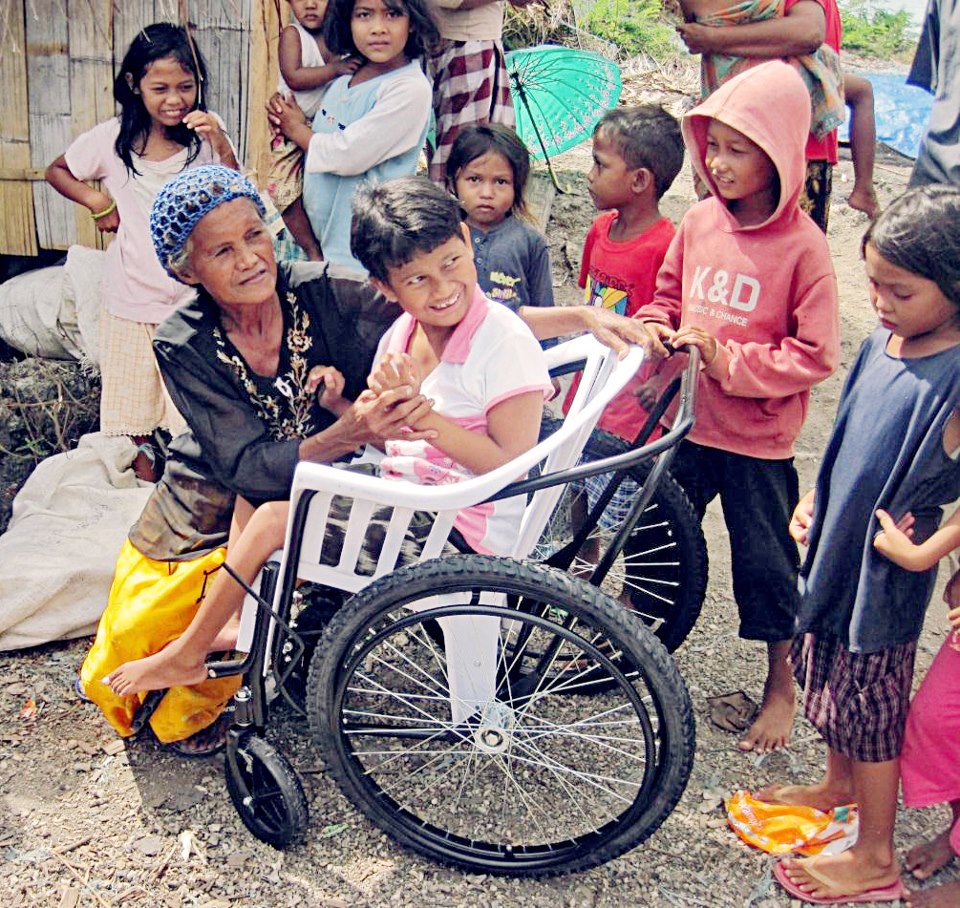 There are two types of wheelchair designs that recipients can choose from. The GEN_1 Design is especially designed for use in the rugged terrain of rural and under-resourced areas. This design combines the durability of a resin lawn chair with the strength of a custom steel frame, all tucked into a sturdy pair of mountain bike tires. The GEN_2 Design is FWM's newest evolution of design. This highly adaptable, all-purpose wheelchair is created for use in developing countries and is designed to accommodate a variety of users. It's available in several widths and is particularly well suited for children and those with special medical needs.
FWM wheelchairs are given free to anyone in need regardless of their faith or lack thereof. The company creatively partners with like-minded international organizations and has developed a worldwide system of distribution partners.
In September of 2012, FWM won a CLASSY Award for the Health and Well Being category. With this award, FWM gained greater visibility for their cause and new online fundraising opportunities. With their award from StayClassy, they get the chance to host a high-profile charity auction on eBay Giving Works, will be featured for a week on eBay's Give At Checkout program, a digital marketing consultation from e-Boost Marketing and one year of StayClassy's peer-to-peer development software.
"Out of the 2,400 nominees that were submitted, to actually be a finalist and win the award is huge because there are many worthy causes out there," said Gomez.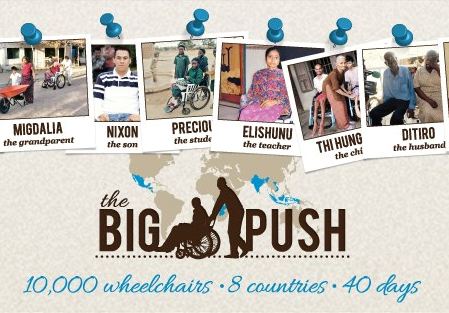 With a long-term goal of providing 100 million free wheelchairs, FWM is doing its part in creating consistent campaigns to reach this goal. On February 12th, FWM launched their second annual campaign called The Big Push. By March 31, the organization wants to give 10,000 people in Zambia, India, Mexico, Botswana, Indonesia, Honduras, Vietnam and Costa Rica a wheelchair of their own.
"Our goal is to fundraise and help raise wheelchair containers […] these are eight countries that we're specifically targeting for this particular campaign which translates to about 10,000 wheelchairs," said Gomez.
The Big Push is just one of the many campaigns that FWM will launch in order to raise money to reach their ending goal and bring more wheelchairs into the world.
"In the eleven years that we've been in existence, we've distributed a little over 670,000 wheelchairs, which is just a small part of that 20 million […] It obviously doesn't address that global need," revealed Gomez. "We have an enterprise goal to provide the gift of mobility to 1.2 million disabled people by year 2017. This means we need to raise $45 Million by year 2017," she added.
The ending goal of FWM is a very high one, but very attainable. By bringing attention to the millions that need help with mobility and staying focused on their mission, FWM will make a phenomenal difference to the world.
To learn more about Free Wheelchair Mission, visit www.FreeWheelchairMission.org.


Tagged in: lux exclusives, charity, causes, nonprofit, organization, classy awards, free wheelchair mission, mobility, wheelchair,