Sevenly.org: Showing that People Matter
T-shirts and hoodies and bags, oh my! Support a special cause every single week of the year by purchasing casual and cool apparel. Sevenly.org is a unique company that designs and creates lifestyle products including t-shirts, hooded sweatshirts and bags that help fund charity projects around the world. Since its inception, Sevenly's priority has been to fund charities, give each one the attention it deserves and prove that people matter. Who knew that a simple t-shirt could make such a huge impact?
Based in Costa Mesa, Calif., Sevenly was founded by two young entrepreneurs, Dale Partridge and Aaron Chavez, when they became aware of a charity dilemma taking place all over the world: thousands of well-intentioned charities are simply not making the difference they intend to. The problem is due to a lack of awareness, funding and following. According to the company, 74 percent of all worthy charities go out of business every year. Partridge and Chavez developed Sevenly as a solution to this global problem.
"The biggest problem wasn't the fact that millions are in need; it's the fact that billions are watching it happen and don't care. Sevenly was developed around the belief that people matter. We figured that if we could just start getting people to give, then we could get them to care," said Ryan Wood, Sevenly's director of public awareness and partnerships.
Since April of 2011, Sevenly has been helping others through its viral social media awareness campaigns and merchandise sales. Sevenly gives back to causes and the charities supporting them by selling unique apparel for seven days and donating $7 of each purchase directly to that week's charity.
With so many weeks in a year, Sevenly has to stay on top of their game to select each week's charity wisely. First, the team chooses a cause and then must choose the charity that they believe best serves it.
"We ask ourselves, 'Which charity offers the best solution to this problem?' […] We receive upwards of 50 plus applications each week from charities interested in working with us. From these applications, we thoroughly research the charity's credibility and potential impact on the cause we've chosen. It's not based on size or influence, but the pure ability to impact the cause of the week," said Wood.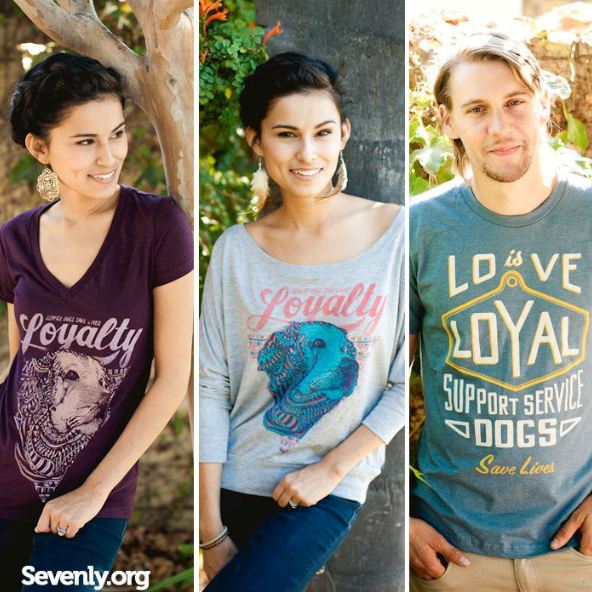 Photo courtesy of Sevenly
Sevenly artists use the charity as inspiration to create a design that is "often expressed through beautiful typography and illustration," described Wood. Every shirt, hooded sweatshirt and tote bag design is hand-drawn by a member of the Sevenly elite, invite-only artist community. The artists hail from locations all over the world, including South Africa, Sweden, Michigan, California, France and more.
The company has grown organically through social media, the brand's artistic finesse and their superior ability to connect. With an expertise in social engagement and marketing, Sevenly has discovered innovative ways to spread their mission and message through their blog, Facebook, Twitter, Pinterest and Tumblr.
"You see, it's not about us. We are just a vessel. Through interaction with our brand and product, people have really got a sense of that and I think it deepens their attraction to our mission," said Wood.
Although it has been around for less than two years, Sevenly is already making a difference. Their largest check for a single week's earning was written for over $204,000, a combination of their product sales and a matching donation that was given to the Autism Speaks organization. To date, they have donated over $1,262,000.
Sevenly has caught the attention of hundreds of charities, organizations and even a few people in the entertainment industry such as actresses Megan Fox, Shay Mitchell and Serinda Swan as it continues to grow. With such a high demand of charities wanting to work with Sevenly, they have no plan but to keeping raising the bar even higher.
"Sevenly is planning to raise more than $3.2 million for our charity partners in the year of 2013. There is no holding back on our end. People's lives are literally dependent on the Sevenly community's ability to rally behind our causes and we take that very seriously," said Wood.
Through the world of fashion and social media, this community of passionate individuals is making a difference one t-shirt at a time and making Sevenly truly heavenly!
To learn more about Sevenly, visit their Facebook, Twitter and www.Sevenly.org.

Read more on Philanthropy.
Tagged in: charity, causes, accessories, organization, awareness, donations, graphic tees, sevenly, sevenly.org, charity brand, t-shirts,