Wellness Wednesday: 10 Healthy Recipes Using Quinoa
If you haven't hopped on board the quinoa train yet, the time is now. These grainlike seeds qualify as a complete protein, contain cancer-fighting phytonutrients and are extremely versatile and simple to cook! Get started with these 10 creative recipes.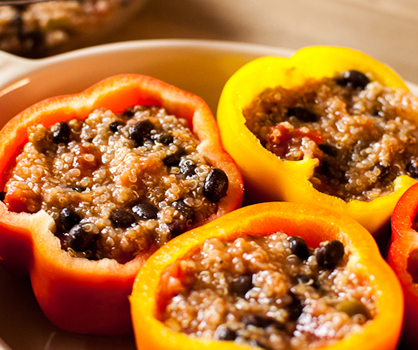 Quinoa Stuffed Bell Peppers
Put a Mexican spin on the seed with quinoa stuffed bell peppers. Featuring black beans, salsa and a cheese topping, you'll get an A+ for presentation with this colorful vegetarian dish.
Garlic & Thyme Quinoa Patties
Perfect as little appetizer bites or accompanied with a salad, garlic and thyme quinoa patties are a party in your mouth. With the bold addition of chives and paprika, these tasty tidbits are best served with ketchup.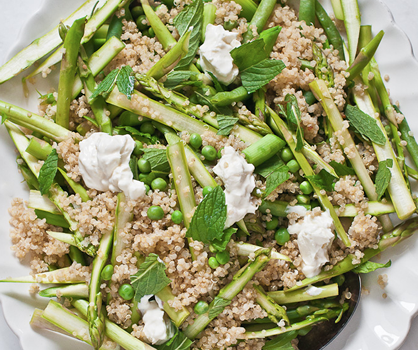 Spring Quinoa Salad
Go green this season with a fresh spring quinoa salad. Mixed with asparagus, peas, mint and lemon, this refreshing salad is topped with a Greek yogurt sauce for an added dose of protein.
Thai Coconut Quinoa
For an exotic and spicy dish, try Thai coconut quinoa. Don't let all the ingredients scare you – this dish is still simple enough for a weeknight dinner. Top with cilantro and roasted peanuts for an authentic touch.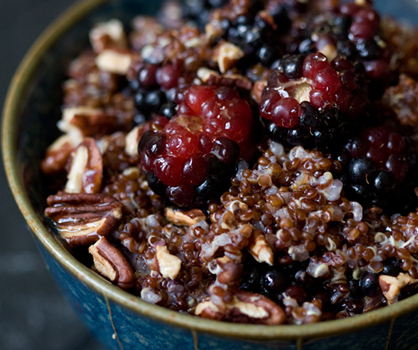 Nutty Cinnamon Quinoa
Start your day with a berry-studded bowl of nutty cinnamon quinoa. Filled with healthy fats, protein and complex carbs, this recipe will keep you full until lunch. Top with honey for a sweet finish.
Quinoa & Roasted Red Pepper Chili
On a chilly night, throw together a spicy bowl of quinoa and roasted red pepper chili. Loaded with fresh vegetables and complex carbs, it gets an extra kick from poblano chilies.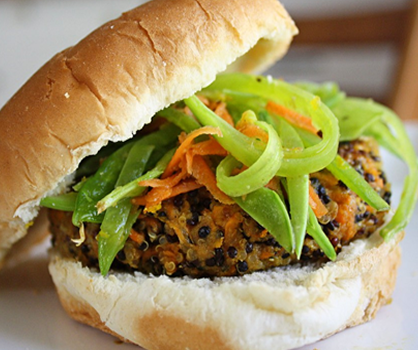 Quinoa Sweet Potato Burgers
Ditch the meat and opt for a quinoa and sweet potato burger tonight. Top this delicious patty with a snow pea slaw and whole wheat bun and you've got a complete meal.
Mediterranean Quinoa Salad
Make yourself a protein-packed lunch with a Mediterranean quinoa salad. Made with all natural and fresh ingredients, this salad incorporates all your favorite Greek flavors.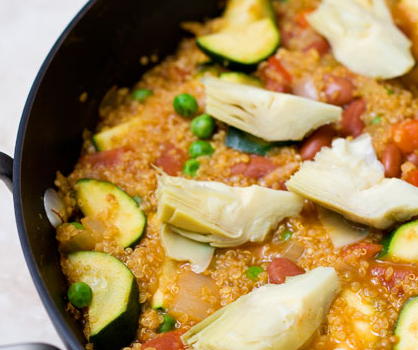 Quinoa & Vegetable Paella
Use quinoa as a base instead of rice in a nutrition-filled vegetable paella. Featuring artichoke hearts, beans, bell peppers and zucchini, the flavors in this spicy dish get better overnight, so make extra!
Quinoa Pudding
For a sweet treat, opt for a simple quinoa pudding. Similar to rice pudding, this delicious dessert is cooked in milk, vanilla and cinnamon. We suggest using almond milk as a healthy alternative.
Read more Wellness Wednesday
Tagged in: wellness, food, wellness wednesday, recipes, nutrition, health, quinoa,