Hollywood memorabilia auction offers unique items
Are you someone who loves movies, Hollywood history and its legends? If so, you definitely want to know about this one-of-a-kind auction taking place May 7 and 8, both online and offline. Julien's Auctions, known as the premier auction house for high-profile celebrity and entertainment auctions, will be hosting, "Hollywood Legends 2011" in Beverly Hills.
Featuring a range of Hollywood memorabilia, from John Wayne and Lucille Ball to "The Da Vinci Code" and Marilyn Monroe, the 2011 Summer Hollywood entertainment auction is an event to find treasures only Hollywood can provide: Check out the array of professional photographs, costumes, private correspondence, personal candid snapshots and more from some of your favorite stars.
"We offer the rare opportunity for people to own a piece of entertainment history," Darren Julien, president/CEO of Julien's Auctions, said. "Property from the lives and careers from some of the world's most famous celebrities are always associated with unprecedented storytelling and very personal experiences of the celebrity involved. For many collectors, it is like buying a memory or reliving a moment in history."
Julien's Auctions' history of success includes a 2004 partnership with Christie's auction house to sell entertainment memorabilia, which generated a total of $2.1 million, making it one of the most successful multi-consignor sales of entertainment memorabilia ever. The auction house also had the opportunity to collaborate with Sotheby's auction house in 2006 to offer items from the life and career of Cher, a sale that totaled more than $3.5 million. Today, the company vends jewelry, fine and decorative arts, and other high-end property as well as 100-percent authentic memorabilia from some of Hollywood's leading ladies and gents.
"(We hope) to allow fans to garner the opportunity to own a piece of entertainment memorabilia they will truly treasure for many years to come," Julien said. "… Auctions are of themselves an entertainment event. We have made history many times over with final hammer prices astonishing the owner who may have consigned it."
While the site offers more than 600 famous options, LadyLUX has selected five of the most iconic for your perusal.
Diana, Princess of Wales, Worn Gown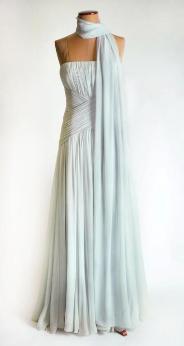 Truly made for a princess, this gown was worn by Diana, Princess of Wales, on a number of high-brow occasions: at the Cannes film festival, for a performance of "Miss Saigon" and for a portrait sitting with photographer Terance Donovan. Designed by Catherine Walker, the strapless, floor-length dress is fashioned of light blue silk chiffon and boasts a label that reads "Catherine Walker for The Chelsea Design Company London." With accompanying stole. Valued at $40,000 to $60,000.
Marilyn Monroe Vintage Andre de Dienes Photograph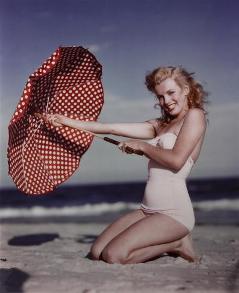 Snapped by Andre de Dienes in 1949, this color CIBA chrome print of Marilyn Monroe is a must-have for Marilyn enthusiasts. Handprinted on heavy fiber paper then mounted, the picture is especially valuable as it is part of a limited edition of only 10 prints. Valued at $1,000 to $5,000.
The Empire Strikes Back Production Materials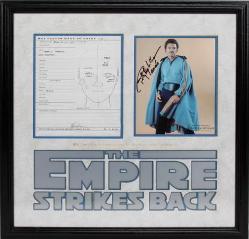 Can we ever get enough of Star Wars? Check out this original set of production materials from "The Empire Strikes Back," which details the makeup design for Lando Calrissian. Featuring the signature of makeup supervisor Stuart Freeborn, the materials are mounted and come with an autographed photograph of Billy Dee Williams, the actor who played by Calrissian. With a Universal Autograph Collectors Club certificate. Valued at $600 to $800.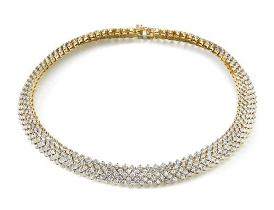 This luxurious 18k gold necklace is worth buying regardless of who wore it. But it is, of course, worth noting that Angelina Jolie sported the piece of jewelry at the premiere of her 2010 movie "Salt" in Seoul, South Korea. The 15-inch necklace is dripping in diamonds, with 475 full-cut round diamonds totaling approximately 35 carats. Perhaps even better, if you purchase it, you will be donating to The Educational Partnership for Children in Conflict, which brings together more than 40 organizations to help children of conflict learn and heal. Valued at $20,000 to $30,000.
Lucille Ball's 1980 Chrysler Town & Country Station Wagon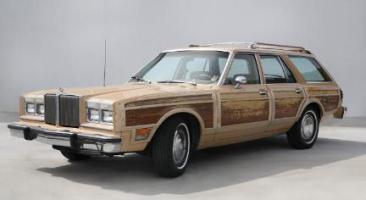 Imagine tooling around the town in a car once used by Lucille Ball. Ball purchased the 1980 Chrysler Town & Country station wagon in 1979, naming the car after her company: "Lucille Ball Productions."
She drove the car for errands as well as for important meetings. Although it was not her only car, she preferred the station wagon because she could drive around without getting noticed. The original Certificate of Title listing "Lucille Ball Productions" as the registered owner is included. The car boasts an 8-cylinder engine, power steering, air conditioning, and power brakes. Valued at $10,000 to $20,000.
Catch the action and bid either online, by phone and/or live from 10 a.m. to 2 p.m. Saturday and Sunday. The auction is happening in-person at Julien's Auctions Beverly Hills at 9665 Wilshire Blvd., Suite 150, in Beverly Hills. The public is welcome to come to the free exhibition from now until Saturday, from 10 a.m. to 5 p.m. You must register to bid in the auction.
You can go to www.juliensauctions.com for all bidding instructions and details. To find out more about Julien's Auctions, visit its website, its Facebook page or follow it on Twitter at @JuliensAuctions.
Tagged in: hollywood, auction, beverly hills, julien's auctions, memorabilia, hollywood legends, mementos,