How To: Host an Oscars Viewing Party
The 85th Annual Academy Awards are upon us and what better reason to get glammed up and host a cocktail party? You don't need to go overboard on your budget or time to throw an over-the-top bash. Invite your closest friends and follow these suggestions for a winning evening.
"Who are you wearing?"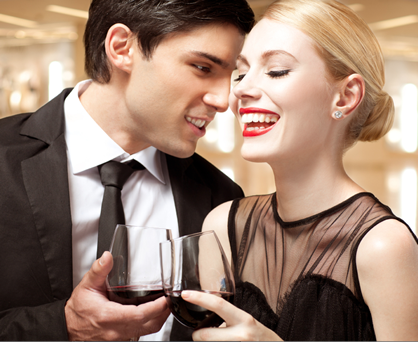 The Oscars are all about glitz and glam and there's no reason you shouldn't partake in the fun. Encourage guests to dress up in cocktail or formal attire to give the evening an elegant feel. Deck yourself out in diamonds and opt for a glamorous updo to feel as though you're on the red carpet. Step it up a notch by hiring a photographer to serve as paparazzi for candid shots of the night.
Set the Stage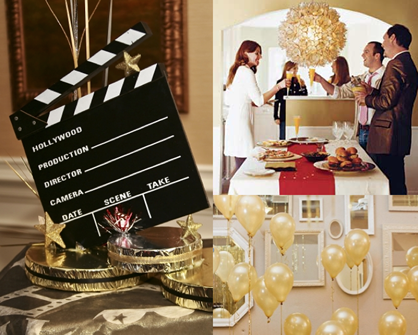 Get in the Oscar spirit with festive décor and ambiance to set the mood for the evening. Lay out a red carpet as guests arrive and have music playing from Oscar nominated films. Add themed touches with mini Oscar statues, clapper boards or old movie reels. Keep the lights dim and when in doubt, go with the gold! Gold stars, gold place settings, balloons and so on.
Food & Beverage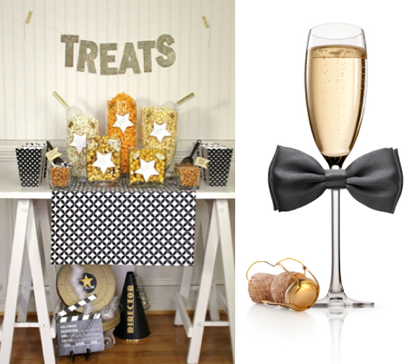 Be prepared for a long night of star-gazing with plenty of finger foods and cocktails to suit the occasion. Since the Oscars are a celebration of the year's best movies, why not pretend you're at the theater? Set up a candy bar with popular bite-sized candies and treat your guests to gourmet popcorn. Party trays of crudités, cheeses and crackers are always a must. It's only appropriate to celebrate with champagne, but throw some Oscar-inspired cocktails featuring the year's biggest hits into the mix.
Entertainment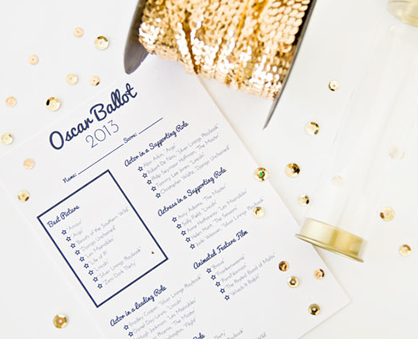 Upon arrival, have guests fill out an Oscar ballot predicting who the big winners of the evening will be. Ask them to also draw names out of a hat with nominees. Guests with winning actors or actresses get a prize! Throughout the evening, play Oscar bingo with cards reflecting the event's biggest highlights. Award winners at the end of the night win a bottle of champagne or movie tickets. If you start the party during the red carpet, don't forget to play Fashion Police!
Read More Oscars
Tagged in: diy, red carpet, oscars, academy awards, how to,