HP and Marchesa collaborate on 3-D fashion
Fashion week is always about new fresh ideas and exciting trends and not all necessarily in apparel. New York Fashion Week Spring 2012 show witnessed an unlikely collaboration – Marchesa, known for stunning red-carpet gowns, and Hewlett Packard, known for cutting-edge technology – that brought fashion to the next level in a special event presented in 3-D style.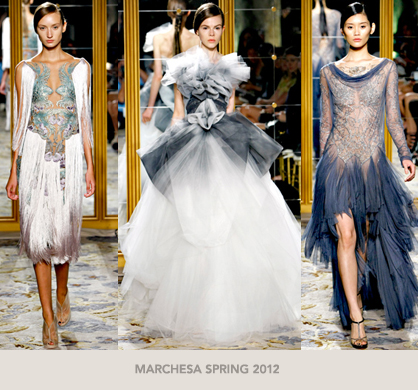 LadyLUX via Style.com
For the event, Georgina Chapman and Keren Craig showcased their sea-inspired collection at the Plaza Hotel. The designers drew inspiration from Ernst Haeckel's drawing of jellyfish, reconstructing the imagery with fringe, while Russian artist Ilya Repin's painting "Sadko in the Underwater Kingdom" prompted designs featuring colorful fish embroidery.
As models flaunted it down the runway in glamorous dresses of sculpted tulle and sheer nude mesh with extravagant beading and swaying fringe, HP captured the show using the new HP Live 3-D technology.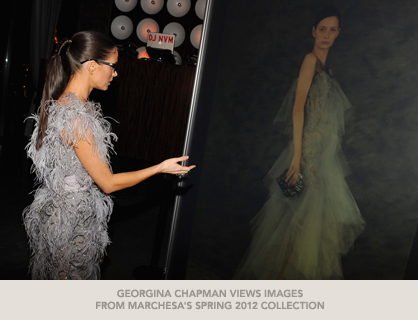 LadyLUX via Getty Images
Later that evening, Chapman and Craig hosted a party to re-create the magic at the Dream Downtown. Using images from the original show, HP projected the affair in 3-D for special industry guests to relive the experience. In attendance and wearing the sleek 3-D glasses for the full effect were celebrity guests such as Emma Roberts, Camilla Belle and Rachel Zoe.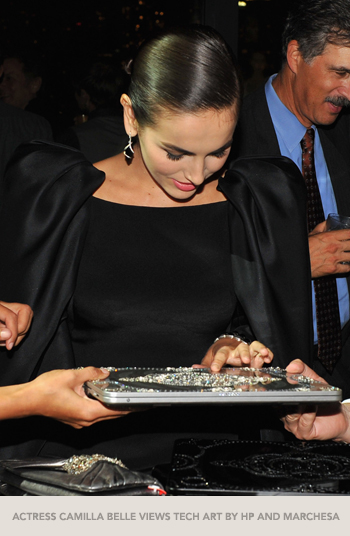 LadyLUX via Getty Images
Joining the worlds of technology and fashion further, HP and Marchesa, together with Swarovski, collaborated on a piece of "tech art" that adorned HP laptops with Swarovski crystals. While the art pieces are not available for purchase, they are based in part on a high-end laptop that HP will introduce in the future. The collaborative team plans to produce a limited amount of the crystal-studded laptops next year, which will be auctioned off for charity.
This article was contributed by Annette Tang of the VersaStyle. You can follow Annette and her fashion adventures on Twitter at @theversastyle.
Tagged in: trends, new york fashion week, runway, spring 2012, technology, marchesa, swarovski, hewlett packard, 3-d,