Inspired by 'Black Swan'
Darren Aronofsky's psychological thriller, "Black Swan," isn't attracting audiences just for the ballet drama and the star-studded cast, but also for the beautiful styling, costuming and cinematography.
Natalie Portman and Mila Kunis, the film's leading roles, enchant the viewers with layered ballet loungewear and modern costume interpretations of the classic production "Swan Lake."
Coincidently feather skirts, tiaras, ballet flats and simple crystal jewelry are a big hit at department stores this holiday season.
Sue Wong's sequin dress (pictured above) is romantic and feminine in a rosy nude, the perfect translation of the white swan into everyday wear. Pair the ostrich-feather hemmed dress with the Swarovski crystal necklace by Bijous Heart and Vera Wang's jeweled open-toe ballet flats, and you can take your vision of "Swan Lake" wherever you please.
Maison Martin Margiela makes a peacock feather cape fit for a fairy tale. In a shiny dark olive hue, this magical addition to your wardrobe might have you trying to find your inner black swan.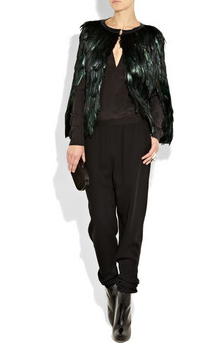 If a skirt seems more manageable, try the feather trend on a black ostrich skirt by Adam. Fitted with a silver-chain embellished belt, it can be paired with a tight tank for the stage or a fitted blazer for a night out on the town.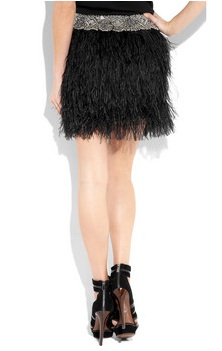 Jason Wu offers a subtler choice with his ivory feather top, just in tune with the white swan's graceful demeanor.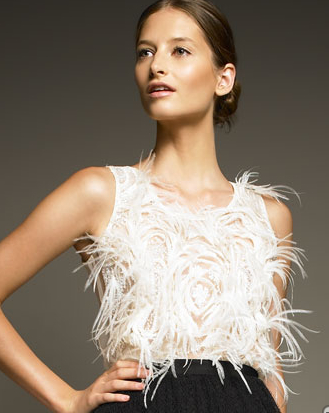 The feathered tiara headband by Young&NG with gunmetal studding and gold beading reflects the theme of duality in the film. Opposite embellishments, of hard and soft, combine for a mystifying effect.
Which swan would you be?
Tagged in: ballet, black swan, costume, feather, white swan, swan lake,