Q&A: Mickey Drexler of J.Crew
J.Crew just keeps getting better and better. The company, in business now for almost three decades, opened another men's store at the beginning of this month, this time uptown on Madison Avenue and 79th Street. With very offbeat, American-look, antique shaving utensils adorning the shelves, along with vintage books, new and unique magazines, and a very woody atmosphere, the store is primed for the Upper-East-Side prepsters and traditionalists, who will be all too happy to welcome their new neighbor.
Here Mickey Drexler, the legendary retail guru and chief executive of J.Crew, speaks on the company's success and latest uptown digs:
LadyLUX: The new men's store on Madison Avenue is fantastic, so masculine yet so stylish. It's the perfect mix. How has the response been so far?
Mickey Drexler: We've been really pleased. Our customers like what they discover at the new shop. It's just a cool place for guys to hang out and shop.
LL: Seventy-Ninth and Madison is a very well-traversed corner. Was there a strategic reason for placing the men's store across from the women's store, or was it just good luck finding a great space?
MD: We knew we wanted to have two floors to display our suiting more prominently . . . The stars aligned with it being across from our women's store.
LL: Is this your first men's store in Manhattan?
MD: The J.Crew Men's Shop on Madison Avenue and 79th Street is our third Manhattan location. We opened the Liquor Store in Tribeca in 2008 and the J.Crew Men's Shop in SoHo in 2009. We had so many men from the Upper East Side shopping our downtown locations and asking when we were going to open a shop uptown, that when this location became available, we knew it was the right move.
LL: What do you hope to achieve with this store and this collection that others in the menswear market have not?
MD: We want to continue to excite our customers with the best products and service out there. We edit and curate the best of the best of what we do alongside our "In Good Company" partners. We've done this in our two downtown locations and have taken it to the catalog and online. A hunger for quality and style are not exclusive to New York City, and if there are guys that do not have access to one of our freestanding men's outposts, we want to do what we can as a company to bring it to them, wherever they are.
LL: What is the philosophy behind the current line?
MD: Classic, cool pieces with the best quality and heritage.
LL: What were their inspirations?
MD: We do reference the past, but always add our twist by updating the fit and fabrication. If you ask a guy what his favorite thing in his closet is, he will always show you the oldest piece because it has a history. That's our inspiration: to create a piece that guys want to wear that looks like they've lived a life.
LL: Who is the brains behind the designs?
MD: Frank Muytjens is our head of men's design.
LL: What are some of the standout pieces?
MD: Quoddy Moccasins. They are handmade in Lewiston, Maine, by master shoemakers. Each of the hand-sewers can tell each other's work apart by the style of the stitch. These guys are paid by the piece and take so much pride in what they do. It truly is an American story.
People also love the Alden shoes and the J.Crew Cashmere Ludlow suit in two-button, as it has a more modern cut with narrow lapels and a slimmer silhouette (it's exclusive to the new men's shop on Madison).
Imogene + Willie denim is also a hit. Matt and Carrie Eddmenson are a couple from Nashville with a long history in the denim-wash business. Everything is made in the USA in their Nashville shop. They produced an exclusive wash for us and, except for one tiny shop in Austin, we're the only retailer carrying them outside of their Nashville shop. These guys are true artisans.
LL: What can we expect for Spring 2011, if you're thinking that far ahead?
MD: We are always looking ahead. We plan to open more men's shops and are opening a men's shop in Copley later this month.



A look from inside the Madison Avenue location.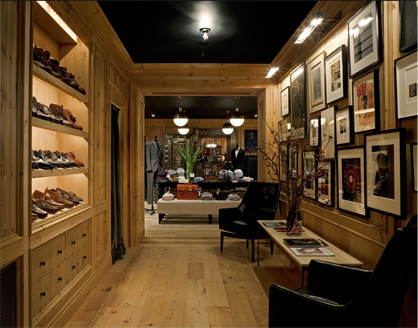 Tagged in: lux exclusives, american fashion, classic, men's fashion, men's magazines,