Jewelry designer Amanda He discusses the evolution of Rocaille and its Spring 2012 collection
Exhibiting gorgeous and powerful statement pieces, Rocaille jewelry's inspiring story actually began in the unlikely industry of finance. The Vancouver brand launched in 2010, but prior to its inception, the artistic jewelry genius Amanda He spent her days crunching numbers as an equity analyst. After earning her MBA, she spent ten years in finance before even considering a career in fashion, never mind starting a line of her own. Growing up, she didn't have a strong interest in clothes, shoes and accessories, but, ironically, it was the rigid and business-minded industry that sparked her creative spirit.
"After I started working at large multi-national corporations, I learned that dressing to impress was important in the business and finance world. I learned that how you present yourself is important to how people perceive you, how you perceive yourself, and how it affects your confidence. That's how I started getting interested in fashion. While I invested in well-tailored suits and shirts, I was also looking for ways to add a little bit of my personality to my outfit through accessories," He explained.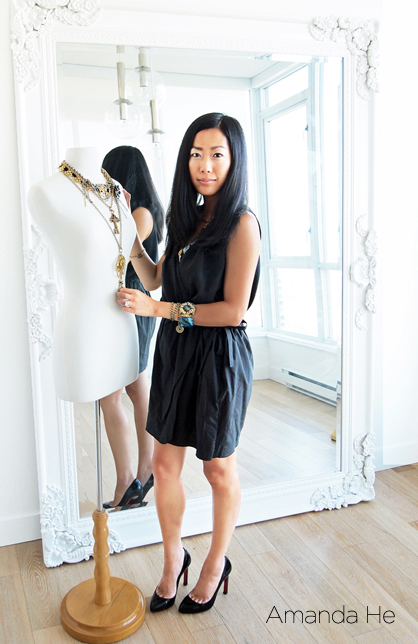 LadyLUX via Rocaille
As her interest in accessories grew, He began to tinker around and make her own jewelry by reworking vintage pieces that she found at flea markets. After long days at the office, she expressed her creativity by pulling apart several necklaces and pendants and then combining them to create something new and bold.
"I love jewelry in particular because it can change an outfit, add personality and express your own style. I'm inspired by women who have the confidence to wear jewelry that conveys their individuality," said He.
Her pieces were indeed expressive and received numerous compliments, giving her the confidence to leave her nine-to-five job and begin a collection of her own.
"It was definitely scary to leave a well-paid, stable career to pursue a dream. I enjoyed working in finance and gained invaluable experience, but part of me always wanted to do something entrepreneurial, to create things and live without 'what ifs.' I'm also a bit stubborn, so when I want something, I go for it," she declared.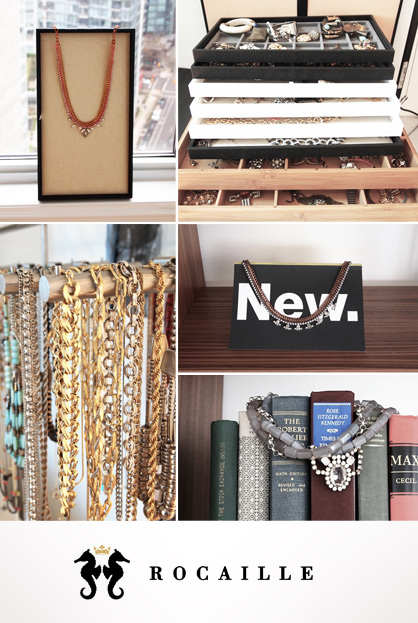 LadyLUX via Rocaille
In He's organized workspace of bamboo trays storing vintage items, gold and silver chains hanging from steel racks, boxes of loose stones and various pieces of jewelry displayed around the studio, Rocaille was born. The brand aims to marry the unique beauty of classic vintage finds from close and far away places with modern materials and styles. And subjected to He's eclecticism, Rocaille embodies a multitude of styles from vintage to modern, simple to opulent and edgy to elegant. Not necessarily following trends, she finds her inspiration through travel, history, art and different cultures.
"Sometimes I get so inspired by certain vintage finds, I design an entire piece or collection around it. I go to flea markets, vintage shows and shops and work with antique dealers to find unique items. For me, the best part of the process is discovering something that's lovely, unique and has a story behind it. Other times, I start a design with a certain lifestyle or an object or an idea, then I go and search for the materials and vintage items based on my vision. I'm very picky about each design. I might tweak a specific design over and over again until I'm 100% satisfied," He explained.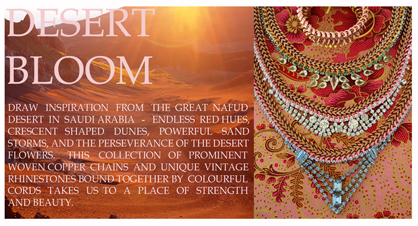 LadyLUX via Rocaille
This designer believes each great piece of jewelry should transcend time and reflect personality. Rocaille's three handmade collections, The Duchess, Gypsetter and the latest one for Spring 2012, Desert Bloom, do just that. In the original collection, The Duchess, He drew inspiration from historical female rulers' power and passion, naming each dramatic piece after a ruler.
The Desert Bloom collection, which was just released in late March, followed the same recipe with each style named after a desert flower. In particular, the perseverant flowers and exotic landscape of the mysterious Nafud Desert in Saudi Arabia, with its endless red hues, crescent shaped dunes and powerful sandstorms, provided inspiration for the collection. Within each versatile necklace, the colors of the desert can be spotted along with the rippled textures of the sand.
"I've actually fallen in love with every piece; they are all so unique. The Desert Bloom collection is colorful, feminine, yet strong. They look great with anything. The Sofia and Pippa are glam bohemian and easy to wear, and the best part is that they can be worn as necklace or bracelet," He said.
In the past year and a half, the equity-analyst-turned-jewelry-designer has completely changed her life. Lengthy analyses and assessments have been happily replaced by the hectic day-to-day needs of her creative business.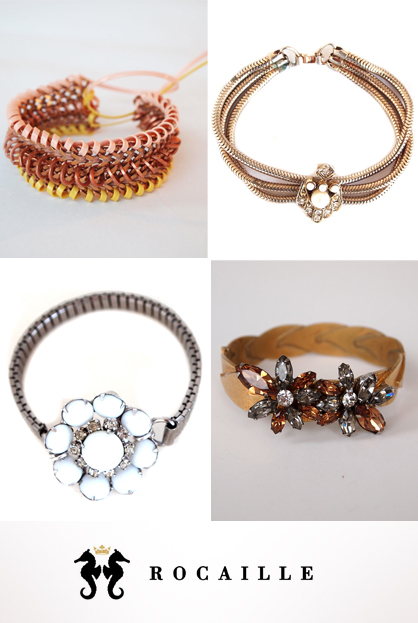 LadyLUX via Rocaille
"I check my emails on my phone the moment I wake up. My morning starts with my coffee while reading the newspaper and going through some of my favorite fashion blogs. Then my day typically involves going over designs, meetings with my production experts, client appointments, meeting with stylists, product photo shoots, posting on blogs, Facebook, and Twitter and updating the webstore and managing orders," she described. "There is really not enough time in a day. There are usually so many distractions that I like to do a lot of my design and creation at night when it's quiet."
He's hard work and dedication has paid off as Rocaille has already been featured in Canadian publications including String Magazine, Plaid Magazine, Hacid Mag, Real Weddings and Vancouver View.
"It is really cool and exciting to see my jewelry in beautiful professional editorials. I am very flattered," He said.
Having both a type-A personality and a creative temperament, she hasn't slowed down in the least despite her growing success and share of struggles. He already has Summer's colorful tribal-influenced mixed media pieces in the works and the Fall/Winter collection of majestic jungle animals planned out. On top of juggling the creative side, she also has plans to expand her business.
"It certainly hasn't been an easy journey as I have made lots of mistakes already, learned from them and allowed the business to evolve. Luckily, I have a lot of supporters in my life who help me through the ups and downs," shared He.
To visit Rocaille, please click here.
Tagged in: lux exclusives, jewelry, vintage, spring 2012 collection, handmade jewelry, vancouver, desert bloom, amanda he, rocaille, rocaille jewelry,