July 2012 event guide: Los Angeles, Seattle and Chicago
"Summer vacation" is a foreign term to those in the working world – lucky students! – but that doesn't mean you can't have fun this season. Worker bee or student, summer time means longer days, warmer weather, leg-baring outfits and - oh yes - endless events and activities to enjoy with friends and family. Make your month unforgettable by heading out to enjoy a cool pop-up shop, exciting art festival, inspiring photography exhibit, delicious foodie event or all the above. Get the Sharpie out, you'll want to mark your calendar with these events in Los Angeles, Seattle and Chicago!
Los Angeles
Fourth of July AmericaFest at the Rose Bowl
Celebrate the Fourth at the Rose Bowl with bands, food, fireworks and huge crowds. Opening ceremonies begin at 7PM with fireworks at 9:05PM. Admission is $13 and free for kids 7 and under. Please click here for more details.
Levitated Mass at the LACMA
The impressive Levitated Mass by artist Michael Heizer is composed of a 456-foot-long slot constructed on LACMA's campus, over which is placed a 340-ton granite megalith. The slot gradually descends to fifteen feet in depth, running underneath the boulder. The museum is offering free admission until July 1 for residents in zip codes along the route used to transport the megalith to the exhibit. Please click here for more details.
Band of Outsiders pop-up shop at Opening Ceremony
As the Lego man turns 30, the designers at Band of Outsiders are celebrating with a pop-up shop at the hip La Cienega boutique, Opening Ceremony. Little Lego men of all colors and creeds adorn the walls of this temporary space, offering gorgeously tailored menswear from Band of Outsiders alongside limited-edition items made especially for the pop-up shop. Please click here for more details.
Gourmet Music Carnival
Celebrating on every 3rd of the month from 11AM-7PM at the Los Angeles Historic Park, the Gourmet Music Carnival is equal parts tasty food, great music and serious shopping on the picnic-perfect grass. The event will feature 40 gourmet food trucks with various cuisines, a music festival showcasing nine of the most talented bands from the area, 200 vendors offering chic vintage finds and a dedicated kid's area. Please click here for more details.
The Producers at Hollywood Bowl
Mel Brooks' "The Producers" hits the Bowl's stage July 27-29. The insanely funny adventure shares the story of a down-on-his-luck Broadway producer and his mild-mannered accountant devising a get-rich scheme to bilk their investors out of millions by producing the most notorious flop in history. Based on Brooks' Oscar-winning 1968 film, this Broadway smash hit and winner of a record-breaking 12 Tony Awards is the annual fully staged musical at the Bowl. Please click here for more details.
War Horse at the Ahmanson Theatre
National Theatre of Great Britain and Bob Boyett present "War Horse" at the Ahmanson Theatre until July 29. "War Horse," based on the beloved novel by Michael Morpurgo, is a powerfully moving and imaginative drama, filled with stirring music and magnificent artistry. South Africa's Handspring Puppet Company used steel, leather and aircraft cables to bring breathing, galloping, full-scale horses to life on the stage. Please click here for more details.
Pageant of the Masters
From July 7-Aug. 31, Pageant of the Masters presents ninety minutes of "living pictures," incredibly faithful art re-creations of classical and contemporary works with real people posing to look exactly like their counterparts in the original pieces. An outdoor amphitheater, professional orchestra, original score, live narration, intricate sets, sophisticated lighting, expert staff and hundreds of dedicated volunteers have won recognition for the Pageant as the best presentation of its kind. The 2012 production "Genius" is available every night at 8:30PM at the Festival of Arts in Laguna Beach. Please click here for more details.
Sawdust Art & Craft Festival
From June 29 through Sept. 2 in Laguna Beach, the Sawdust will feature the fine art and craft of over 200 Laguna Beach artists. Art enthusiasts, collectors and novice artists have come to the Sawdust since 1966 for the mix of fine art and craft. Media include hand-blown and fused glass, painting, jewelry, surf art, ceramics, clothing and textiles, wood and metal sculpture, scrimshaw, photography and so much more. Please click here for more details.
Who Shot Rock & Roll at the Annenberg Space for Photography
From June 23 through Oct. 7, the Annenberg Space for Photography presents the "Who Shot Rock & Roll" exhibit. The Los Angeles showing of this exhibit is the only one on the western coast of the United States and will feature an original documentary film produced exclusively for the Annenberg Space for Photography and 166 prints from iconic photographers. Please click here for more details.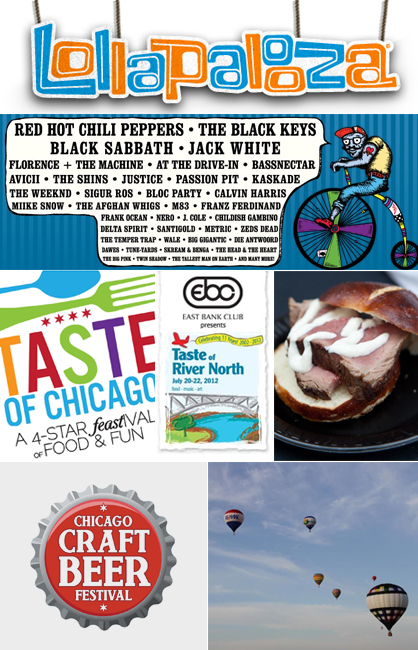 LadyLUX via explorechicago.org, tasterivernorth.com, lollapalooza.com, chicagoevents.com an eyestotheskies.org
Chicago
Craft Beer Festival
From June 29 – July 1, show your love for microbrews at this inaugural event. Held on the grounds of St. Michael's Church, this festival is packed with food, music, crafts and of course, beer. Each day will feature specialty tastings in a special section at the festival. Please click here for more details.
Eyes to the Skies Festival
Watch hot air balloons soar into the sky at this annual event. Celebrating its 30th anniversary this year, Eyes to the Skies is more than just balloons. There are numerous activities you and your family can participate in, including carnival rides, a children's area, craft fairs, nightly fireworks, food from local restaurants and live music. Enjoy Eyes to the Skies from June 29 through July 1 at Lisle Community Park. Please click here for more details.
Taste of Chicago
Taste of Chicago is the nation's premier outdoor food festival showcasing the diversity of Chicago's dining community. The delicious array of food served at Taste of Chicago is complemented by music and exciting activities for the entire family. Every summer since 1980, Chicago's beautiful Grant Park on the city's magnificent lakefront has been home to the world's largest food festival. The event takes place from July 11-15. Please click here for more details.
Taste of River North
From July 20-22, Taste of River North offers food from neighborhood restaurants and bars (food and drink tickets cost $1 each) and the opportunity to browse merchandise from local vendors and galleries while listening to live music at the 11th annual fest. A family area is open daily until 6PM with entertainment and activities for kids. Fest is open until 10PM Friday and Saturday; 6PM Sunday. Please click here for more details.
Lollapalooza 2012
The mega-music fest in Grant Park celebrates its 21st anniversary with bands including the Red Hot Chili Peppers, The Black Keys, Black Sabbath, Jack White, Florence + The Machine, At the Drive-In, Bassnectar, Avich, The Shins, Justice, Passion Pit, Kaskade, The Weeknd and Sigur Ros. The music event takes place Aug. 2-5. Please click here for more details.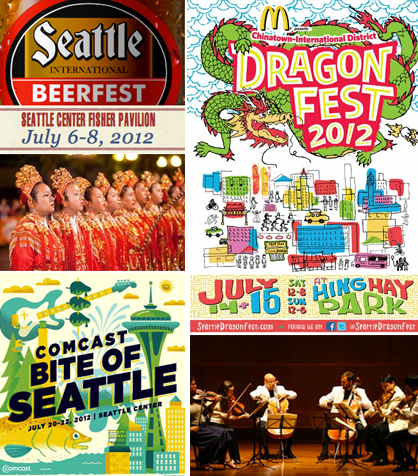 LadyLUX via seattlebeerfest.com, comcastbiteofseattle.com, seafair.com, seattlechambermusic.org and cidbia.org
Seattle
Seattle International Beerfest
From July 6-8, enjoy Seattle International Beerfest at the Seattle Center Fisher Pavilion. SIB is a high-end, 3-day beer festival specializing in rare, hard-to-find, exotic beers. Over 200 world-class beers from 16 countries will be on hand, with many from right here in the Pacific NW. Stroll around the beautiful grounds with a cold one as you listen to great bands play all weekend. Please click here for more details.
Dragon Fest 2012
McDonald's presents Chinatown International District's Dragon Fest 2012 on July 14 and 15. Taking place at Hing Way Park, the event features unique retail gifts, hard-to-find specialty wares, ethnic-specific social services, Asian art and culture, and the best cuisine in town. Please click here for more details.
Comcast Bite of Seattle
On July 20-22 at the Seattle Center, the Comcast Bite celebrates the 50th Anniversary of the 1962 World's Fair with a free showing of "It Happened at the World's Fair" on Friday night of the Bite! Special performances, prizes and more are planned for this fun family activity. Please click here for more details.
Alaska Airlines Seafair Torchlight Parade
Everybody loves a Parade - and none are more magical, musical and thrilling than Torchlight Night. This magnificent parade will include giant helium balloons, precision drill teams representing local communities, equestrian units, comical clowns, swashbuckling pirates and heart-pounding bands playing all your favorite tunes. Enjoy the parade on Saturday July 28 at the Seattle Center in Downtown. Tickets range from $20-50. Please click here for more details.
Seattle Chamber of Music
Each year, Seattle Chamber Music Society (SCMS) presents a summer festival in July at the Illsley Ball Nordstrom Recital Hall at Benaroya Hall. In addition to its high quality performances, SCMS offers community engagement programs for adults, youths and the community at large to encourage audience appreciation and understanding of chamber music. These programs bring audiences of all ages in close contact with musicians and their music through informal, accessible and enjoyable formats. The Summer Festival runs from July 2-29. Please click here for more details.
Tagged in: los angeles, city guide, city event guide, chicago, laguna beach, band of outsiders, lacma, seattle, ahmanson theatre, lollapalooza, hollywood bowl, calendar of events, july 2012, rose bowl,