7 Jumpsuit Trends for 2013
We love a good jumpsuit and are determined to incorporate them into our wardrobes in 2013. If you're hesitant to try them or wondering if the look is too daring, worry no more. Jumpsuits were popular on the runways for Spring/Summer 2013 and Fall 2013 and a variety of options should land in retail locations very soon. Check out our primer before you hit the stores.
Everyday Casual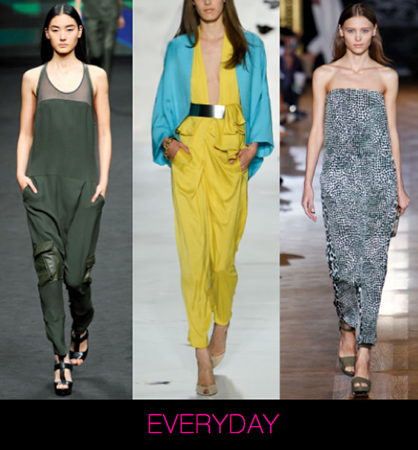 If you love the ease of a maxi dress, a jumpsuit may be the next "new" item in your wardrobe repertoire for easy, chic warm weather dressing. Depending on your style, audience or destination, choose a relaxed-fit casual tank or shirt jumpsuit, tapered or pleated trousers and a variety of fabrics including cotton, silk and lightweight leather.
Tailored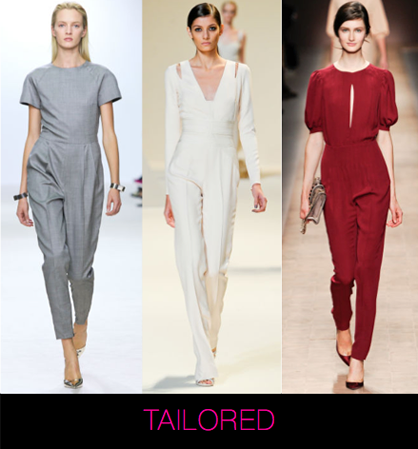 Tailored and clean jumpsuits are the way to go for the most flattering option. The fit can be slim or easy, professional or sexy and a great alternative to daytime suiting or evening wear. Choose an option that defines your shape without being too snug for a look that can go seamlessly from work to date night.
Evening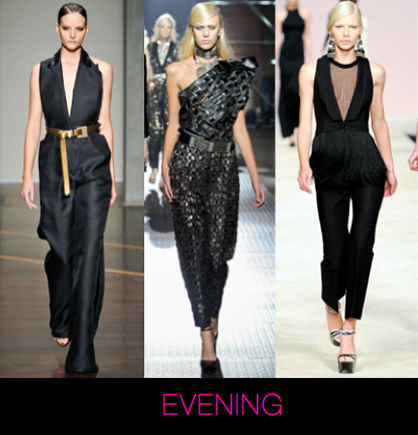 Evening-friendly jumpsuits provide a chic alternative to dresses for a variety of occasions. There is something for all tastes and silhouettes as offerings included strapless, one-shoulder, sleeveless and full-sleeved styles. Pants were just as varied and featured tapered, cropped, gathered or full-legged options. Metallic accents, beading and draped sashes added an air of drama for evening. You can choose from basic black to all out 70's inspired.
Apron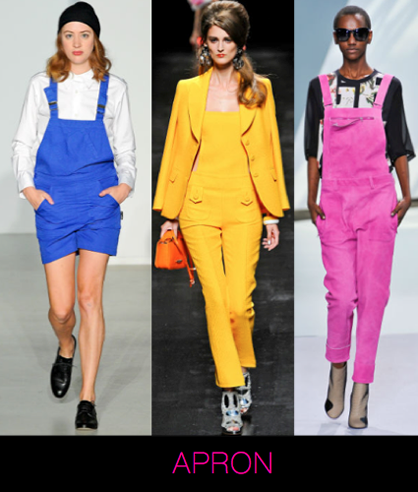 Apron bib jumpsuits and overalls should also surface in many markets, especially Juniors. Iterations of this style on the runways included the basic square bib paired with straight leg pants or shorts and cropped or rolled hems. The apron coverall plays on the silhouette's workwear theme and was shown in many punchy colors.
Prints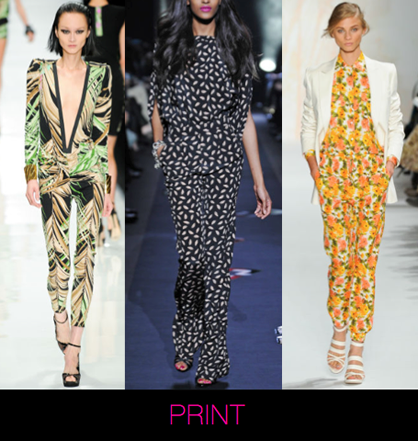 Show your fearless side by wearing a head-to-toe print! If you would wear a printed dress why not try a printed jumpsuit? Keep the silhouette close to the body and choose a small print if large ones seem overwhelming, or choose a clean, graphic black and white combination. A belt will help define your waistline while a solid blazer is a great way to tone down a loud or bright print.
Menswear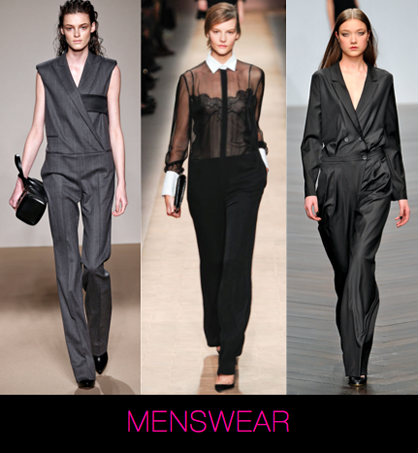 The strong menswear influences make for very wearable, flattering and work-appropriate jumpsuits for 2013. The result was a very pulled together look that featured a structured shape, sleeves, double-breasted options, tapered and full legs. Feminine and masculine elements combined to keep the look fresh and appealing. Fabrics included the very traditional suiting options as well as the ultra feminine chiffon and lace.
Utility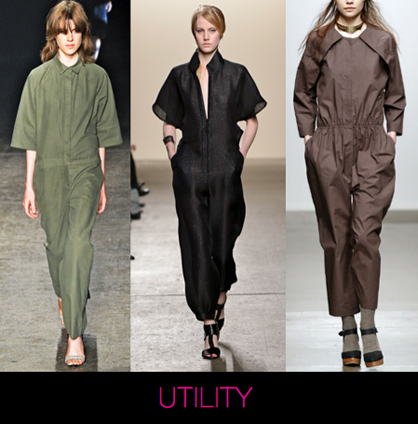 The utility coverall goes soft for 2013 with relaxed and simple designs reminiscent of a one-piece painter's uniform. Workwear colors such as olive, black and khaki were popular on the runways. Silhouettes included very relaxed head-to-toe, elastic waistbands, cropped or gathered legs and kimono-like wide sleeves.
Read more Spring/Summer 2013 and Fall 2013 trends
Tagged in: trends, fall 2013, print, spring 2013, runway, jumpsuits,