June 4: La Mer and Oceana at South Coast Plaza
On June 4, beauty lovers and charitable ladies came together to bring attention to our ocean—and get some fabulous body treatments—at the epicenter of socal shopping, South Coast Plaza. In honor of World Ocean's Day, which is June 8, La Mer has teamed up with Oceana for their limited edition 100ml Crème de La Mer jar, along with their $200,000 donation to the charity. The La Mer team at Saks Fifth Avenue was there to spread the message of their partnership by offering free treatments with their signature products such as the body refiner (which contains diamond dust!), the body lotion, and the mist. La Mer seems like a natural partner for Oceana due to their deeply rooted connection to ocean life, using kelp and other pieces of ocean nature in most of their products.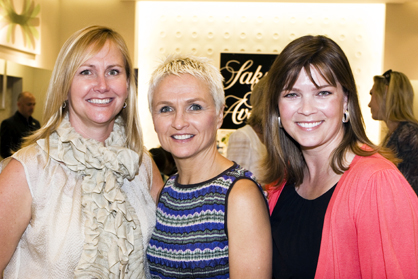 Slane Lightburne, Gretchen Pace and Rebecca Hall
Gretchen Pace, VP General Manager of Saks Fifth Avenue at South Coast, was very eager about the fashion-filled event and the opportunity for the department store to support ocean change. Gretchen told LadyLux, "All of the different charities that we really believe in matter… but if we don't have a healthy ocean then it affects everything else. Oceana has done great things to make a change, globally and locally."
Held at the iconic department store, Saks kicked the day off with a meet-and-greet with Oceana Development Manager, Nancy Christiano. Originally starting off as a dedicated volunteer in 2007, Nancy now works at Oceana and can be found passionately spreading the message of the world's leading international ocean advocacy organization. "La Mer is a wonderful sponsor of ours. They support us at every event and provide the funds for our work. We partnered with Saks Fifth Avenue, which has also been very supportive of Oceana, especially locally here in California and in New York."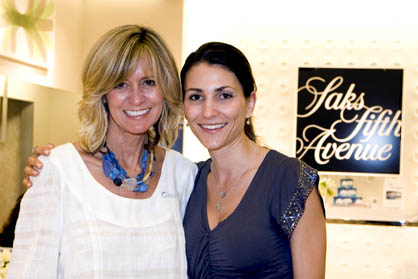 Nancy and Rucsandra Christiano
How did Nancy think the event went? "It's fantastic! I would guess we've had about 80 people. I would call it a great success."
Not only was it a success because of the wonderful turnout, but it gave Nancy a chance to connect with people unfamiliar with the wonderful nonprofit. "A lot of them are new to Oceana. Just a moment ago, I got to talking to them about the work we were doing… to excite them and motivate them to support us for Seachange."
Seachange, to be held at the Villa di Sogni in Laguna Beach on September 10, is a summer soiree to raise money for ocean conservation. "James Bond" star Pierce Brosnan will make a surprise appearance to show support for the international organization. Nancy divulged that the "save the date" hasn't even been sent out, but the event is already 1/3 sold out! Wow.
The LadyLux team was very excited to be at Saks to hear about all the great things Oceana is doing, including their ongoing lobbying in Washington D.C. to change legislation for energy and offshore drilling. To stay up to date on all their events, visit their web site at Oceana.org and follow them on twitter @oceana.
Tagged in: lux exclusives, lifestyle, beauty, oceana, philanthropy, la mer, saks, clarins,