Katie May Neu mixes and matches her way to sophisticated elegance
A long-time admirer of high fashion, Katie May Neu fell in love with crafting a beautiful ensemble, creating that perfect look that makes a woman feel stylish and look hot. Her goal in designing her clothing collection, Katie May, is to provide affordable luxury to women who have that same love of fashionable design.
She delights in "the beauty seen in the construction, the fabrications, the proportions and most importantly, the uniqueness with each piece. Instantly feeling more confident, more beautiful and more special when dressing into these pieces. [The collection] was not about the trend, it was about the piece and the wearer--it was about style."
For Spring 2012, Neu aimed to create a cosmopolitan collection that could work traipsing the globe. As her most feminine collection thus far, the pieces exude a delicacy and grace while still maintaining a more sophisticated vibe.
"There is a large element of innocence with the delicate fabrications used and the soft color palette; however, the collection is still very sexy and very glam," she said. "This season our girls will look ultra feminine in our lace off-the-shoulder dresses, high-waisted ruffle skirts and plunging open-back tops. For the more sophisticated looks, we have gorgeously tailored blazers paired with our slouchy long dolphin hem short or slim-fit bell-bottom chambray pants."
Her pieces are made to empower. The style of the clothing makes a statement, but the beauty of their wearer is what truly pops. Combining sensuality with sophistication, each piece is unique.
"I design for women that are not afraid of standing out, women that embrace their individuality," she said. "Women who love the art of dressing and appreciate style and beautiful things."
As a self-professed perfectionist, she obsesses over every detail of the clothes, from the lines to the inspirational quote on the hangtag. Considering herself an "eternal student," she tries her best to stay abreast of all the latest materials, construction techniques and trends.
As Neu is well aware, the materials are just as important as the designs. She enjoys mixing and matching to find that perfect mix of intrigue and style.
"Texture modernizes any look by creating a visual and tactile distraction - adding interest and even more beauty to a piece," the designer said. "I am obsessive about adding texture to each garment, whether it's something as obvious as a heavy yarn knit detailing, or as subtle as vintage sandwashing material to add more depth and texture to the hand of the garment."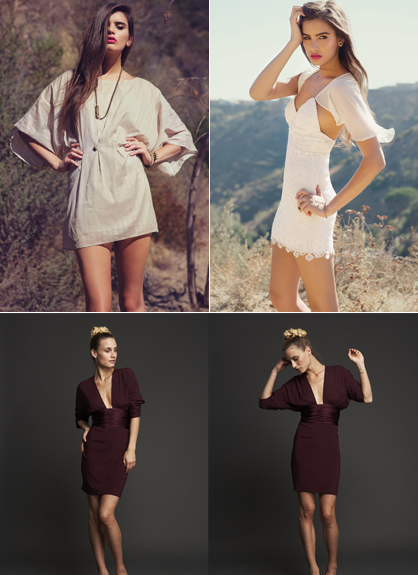 via Katie May
Many of her dresses feature a signature low back, which can be concealed during the daytime with a cardigan or blazer, and then flaunted for a more feminine, chic look for a night out on the town.
With such varied, unusual designs, it is no surprise that her inspiration is likewise diverse.
"Kindness and love, family, travel, history, music, food, shapes, architecture, nature, animals, sea life, and the skyline continually keeps my creative wheel turning and my sketchbook full," Neu said.
One of her personal favs from her collection is the Daphne coat, which is so glamorous and chic – and warm – she finds herself rarely taking it off. Other beloved pieces include the Mandy dress, which features a daring neckline with a ruffled waistband; the Lara dress, which has an asymmetrical wrap skirt and draped open back; and the Megan Tank with a plunging, open back that updates the basic tank.
And what woman can do without a stylish selection of party dresses?
"As long as there are girl's nights, then there is a NEED for hot party dresses in every woman's wardrobe," the designer declared. "Obviously these pieces are for turning heads and feeling desired. Feeling sexy – whether in a hot dress or not – is what keeps us feeling young and appreciating our individual beauty."
Neu didn't just stumble across her line of clothing. She was a woman with a plan.
"I have always known this is what I wanted to do, start Katie May, but it really came down to preparing as much as I could prior to launching," she said. "I spent many years researching and working within the industry, strategically placing myself in different aspects of the industry to learn and gain experience for the benefit of Katie May: retail, wholesale, production."
After soaking up all the knowledge she could, she took the final step and launched in January 2011. And it all paid off.
With tailored lines and high-quality construction, Katie May pieces are built to last and timeless enough to do so.
"Katie May offers a tailored silhouette with incredible garment construction, creating a luxurious piece that will last season after season," she said.
The line is proudly created in the United States with extreme care.
"I have high moral and ethical standards for the environment in which Katie May is created as well as the people creating them," Neu said. "I want to make a difference in this industry not only in what I create, but the means in which it is created."
But Neu is dreaming of even bigger plans. "I want to dress women for all occasions - I want Katie May to grow into a lifestyle brand branching into all avenues of life," she said.
For more information, visit www.katiemay.net.
Tagged in: lux exclusives, designer, clothing, katie may neu, katie may,