Kristi Yamaguchi shares her inspiration behind new activewear line Tsu.ya
Kristi Yamaguchi isn't short of accomplishments by any means – she's won Olympic gold in figure skating, out-danced her competitors to win the sixth season of Dancing with the Stars, authored a New York Times bestselling children's book and started the Always Dream Foundation. Now, she is adding designer to the list. Launching this September exclusively at Lord and Taylor and her website, Yamaguchi's activewear line Tsu.ya, after her middle name, was created for specific purposes.
"The inspiration behind Tsu.ya is two prong. It fills the void that I saw and needed for functional activewear that has a fashion twist. The line offers pieces that I can work out in but also feel comfortable going to the café or going to the schools. The second prong of it is the philanthropic side. A portion of the proceeds of the Tsu.ya line will go to the Always Dream Foundation, which supports early childhood literacy. In our 16th year of existence we are just looking for new ways to help sustain the programs that we are developing in school," Yamaguchi explained.
The limited edition Tsu.ya collection offers 18 different pieces that include burnout T-shirts, yoga pants, capris, coordinating jackets and sweatshirt dresses. No stranger to fashion – her husband swears she's a professional shopper – Yamaguchi looked to runway trends for inspiration in creating the crossover line as well as her own personal aesthetic and background.
"I think with my ice skating background, my style had always been very feminine. There's a lot of soft touches like ruffle details, ruching, piping and banding that accentuates the female figure. The holiday line has the bling with rhinestones that is about as figure skater-like as you can get," said Yamaguchi.
It's evident the Olympic figure skater welcomes the new designing experience with open arms, even as she finds it a bit nerve wracking at times. Yamaguchi has found the challenge of design different than her other accomplishments and doesn't discredit the intensity of the industry. Yet, as design is an avenue she has always been curious about, she has eased into it effortlessly and comfortably shares her vision and opinions with her team.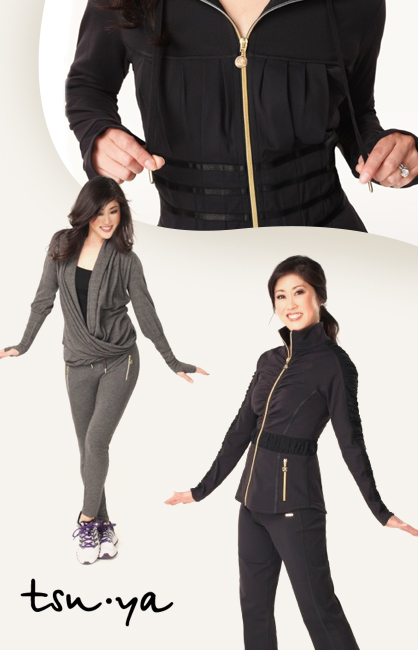 "I've always loved fashion and seeing what's out there. I like to stay on trend and be age appropriate, so filling the void as to what I wasn't seeing out there with fashionable activewear was a natural next step for me," said Yamaguchi. "Through this experience, you realize what big a team it takes to get the job done. Retail is a difficult climate. The fashion world is hard to break into as well. I kind of have a full plate but this is a labor of love and something I want to pursue."
Tsu.ya already has several seasons planned out with Spring 2013 promising more colors, plenty of mesh material and accents. Each seasonal collection will donate proceeds to Yamaguchi's Always Dream Foundation that is currently focused on early childhood literacy. With two daughters in California's public schools, she is aware of the struggles with the budget and aims to fill the gaps. In the next month, the foundation is teaming up with the Raising the Reader organization to provide tablets with e-books to educate children on the different ways to read a book. Yamaguchi's foundation is also providing software programs to under-served kindergarteners to assist with language arts, vocabulary and comprehension.
"Just looking at the different areas in education, childhood literacy is important. If a child can't read then their life and career is compromised. When you see the statistics, third grade is the benchmark. If you aren't reading by third grade, the chance of graduating high school declines. We wanted focus at where it starts," Yamaguchi explained.
Yamaguchi is constantly inspired by her two daughters, as they are the reason behind much of her work, including childhood literacy. As they grow older, she hopes that they will become more involved with the different causes she supports. For now, she plans to get them in the spirit of the London 2012 Olympic games.
"I'm a huge Olympics fan. I'm excited to watch it with my kids because they are old enough now to understand the whole Olympic spirit and they are getting into sports as well. I'm looking forward to cheering on Team USA with them!" said Yamaguchi.
Read more London 2012 Olympics coverage.
Tagged in: lux exclusives, causes, philanthropy, london 2012 olympics, fall 2012 collection, activewear collection, always dream foundation, kristi yamaguchi, tsu.ya,