La Mer supports Oceana and World Ocean Day at Saks event
In their fourth year celebrating World Ocean Day on June 8 and supporting non-profit Oceana, luxury cosmetics brand La Mer and department store Saks Fifth Avenue have partnered up to raise awareness at exclusive events in Orange County, Los Angeles, Seattle, San Francisco and New York. The events held at Saks will highlight the limited edition Crème de la Mer commemorative jar created every year for Oceana, the world's largest international ocean advocacy organization. For every jar sold, La Mer will donate fifteen percent of the proceeds to the organization. La Mer, an ocean-based product line of crèmes and serums, believes that marine botanicals such as Pacific Sea Kelp have incredible properties that have yet to be fully explored. The company stands behind Oceana's commitment to protect the world's oceans by donating an additional $200,000 to the protection campaign.
Oceana fights to preserve fisheries, fish habitats and marine sanctuaries, aiming to restore our oceans to their former abundance. Boasting more than 300,000 members across 150 countries, the organization has made important strides in ocean conservation, protecting more than 1.2 million square miles of ocean and countless sea creatures through its strategic, science-based campaigns.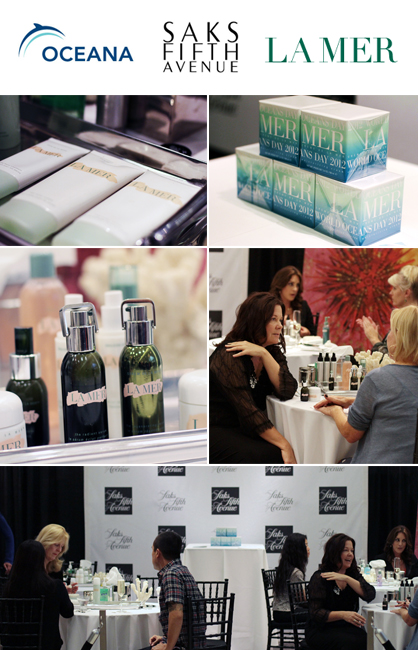 LadyLUX via Annette Tang
"We love our affiliation with Oceana. We've been doing this since 2005 and it's been a great collaboration from our perspective because we get sea kelp, algae and sea plants from the ocean. Max Hubert, our creator, 50 years ago went to the ocean to heal his own severely scarred skin, so it's something we feel very strongly about. To be part of Oceana is just part of who we are. It's part of our DNA. We're proud to be part of a company that gives back and is involved with World Ocean Day," shared Vicki Smith, national education director of La Mer.
At the event at Saks in South Coast Plaza in Costa Mesa, Calif., loyal clients came to support the cause, enjoy special complimentary treatments and purchase the commemorative jar of "miracle broth," causing the product to sell out at the location.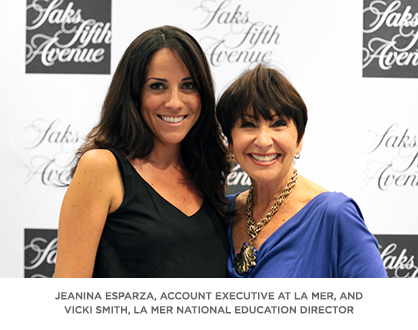 LadyLUX via Annette Tang
"It's been incredibly successful, we've had a great turnout and our clients are loving it. They love the one-on-one treatment and the different stations," said Jeanina Esparza, account executive of La Mer.
"We appreciate Saks' partnership with us and they do this every year. Our Saks event at South Coast Plaza is hugely successful and they have just been terrific partners. They partner with us beautifully, open their home to us and just make it a wonderful partnership," Smith said.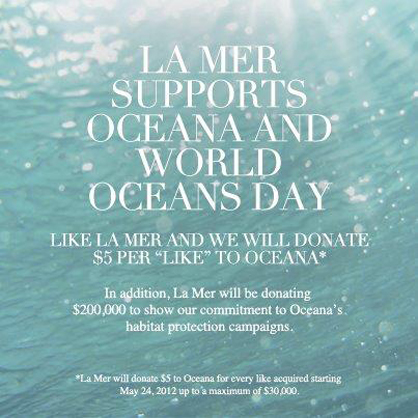 Image courtesy of La Mer
To further support Oceana, this year La Mer has promised to donate five dollars for every "like" they receive on Facebook starting on May 24. The campaign has already raised $20,000 and aims to reach $30,000.
"We are saying to our clients, if you like what you're seeing here, we'll donate back in your honor. We are committed to this cause and so are our clients," Smith shared.
For more information about La Mer and Oceana, please click here.
Tagged in: lux exclusives, causes, oceana, collaboration, orange county, philanthropy, saks fifth avenue, la mer, partnership, south coast plaza, creme de la mer, crème de la mer commemorative jar, world ocean day, jeanina esparza, exclusive event, vicki smith, max hubert,