Line's knits break boundaries of knitwear
Line's knitwear isn't just your ordinary knitwear. With its draping, embellishment and exaggerated detailing, the collection features high-quality apparel that balances the need for both practicality and punch. Friends John Muscat and Jennifer Wells have created designs that are luxurious while remaining easy and comfortable.
"Our goal is to create a product that is easy to wear, on trend and feels amazing," the duo declared. "(The pieces work best) when they work easily into your wardrobe and become your staple pieces of the season."
The two designers bill the knits' main attraction as wearability, declaring, "You will be able to really get your money worth out of the garment."
Each new collection exhibits a new seasonal theme and color palette. Rather than limiting the clothes to simply luxurious blends such as cashmere, the team is constantly scouring the possibilities for new yarns that will resonate with shoppers. This season, the hot material is tapeyarn.
"I like the challenge of creating something new or unexpected in knitwear," Wells said. "I love the way yarn can morph into something using texture, pattern and color."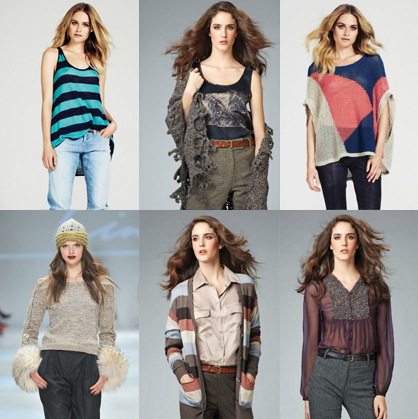 via Line
The collection exhibits the friends' simple style, boasting timeless staple pieces such as oversized sweaters, wrap cardigans and basic tanks. Their classic work has landed them in publications such as Elle, WWD, Lucky, InStyle and Flare, and on the bodies of celebrities such as Sarah Jessica Parker, Oprah, Jennifer Garner, Kate Bosworth, Jessica Biel and Taylor Swift.
The designers met one fateful day when a mutual friend made the introduction. They became long-term friends and a partnership evolved. Muscat was drawn to Wells for her work ethic, which she quickly applied to her design projects, drawing from her lengthy passion for fashion and art. "John made me do it!" Wells joked of how the collaboration got its start.
Wells kicks off the start of the design process, crafting the initial concepts, color selections and layout with help from her team. Muscat then steps in to develop the marketing and sales strategies. At the end stage, the entire team collectively determines the final looks.
Wells regularly thanks her lucky stars to be in the industry, pursuing her love for design. "Every day offers a different challenge," she disclosed. "No two days are the same. I get to come to work every day and get to be creative."
Some favs of the collection include "shattered," a uniquely patterned pullover with uneven stripes in chocolate, tan and gray, and "the cat nap" a simple everyday throw-on piece with a high-low hemline.
The duo's latest project is the launch of John and Jenn, a diffusion collection at a lower price point, and their plans from there are still up in the air.
Experience Line at www.lineknitwear.com.
Tagged in: lux exclusives, designer, clothing, apparel, line, jennifer wells, john muscat,