London Fashion Week Fall 2012: Burberry Prorsum
Christopher Bailey was thinking "Town and Field" for Fall 2012, an opposition that became the title and inspiration behind the Burberry Prorsum collection. The challenge of these conflicting ideas could have ended in muddled disaster, but Bailey knows his stuff. He did makeover Burberry Prorsum into a lust-worthy brand, after all. Along with the idea of "Town and Field," the Burberry designer continued a few themes from Pre-Fall's somber pre-World War II theme. This time around though, the collection was a bit more upbeat, as reflected in the lighter palette of heather gray, navy, olive green and tan.
The Fall series shown at London Fashion Week featured an extensive array of skirts and dresses with tailored styling and peplum silhouettes representing "town." The sophisticated, ladylike concepts registered in the pencil skirts with oversized diagonal ruffles, peplum skirts and jackets, nipped-waist blazers and the darling bow belts that carried over from Pre-Fall. Cropped jackets and bishop sleeve blouses were paired with skirts shown in tweed, velvet and floral wallpaper print. The looks were finished with newsboy caps, studded gloves and oxford "wallaby" booties or heeled chukka boots to top off the vibe.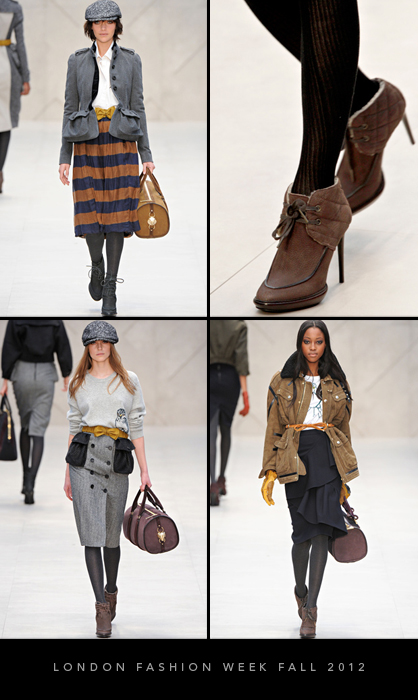 LadyLUX via Style.com
On the "field" side, it was the details that embodied this half of the inspiration. Owls, dogs, sparrows and other country critters found in the previous collection reappeared on oversized T-shirts. Rugby stripes gave loose dirndl skirts a playful sensibility, while shearling-lined herringbone jackets exuded warm coziness.
No matter what the season is, outerwear is always a major category for the London fashion house. Beyond the blazers and cropped jackets, Bailey presented puffy short options boasting oversized collars. Military styles leaned in both rugged and sophisticated directions but, either way, were cinched at the waist with little bows. Corduroy jackets were a heavy, sturdy choice for bone-chilling nights and cropped cardigans proved to be perfect for daytime. The fitted princess coats were without a stunner but of course, nothing is more Burberry than the trench coat. This season, Bailey updated the iconic coat with styles featuring bellows pockets or punchy hemlines of variegated stripes.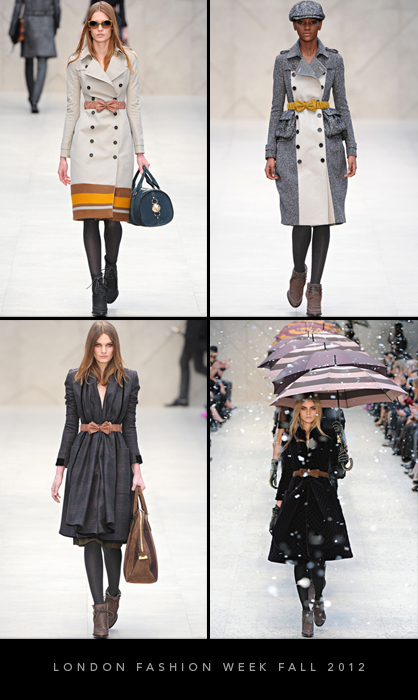 LadyLUX via Style.com
Fall may not have been about glitz or glamour and lacked shiny embellishments, but its "Town and Field" looks were definitely desirable. The trench coat with the new shapes and details will probably sell out during pre-order while the chukka booties will replace the heavily sought-after creeper wedges from the last Fall season.
This article was contributed by Annette Tang of the VersaStyle/a>. You can follow Annette and her fashion adventures on Twitter at @theversastyle.
Tagged in: london, runway, fall 2012, burberry prorsum, london fashion week, christopher bailey, ready-to-wear, london fashion week 2012,