Louis Vuitton collaborates with Yayoi Kusama, opens pop-up shops
This summer and fall, Louis Vuitton is launching seven pop-up stores to support its fashion collaboration with dot-obsessed Japanese artist, Yayoi Kusama. The first pop-up is scheduled to open inside the Louis Vuitton boutique in New York's SoHo location on July 10, just two days before Kusama's retrospective bowing at the Whitney Museum in New York.
Shortly after the New York opening, three more shops will open inside or near Vuitton stores in Hong Kong's Pacific Place, Ngee Ann City in Singapore and Isetan's Shinjuku branch in Tokyo. By Aug. 23 and 24, the operation will hit its peak with two large-scale shops opening at major European department stores. In Paris, the Printemps flagship will dedicate 860 square feet to the collaboration with a dot theme while Selfridges in London will devote 1,375 with a treasured pumpkin motif.
Each pop-up shop will be open between four to eight weeks, featuring an original merchandising concept in collaboration with Kusama. Products will range from trench coats and silk pajamas to pendant necklaces and polka dot purses.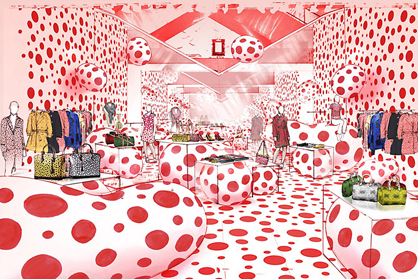 The Louis Vuitton and Kasuma collaborated collection will also be sold in all of Vuitton's 463 stores, with a second delivery of products that includes the hinged on monogrammed leather goods festooned with Kasuma's tentacle-like nerves motif, due on Oct. 1. Printemps and Selfridges will have the monogram nerves bags exclusively in stores on its opening dates. The collaboration will extend to window displays, iPhone apps, websites and a book.
Kusama is 82 years old and currently living in a hospital for the mentally ill. The artist has been painting since age 10, developing her love for polka dots by applying the print to canvases, tree trunks, entire rooms and even people.
Tagged in: handbags, accessories, louis vuitton, collaboration, artist, yayoi kusama, pop-up shop,