Luv AJ launches the Septum collection with 4th and Bleeker
Amanda Thomas, the designer of the edgy jewelry line Luv AJ, is on a roll. Since LadyLUX last chatted with the talented Thomas, she's grown the business that began in her home into a covetable line that stylish fans just can't get enough of and everyone wants to be part of – hence the slew of collaborations. She's worked with Free People, Urban Outfitters, created concept pieces for Effen Vodka and, most recently, launched a cool collection with Alexandra Spencer of 4th and Bleeker. In between her meetings, design sessions and factory visits, Thomas sat down with LadyLUX to chat about the evolution and what's in-store for Luv AJ.
LL: Luv AJ has evolved so much since the last time you chatted with LadyLUX. How has the brand picked up so much momentum in the past few years?
AT: It's been crazy and overwhelming. My company has gone from one person to seven people. I started out making everything by hand and sourcing things from vintage vendors and flea markets but now I work with four different manufacturers in Los Angeles, a factory in China and10 different suppliers around the world, so it has definitely gotten more streamlined and is on a much, much bigger scale, which is kind of exciting.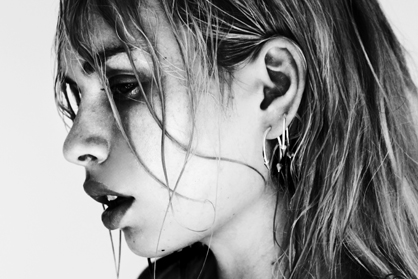 LL: Was there a moment that defined when you felt like you "made it?"
AT: I think one of the moments that I felt like "Oh, wow this is really happening" was in 2010. I just finished my internship at Whowhatwear.com and the two owners told me to send them my lookbook. Two weeks later, I sent it and they ended up doing a whole story called "Lines We Love: Luv AJ." I remember that morning it launched, that's when Shopbop, Nordstrom, Urban Outfitters and everyone picked me up that day. That was definitely a milestone that changed my business. It went from me making stuff in my bedroom to going to find manufacturers and factories.
LL: Luv AJ has had collaborations with Free People, Community Collection and more. How did all of the collaborations start?
AT: I've always done Luv AJ on my own but through the past couple of years I've met so many fantastic people. I always like connecting with friends and people in the industry who I've admired. I just launched a collection with Alexandra Spencer of 4th and Bleeker blog and that just started as friends. One day we were sharing a glass of wine and talking jewelry. Next thing you know, we're collecting ideas and getting samples made. I have another collaboration that is launching in Spring 2013 with StyleStalker. I've been a fan of their line for forever. One of the girls I used to work with put us in touch and we totally hit it off. We started a collection the next day. It's kind of like when you find people you click and vibe with, it's like a natural progression.
LL: For the new collection that just launched with 4th and Bleeker, what was the inspiration?
AT: We were looking at photos from the Givenchy runway with the crazy piercings – bull nose rings and screws in people's ear. It inspired a '90s punk piercing trend that we wanted to translate it in a much more simple and chic way. So, we came up with the Septum Collection based on piercings but you don't have to have piercings to wear them. One of my favorite pieces is the double septum earring that looks like a spike goes through your ear but in the back it's fastened like a normal earring. It's a cool illusion.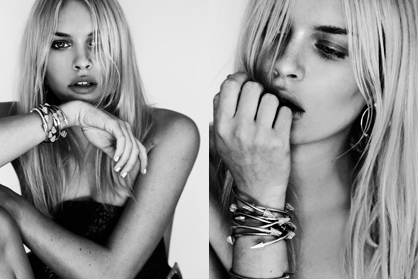 LL: Who else would you like to collaborate with?
AT: I love collaborating with retailers. My first collaboration was with Urban Outfitters. That was a really fun process. I feel like I would love to do something high-end. It would be really cool to do a line with Barney's New York or Net-a-Porter.
LL: Along with the growth, how has the style of Luv AJ evolved?
AT: I used to use a lot of organic materials: crystals, vintage chains and rocks, which were fun and pretty but are a nightmare for orders. I would spend hours sifting through crates of crystals trying to find 50 pieces that look the same. It ended up being a waste of time and it was more expensive. So my rule now is to just use metal. The shift came from a necessity for my sanity. I feel like as I am growing and evolving, my pieces are less chunky and more simple and wearable for everyday purposes. It's something you can wear to the office and at night. There are not as many crazy statement pieces.
LL: When you are designing, what is your game plan? Do you think about what you're feeling or do you think about your customers?
AT: Both, I do like to create things that I want to wear but I have my customers in the back of my mind. I go through each season with tons of analytics from what is the bestseller to what region bought the most. I think research is a really important factor in having your business grow. It's about knowing what your customer likes but being true to your own aesthetic. I think I do a good job of balancing the two.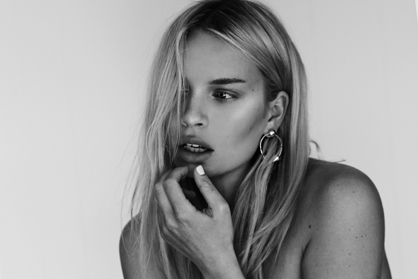 LL: What collections or collaborations are you working on next?
AT: We've finished up our next collection called Shark Teeth, which is really cool. We are also doing leather goods with iPad and computer cases, handbags and leather jackets. All of that is coming out in the next six months.
LL: What are your absolute must-haves for Fall?
AT: I would say my favorite piece from the collection is the Septum hoop earrings. If I'm coming from the gym and have to run to dinner, I'll slick my hair back in a chignon and put those on. They totally pull the look together. For Fall, I'm really into colored fur. I just bought a forest green fox fur jacket but I'm just waiting for it to be cold so I can wear it! I love fur and it's fun to play with rainbow colors. Also boots – there are so many good ones this season. These Isabel Marant cowboy boots are ones I'm drooling over.

Tagged in: lux exclusives, jewelry, fall 2012, collaboration, luv aj, amanda thomas, 4th and bleeker, alexandra spencer, septum collection,