LUX Beauty: 2012 London Olympic-Inspired Beauty Products
The time has almost come for the 2012 London Summer Olympics and many designers have created limited edition products inspired by the games. LadyLUX gives you ten Olympic-worthy beauty products inspired by USA colors, champions' medals and London itself. Let the glamour games begin!
Limited-Edition London That Gal Primer by Benefit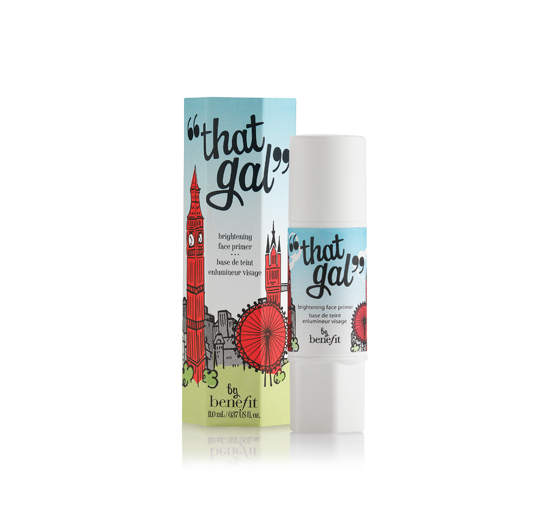 via Benefit
The collector's edition That Gal brightening primer from Benefit was specially made to celebrate the 2012 London Olympics. This primer of champions features light-reflecting pigments that brighten up all skin tones. Chamomile and raspberry ingredients will soothe your skin with every use.
Jewelry Top Coat Polish in USA! USA! by Sephora by OPI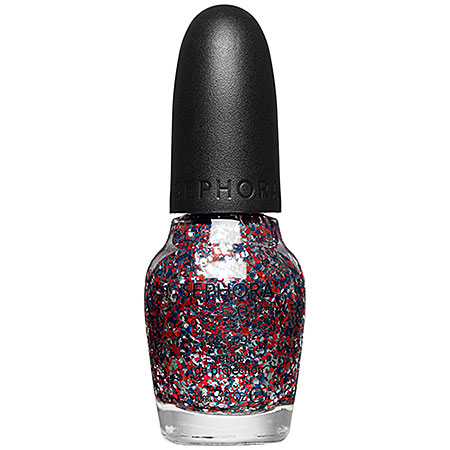 via Sephora


This red, white and blue glitter topcoat called USA! USA! by Sephora by OPI will transform your nails from basic beauties to patriotic stunners. Add one coat for a subtle jeweled effect or multiple coats for ultimate sparkle. Glints of glimmer in USA's favorite color combo will touch your tips for the nails of a champion.
Génefique and Vissionaire Limited Edition Packaging by Lancôme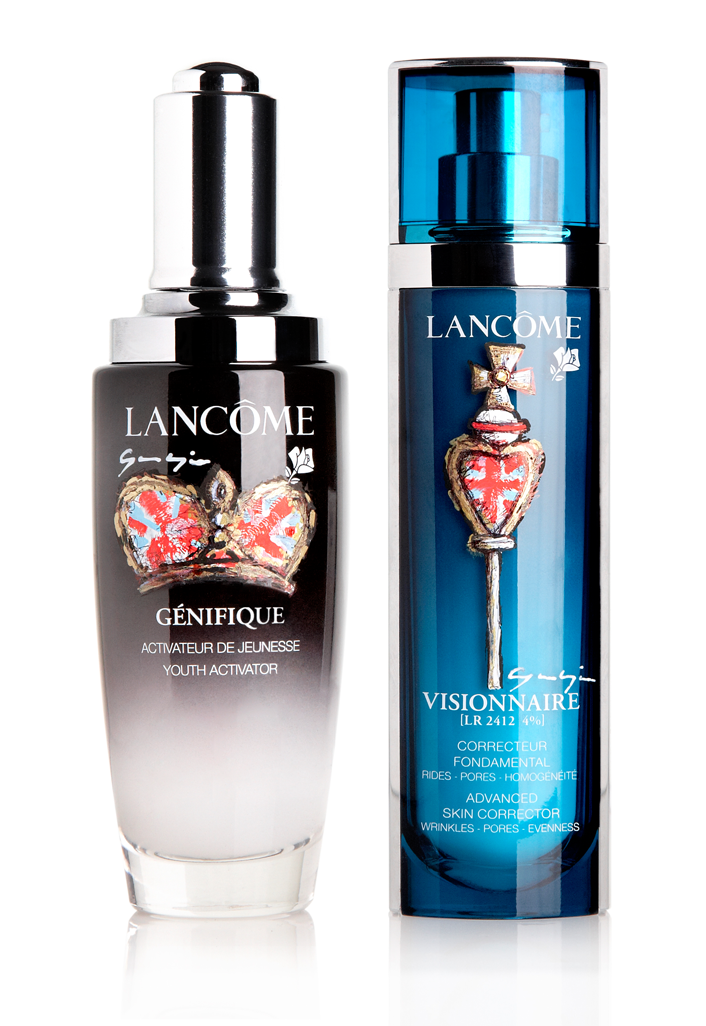 via Selfridges
Lancôme has collaborated with fashion designer Georgia Hardinge to create a limited-edition, customized Génefique Youth Activating Concentrate and Vissionaire Advanced Skin Corrector. Each Génefique and Vissionaire bottle will be hand-painted with the Lancôme crown and the Lancôme Sceptre with Union Jack dresses and comical Corgis on the packages. Your skin will not only feel softer and look younger, but you will have a more even skin tone and feel even closer to the London games.
Lovely in London Travel Palette by Stila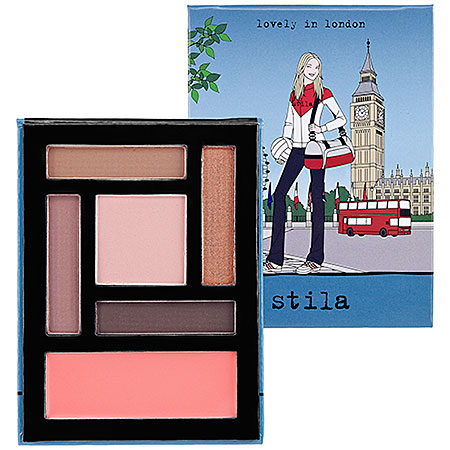 via Sephora
Transport yourself to the streets of London with the limited edition Lovely in London Travel Palette by Stila. This cute and convertible palette features five London-inspired eye shadow shades that can be applied dry or wet. The exclusive shade of Convertible Color for lips and cheeks will add that glamorous glow that you need for summer.
Heavy Medal Trio Nail Polishes by Butter London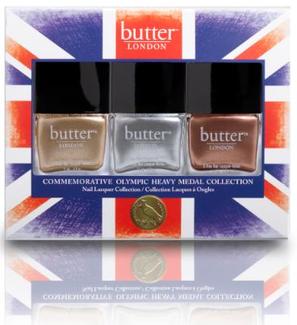 via Butter London
Butter London created an Olympic-inspired, limited edition Heavy Medal Trio Nail Polish set. These three metallic shades display the Olympic medal colors of gold, silver and bronze. All three nail lacquers inspired by champions are worthy of the winner's podium.
United Kingdom Nail Wraps by Nail Rock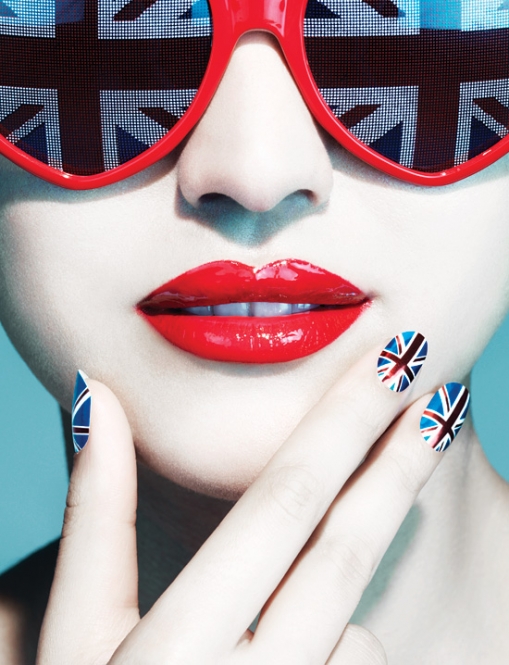 via Nail Rock
Nail Rock Nail Wraps feature a festive United Kingdom flag that you can flaunt during the summer Olympic games. Nail wraps are designed to last up to seven days and the at-home treatment takes only fifteen minutes to apply. Nail wraps are not like nail polish, so you won't have to let them dry or worry about chipping. Score!
Daily Moisture Renewal System by Pantene Pro-V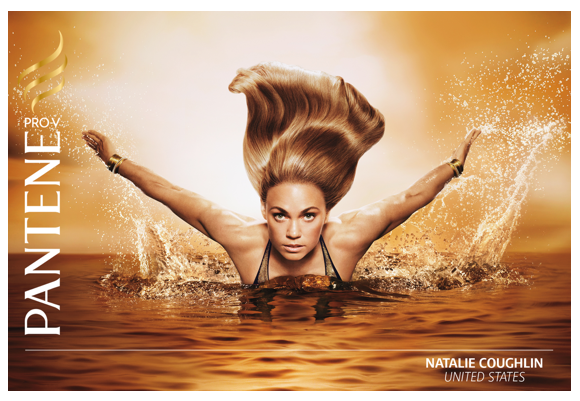 via Pantene Pro-V
As a worldwide sponsor of the 2012 London Olympic Games, Pantene Pro-V has created multiple campaigns with Olympic athletes as advertisement models. Join in on Pantene's campaign for strong beauty when you try the Daily Moisture Renewal System. The Daily Moisture Renewal shampoo and conditioner help mimic your hair's natural lipid layer and regulate the movement of moisture. The system will leave your hair softer and more manageable when styling.

Global Heroes Collection by Molton Brown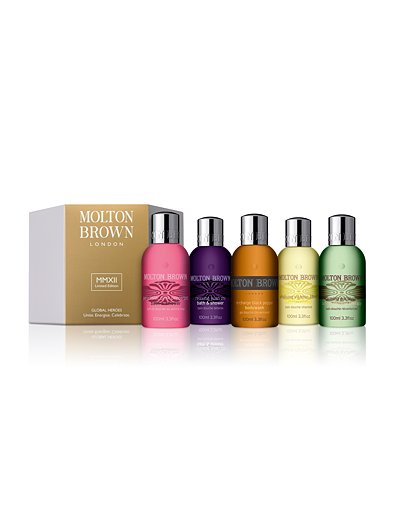 via Saks
London-based brand Molton Brown has designed a collection of five bath and shower gels called the Global Heroes Collection. Each gel represents a star performer coming together to celebrate the Olympics. The five countries represented are Madagascar, America, China, Australia and the Gulf of New Guinea, and feature exotic scents including Black Pepper, Yuan Zhi, Vitamin A, B and C, Paradisiac Pink Pepperpod, and Warming Eucalyptus.
Lasting Finish Lipstick, Kate Moss Collection by Rimmel London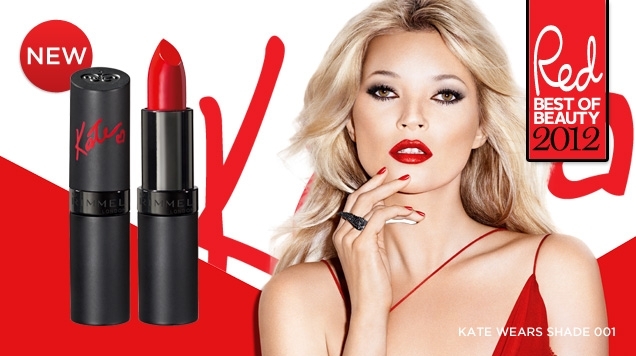 via Rimmel London
Look like a true London fashionista when you slick on any of Kate Moss' new lip colors from her Rimmel London collection. Each Lasting Finish lipstick of the collection locks in color for up to eight hours of wear with fifty percent more color with every use. This soft, smooth and comfortable formula comes in ten different stylish shades.
United Kingdom Jubilee Special Edition Lip Balm by ChapStick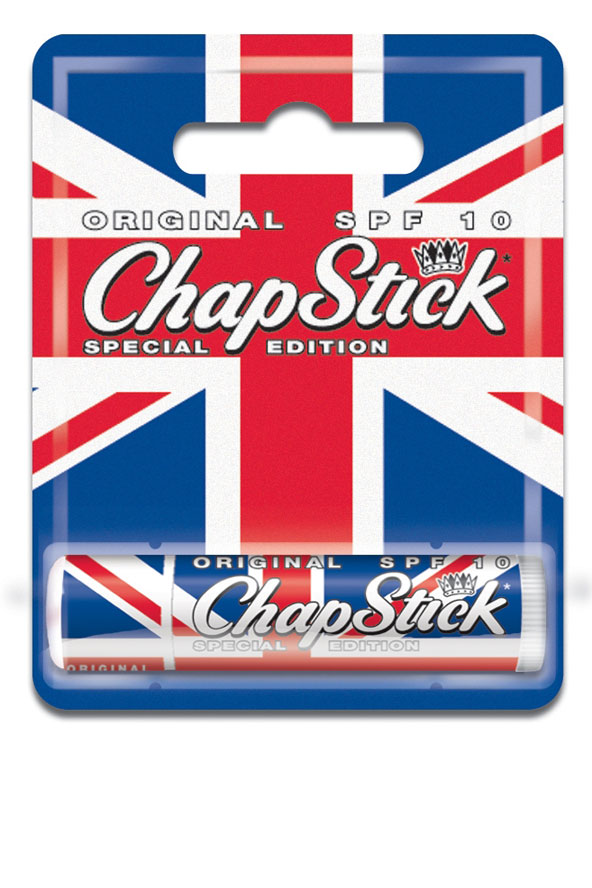 via ChapStick
Hydrated lips are a must for everyday life and especially during the Olympic Games! ChapStick has come out with a United Kingdom Jubilee Special Edition lip balm featuring the original formula in Union Jack-inspired packaging. Slick on your favorite lip balm while rocking some London pride!
Read more London 2012 Olympics coverage.
Tagged in: lux beauty, makeup, london 2012 olympics, lancome, london that gal primer benefit, lovely in london stila, uk chapstick, london olympics, 2012 summer olympics, heavy medal trio butter london, olympic-inspired beauty products, pantene pro-v,