LUX Beauty: Halloween makeup ideas
Halloween is right around the corner and now is the time to perfect your costume in every way possible. Makeup has the power to make or break your look, so over-exaggerate your features beautifully or frightfully by applying some of the richest, darkest and most glittering products on the market. Whether your Halloween costume is the usual fairy, princess, black kitty, vampiress or your favorite celebrity or fashionista, here are some Halloween makeup ideas and essentials that can help you produce your best costume yet!
Don't settle for a drugstore Halloween makeup kit. Use what you already own or buy a few new products to get the look that you desire. To create a flawless ghoulish face or to help you channel your inner rock star, the NARS Pandora duo eye shadow is just what you need. Heavily apply and contour with the white shimmer and matte black shadows all around the eye areas for a spooky skeleton illusion or a grungy rock star look. You can even apply the black eye shadow to the cheekbones to perfect your ghostly yet glam beauty style. Your lips will do all the talking when you slick on the Illamasqua lipstick in Pristine and Underworld. The matte black lipstick is your perfect beauty accessory when mastering your haunting goth or black kitty costume. The lustrous fuchsia color of Underworld is a color just for the lips of a funky fairy or popular fashionista. Use the Obsessive Compulsive Cosmetics Lip Tar in NSFW for a blood red lip color that last through out your entire Halloween party.
Add some sparkle and shine to your profile by using the Sephora & Pantone Universe gemstone faux lash set and the MAC Hey, Sailor! pigment. The set comes with precious jewels, glitter and colored tinsel lashes to truly deck out your eyes, but any one will be just what you need to be the prettiest princess of the night. The MAC Hey, Sailor! Gold pigment in Old Gold can be dusted over any part of the body. Apply it on the eyes, cheeks or entire décolletage for a subtle shine to ensure your celebrity costume is complete. Use the Urban Decay Heavy Metal Glitter Eyeliner in Opalescent Pearl to create iridescent eyes to play up your fairy or angel costume. Paint on crystalline lines with the thin brush for precise wing tips or facial and body designs.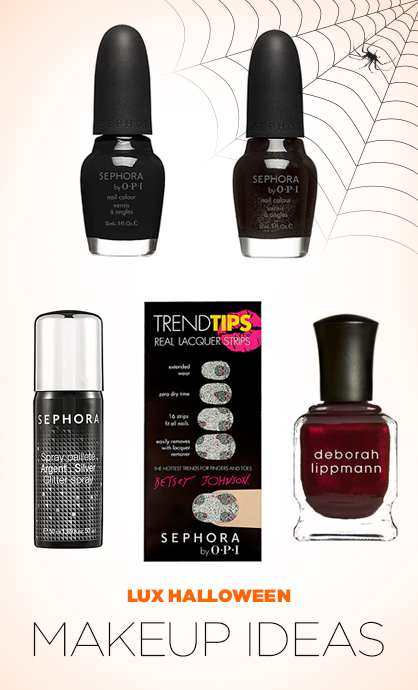 If you aren't one to dress up much for Halloween, show a bit of festivity on your nails. The OPI by Sephora Nail Colours can take your tips to the spookiest level when you glide on the jet black color of What's a Tire Jack? and the gloomy yet glittering shade of Never Enough Shoes. Match your nails to your blood-dripping vampiress lips when you wear the Deborah Lippman Through the Fire Nail Lacquer. This sparkling blood red shade is just what you need to complete your most frightening costume. Or you can always rock some cool skull nail decals from Sephora by OPI designed by Betsey Johnson. These trendy tips will give you an instant monstrous manicure.
For the most dazzling costume of the night, spray the Sephora Glitter spray in silver and gold all over your body and hair to make a sparkling statement at your next Halloween party.
Tagged in: guides, lux beauty, makeup, beauty, mac cosmetics, urban decay, sephora, betsey johnson, halloween makeup, halloween makeup ideas, obsessive compulsive cosmetics, illamasqua,