LUX Beauty: how to host a spa party
Every girl loves a good spa day! Hosting your own relaxing spa party can be a way for everyone to let loose before the holiday hustle and bustle begins. From candles and curtains to scrubs and salt cubes, here are some items and festive tips that will help you to host a pampering party for your friends and especially yourself. You deserve it!
In order to set the stage for your perfect spa soiree, you need to create a peaceful first impression and a soothing atmosphere that will transform your house into a tranquil oasis. Create a calming color palette of white and neutral fabrics all around the area of the house where the party will take place. Lay out satin table runners, hang sheer white curtains and place minimalistic, calming flower centerpieces for your guests to feel like they are really inside a spa.
Placing candles all around the room will help maintain a soft glow and create a sweetly-scented setting that will transport everyone to a more relaxed state. The Voluspa Crisp Champagne Candle provides a sparkling Brut champagne scent with hints of vanilla and barrel oak to welcome your guests, while candles like the Belle Fleur Classic Floral Petite Trio features white orchid tea, jasmine verbena and orange blossom pomegranate fragrances.
Make your spa party stand out from others by providing guests with their own plush pink cotton waffle robe and a personalized monogrammed towel in crisp white like the Matouk Auberge bath towel. As all of the ladies get settled in, provide freshly steamed hand towels, light and healthy appetizers and cocktails before soaking your feet in a revitalizing bath like the Conair Waterfall Foot Bath with lights and bubbles.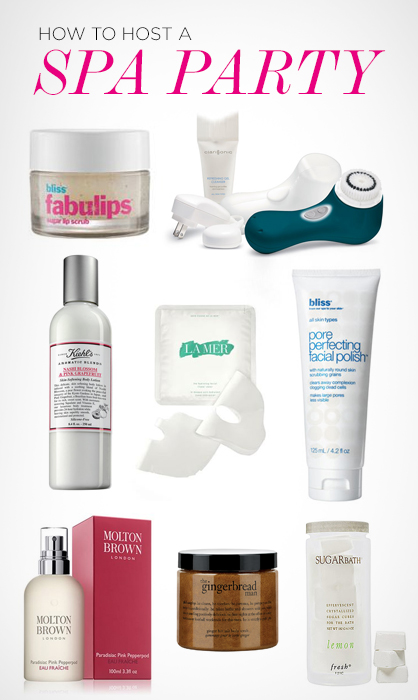 You can still host your perfect spa party even if you're on a budget. An alternative to hiring professional aestheticians from a local spa is to set up spa treatment stations around your home where your girlfriends can pamper themselves or each other. In addition to the regular manicures and pedicures, create an original menu of spa treatments with store-bought microdermabrasion treatments, exfoliators, scrubs, facials, massage oils and lotions.
Use a hand-held exfoliator like the Clarisonic Mia 2 Sonic Skin Cleansing System to gently yet deeply cleanse pores without abrasion or harsh chemicals. Guests can continue to polish their faces with the Bliss Pore Perfecting Facial Polish, their lips with the Bliss Fabulips Sugar Lip Scrub or their entire body with Philosophy's "The Gingerbread Man" Hot Salt Body Scrub. For body massaging, offer some intensely hydrating oils and lotions that add to the comforting experience with luxurious scents like the Kiehl's Aromatic Blends Hand & Body Lotion with a Nashi Blossom and Pink Grapefruit fragrance. Keep the relaxation going when you spray the Molton Brown Paradisiac Pink Pepperpod Light Perfume around the room for a light and sweet aroma.
For an ultimate spa party experience, a facial mask is a must. The La Mer Hydrating Facial is a sumptuous spa-like facial that will add a touch of luxury to the party. After placing it over everyone's face, it will saturate the skin with signature hydrating ferments to reawaken the appearance of youth. Don't forget to add some cucumber slices over the eyes for a de-puffing effect.
The ladies can end their spa party experience taking turns soaking in the bath tub filled with some dissolved Fresh SugarBath Lemon Bath Cubes. The cubes will melt any stress away and bring a citrusy-sweet scent of lemon while the real brown sugar will help restore skin and heal any skin irritations.
As your girlfriends leave the soiree, compile a cute gift tote filled with mini-sized spa items and products for all guests to take home and continue their relaxation.
Tagged in: lux beauty, beauty, spa, la mer, spa treatments, spa products, fresh, clarisonic mia, kiehls, how to host a spa party, at home spa, voluspa candles, spa party,