LUX Beauty: NYFW Spring 2013 backstage beauty trends
New York Fashion Week Spring 2013 is in full swing and has already launched tons of new ready-to-wear collections. As the time that designers and editors get their spring fashion fix on, this is also when fresh beauty trends emerge. During this fashion week, spectators feasted their eyes upon breathtaking beauty trends that may already be catching on beyond the runway. This mix of timeless and modern beauty looks created backstage by NARS, MAC and Stila will certainly be seen again during the Spring 2013 season.
NARS played an important role in NYFW, as the main cosmetic line used in shows like Creatures of the Wind, Tanya Taylor, Helmut Lang, Alexander Wang, Thakoon and Phillip Lim 3.1. The cosmetic line created effortless looks at the Tanya Taylor show featuring flawless skin and natural brows. Makeup was light and airy with barely-there foundation and coverage using the Sheer Glow Foundation and Copacabana Illuminator. Eyes were practically nude except for a light pink wash, long lashes and brows groomed to perfection created with the All About Eve Duo Eye Shadow, Larger than Life Lengthening Mascara and Bengali eye shadow added to brows. Hairstyles were slicked back with a soft finish hair spray or wrapped back in solid colored and geometrically printed scarves.
"It's channeling Natalie Wood from the early '60s at the famous Sandy Lane Hotel in Barbados," said Uzo, NARS international lead makeup stylist. "The skin is fair and flawless. Brows are lightly filled in to look somewhat messy but natural."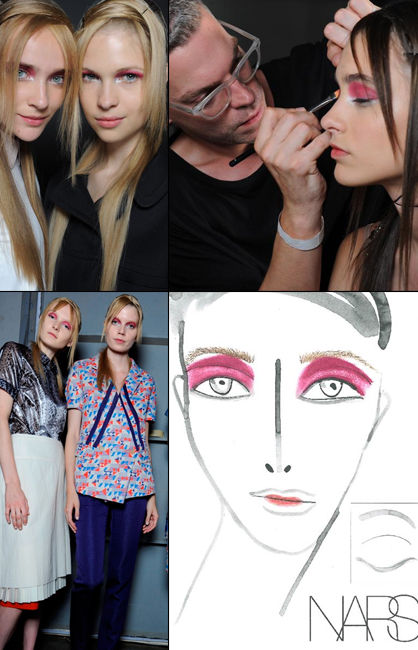 via NARS
NARS also created a deconstructed beauty trend filled with hot pink eye shadow, light-catching highlighter, peachy pink and dark pink lip colors, and matte coverage for the Creatures of the Wind runway show. This unique look kept models' faces looking modern and chic with minimal but bright pinks and rosy tints using the Damned Velvet Matte Lip Pencil, the Cruella Velvet Matte Lip Pencil on the eyes and the Pure Radiant Tinted Moisturizer to create an even skin tone. Hair was kept bone straight, pinned in sections and tied low at the nape of the neck.
"[COTW designers] Chris and Shane were referencing a character from a Godzilla film. They had this idea of 'monstrous beauty' that's raw, but still ladylike," said James Boehmer, NARS global director of artistry. "So we created a look on the eyes that's a little lived-in. It's not as anime and perfect; it's destroyed."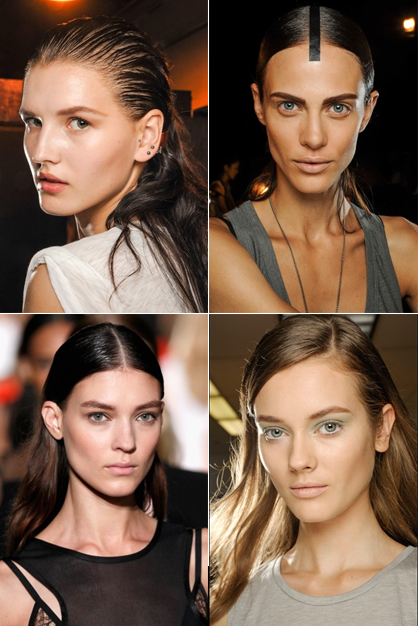 via Style.com
In the Alexander Wang show, NARS kept the makeup bold, strong and sexy with signature thick brows and bronzed foundation. Elegantly-placed low ponytails were added to the models to tie everyone together simply before strips of black and white electrical tape were added over each model's center part for severity. Products used included NARS blush in Zen for a slight flush, Cayenne cream eye shadow for a contouring effect and NARSskin Optimal Brightening Concentrate. Other collections that featured less-is-more hair and makeup looks included, Derek Lam, Victoria Beckham and Rag & Bone.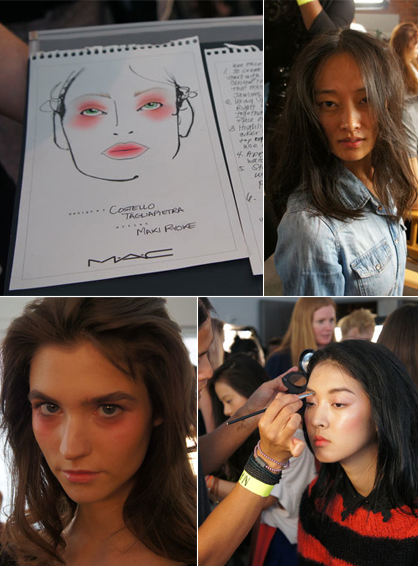 via Secondcitystyle.com
The Costello Tagliapietra runway show boasted warm and rosy makeup looks created by MAC Cosmetics. Extra blush was applied around the eyes, and down the entire cheekbones. Voluminous hair was created with curling irons to mimic soft waves and movement. The Luna and Pearl Cream Colour Base was used to create the rosy eye shadow area and for blush colors. To finish off the refined look, the Fascinating Eye Kohl was drawn on the inner waterline of the lashes for precision and the Lady at Play Mineralize Rich Lipstick was applied to lips for a glazed and neutral-colored pout.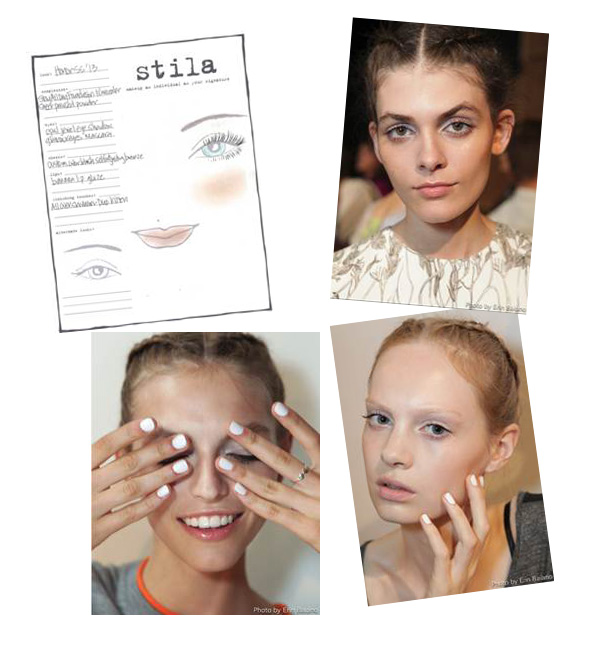 via Beautifulmakeupsearch.com
Honor played up the young and girly vibe with clean and pretty makeup that channeled the giddy feeling of the season. Looks were created with Stila's pastel colors, including their eye shadow in Opal, shimmering powders from the All Over Shimmer Duo in Kitten and the Banana Lip Glaze for subtle lip color and shine. Hair was braided into two sections and tied at the nape of the neck and nails were painted white for a sweet and innocent look.
The various makeup trends created by NARS, MAC and Stila were very diverse but still wearable for this spring season. Although each trend incorporated different colors and areas of focus on the face, all trends displayed the new and refreshed looks that everyone can get in on.
Tagged in: trends, lux beauty, makeup, beauty, new york fashion week, spring 2013, mac cosmetics, hairstyles, nars, fashion week 2012, stila,