LUX Beauty: Top 10 summer hairstyles
During the hot summer months, a plain 'ol ponytail should not be your go-to hairstyle. There are multiple fun ways to wear your hair up and down for a little summer style lovin'. LadyLUX gives you the top ten hairstyles to try during summer. Curls, waves, up-dos, down-dos—we feature them all with directions on how to produce them. Any of these hairstyles will help you get ready for whatever "haute" weather is headed your way!
Half-Updo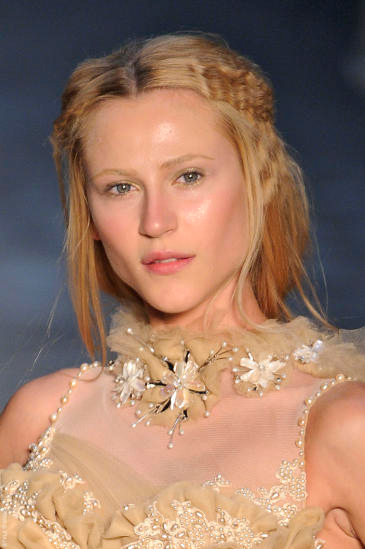 via Stylesight.com

If it's one of those humid days when your hair cannot be tamed, a half-updo may be ideal for you. Lift up the two top sections of your hair and secure them with bobby pins. Comb it straight back or even make a middle or side part. You can allow some flyways and tendrils to frame your face for more of a free feel.
Beachy Bob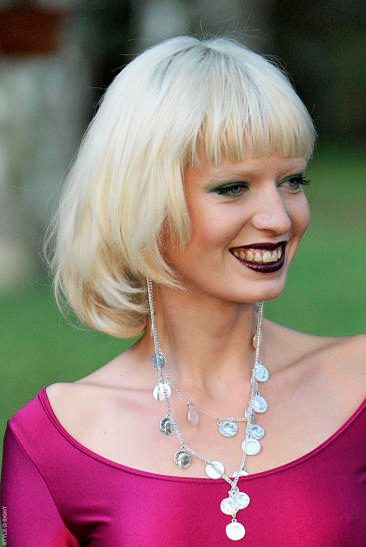 via Stylesight.com

If you have short hair, there is a cute summer style for you too! A beachy bob is a style that can be created efficiently and fast. Only blow dry your bangs, leaving them in front or even extending them over your forehead for a side-swept look. For a windblown feel, add clips to your damp hair and let it air-dry for an organic texture. The more layers you have, the beachier your bob will be.
Flower Accents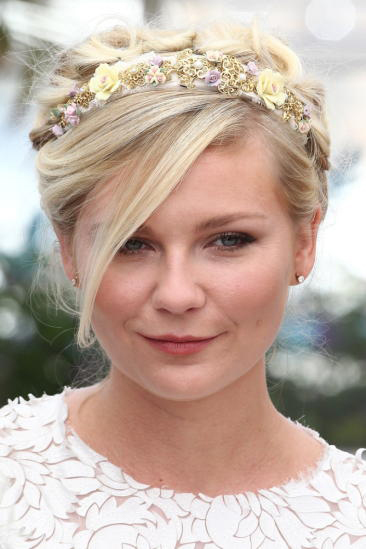 via Stylesight.com

Want to try something entirely new for the season? An embellished flower head band or flower clips are cute and feminine summer hairstyle accents. By using your flower accent or accessory as a centerpiece, you can pin up your hair around the flowers and close to the headband. Flyways and stray pieces just add to the summery and modern look.
Braids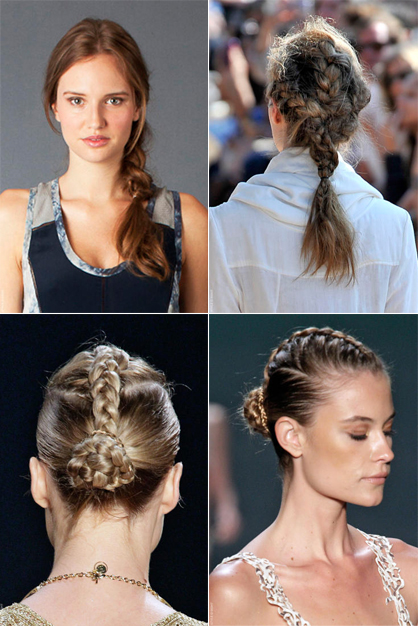 via Stylesight.com

Braids have been seen endlessly on the runway and the red carpet this season. Try this look by forming multiple braids with your hair. Whether it's one, two, three or even four different braids, they can be worn for any occasion. For a sleek hairstyle, try a thick, single halo braid to frame your face. For a funky style, try a braided Mohawk with a braided bun. Be sure to use mousse beforehand to give your style extra hold. A bit of hairspray can go a long way to keep your braids set in place all day and into the night.
Top Knot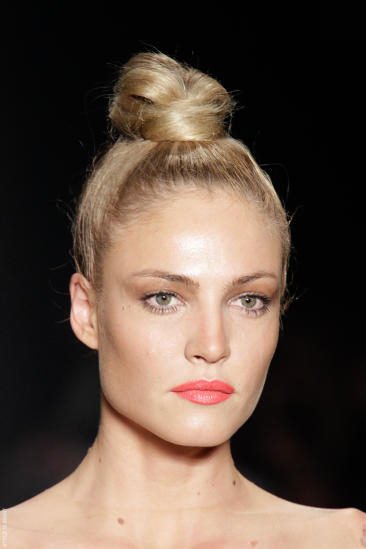 via Stylesight.com

As one of the most current hairstyles in fashion at the moment, the top knot is anything but boring. This modern version of the girly bun is still sophisticated and cool as ever. Blow out your hair and add mousse for hold. Tie into a high ponytail at the very top of your head. Take the ponytail and wrap into whatever type of knot you desire—braided, sleek, loose or twisted. Any top knot style will keep your hair out of your face and ready to party in the sun.
Natural Curls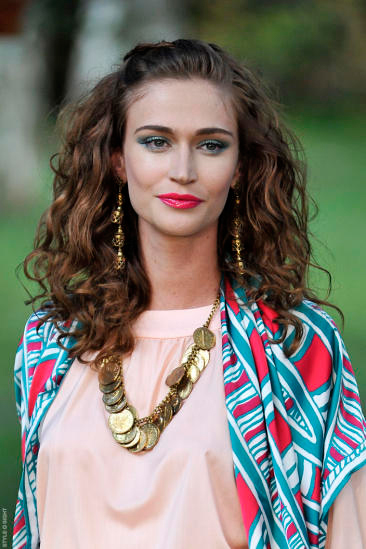 via Stylesight.com

Wearing your hair in its natural texture that requires no heat tools at all is the easiest of all summer hairstyles. Embrace your hair as it is and flaunt it! To keep the summer elements from drying out your strands, use a hydrating shampoo and deep conditioner. Avoid putting your hair into styles that tug onto hair strands to keep your natural curls looking strong and healthy all summer long. You won't believe how easy and beautiful it looks!
Beachy Waves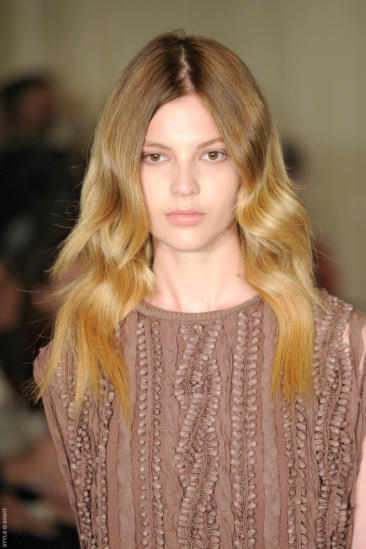 via Stylesight.com

Beachy waves are a summer essential. Create your own loose, tousled look by letting your hair air-dry to bring out your natural waves and loosely wrap small sections around a medium-barrel curling iron. For a more carefree look, comb your fingers through the curls after cooling to create a wavier and less curly style. Hairspray is optional if you desire less maintenance with your style.
Low Ponytail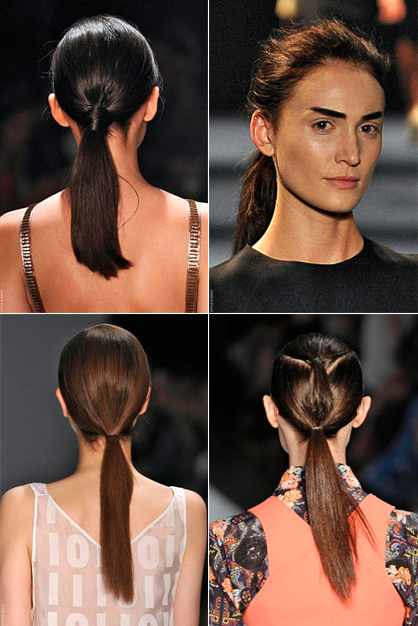 via Stylesight.com

A low ponytail can be your new go-to hairstyle if you're running late or need a quick fix-it style. To add extra shine, apply a shine serum to your hair before blowing it out. Quickly iron your hair with a straightener and secure it right at the nape of your neck with a tie. To maintain a modern low ponytail look, wrap a strand of hair around the tie, make a center part, create a half-up hairdo then tie at the nape or keep it loose and wispy.
Slick back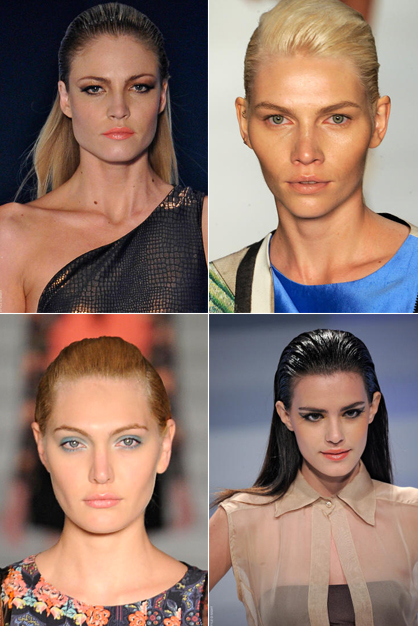 via Stylesight.com

The slick back is this season's cooler version of the prim and proper up-do. Slick back your hair with gel and mousse for extra hold and add a pea sized drop of shine serum to keep it from looking crunchy. Leave your hair down in back for a less formal style or slick everything back into a low bun. This hairstyle is easy to create even after a day of surfing or splashing around in the pool.
Retro Hair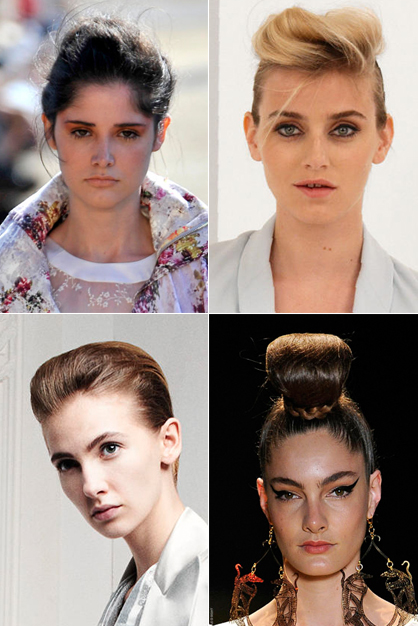 via Stylesight.com

For an entertaining, old school hairstyle to wear out at night, try a retro up-do. A high bouffant hairstyle is sure to catch some eyes when you're out on the town. Begin with clean, blown-out hair and tease your top layer at the crown with a fine-tooth comb. Sweep a layer of un-teased hair over so you can cover the teased portion. Pin into place and be sure to add plenty of hairspray to keep its form. Add a small braid around the bouffant for an interesting look or let some stray pieces out for a more tousled effect. Apply a glossing balm or cream to add a mirror-shine for the finishing styling product.
Tagged in: lux beauty, hairstyles, summer hair, top knot, top ten, braids, beachy waves, flower accents, retro hair, summer styles to try,