LUX Life: Green Living in LA
While many know the value of sustainable practices, it can be hard to find places that are both convenient and that offer benefits to the environment. Yet from supermarkets to coffeeshops and spas, the businesses we patronize and the items we purchase have an impact on our world. So check out our list of top 10 ways to go green while living in LA. We have hunted down everything from an organic pet store to an eco-friendly sushi restaurant.
1. Groceries: Natural Foods Market and Restaurant
Pioneers in the field of health food, the founders of this market desired to create a complete nutrition center that would offer a range of healthful and delicious food. In 1959, Full O' Life was born: a natural foods supermarket, one of the first of its kind. The selection is huge and includes naturally produced dairy products and meats, supplements, and cosmetics. The produce is delivered daily by local organic farms. Now celebrating 50 years, the market is not just a place to purchase food: The locale also doubles as a restaurant, with homemade soups, fresh salads, sandwiches, burgers, chicken and fish entrees, and desserts, mostly falling between $4.50 and $12.95. As an added bonus, they also offer hour-long vegan cooking classes.
2. Sushi: Shojin Sushi
With a mantra of a "new diet for healthy life with plant-based meals," this downtown LA restaurant serves up organic, natural meals inspired by traditional Japanese vegetarian cuisine, known as Shojin.
Everything is macrobiotic friendly, natural, dairy-free, and organic and locally sourced where possible. Check out their flavorful line of soups, sushi, appetizers, salads, ramen and entrees made from veggie items such as barbecued seitan and hamburg steak. As a nice touch, their mirin and soy sauce are directly imported from Japan and crafted using traditional methods. Free of chemicals and harmful food additives, the fare is prepared simply, allowing the natural flavor of fresh vegetables to shine through. Shojin cuisine was the original Buddhist vegetarian cooking. The word is derived from a Buddhist word meaning to drive out the evil thoughts and strive for Buddhism with one's whole heart.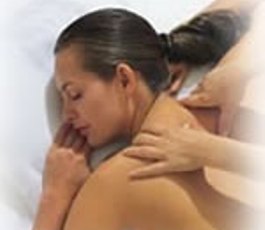 Courtesy of Green Bliss EcoSpa
3. Spa: Green Bliss EcoSpa
Mixing sustainable lifestyles with the latest wellness trends, this mobile spa service can bring eco-friendly pampering straight to your door, whether for an individual, a home or an office. Featuring traditional spa experiences done in a green way, services include therapeutic massage, skincare, hand and foot pampering, yoga + massage, intuitive hypnosis and holistic nutritional counseling. All treatments are environmentally sustainable, with no parabens, chemical or artificial preservatives, surfactants or emulsifiers. Treatments are based on using the purest, natural, vegan-approved products, which have innate natural benefits. Many of their other practices likewise benefit our planet, from buying from local artisans, supporting fair trade and purchasing products with minimal or recycled packaging. Their vision is rooted in the idea that everything is connected and that the health of people, businesses and community is dependent on the other elements. Green Bliss tries to renew customers' spirits and nourish their beauty without exposing their clients to dangerous chemicals or invasive treatments as many other conventional spas may. They also donate 1 percent of gross to organizations that work to protect our environment.
4. Brunch: Inn of the Seventh Ray
This eatery is rumored to be LA's most romantic restaurant, with a number of couples choosing to become engaged or even married there. Now about to celebrate its 50th anniversary, the restaurant serves up a delicious array of tasty fare. Stop by for Sunday brunch; they offer both a vegetarian and a full buffet option. The vegetarian one features gourmet vegan, vegetarian and raw salads; pates and spreads; fruits; sweetbreads; and entrees such as quiche and white bean stew. The full buffet includes a Belgian waffle bar, eggs, breakfast meats and extras such as poached salmon and king crab legs. For those who desire to go a la carte, you may entertain your taste buds with vegan apple persimmon cake, cinnamon rolls, goat cheese quiche or roasted veggie frittata. The idea is to combine good dinning with good doing. Their ingredients are mostly organic and come from local farms. Meats are all natural and range fed, and dairy is minimized. Not only that, they use no food colorings, preservatives, refined sugar or bleached flour.
5. Florist: Wisteria Lane
This florist not just has beautiful bouquets, but all the flowers are locally grown, organic and eco-friendly. The Earth and the farmers are treated with respect in the process, as the flowers are grown in a gentle-to-the-Earth method. Whether looking for floral decoration for birthdays, holidays, anniversaries or even for that big day, their unique arrangements can make your event special. Don't sacrifice style for sustainability. The owner recently discovered that our flowers can be tainted by the horrible circumstances behind their products. Many flowers are produced by painful, low-paid toil, with little protective gear, meaning workers are exposed to pesticides, fungicides and other chemicals that can cause health problems. Wisteria Lane therefore only uses local flowers, aiming to simultaneously to protect the environment and improve the safety of these workers. If you are not close by, never fear: They deliver all over Los Angeles and the San Fernando and Conejo valleys.
6. Organic produce: Farm Box LA
This organization makes eating organic and local easy, by delivering a box of freshly harvested produce – from local organic farms, of course – each week directly your door. It also encourages you to fit those fruits and veggies into your diet as another box will show up the next week again crammed with produce. The box's ingredients are determined by Farm Box, but they are happy to customize the box to your preferences. You get to save money—they sell the produce at farm wholesale prices—and save time shopping. And all packaging is eco-friendly with a no waste policy. Leftover produce is not wasted, but send to a food bank or used as composting. So let them cut out the difficulty of visiting farms and farmers markets; Farm Box LA brings the farm to you.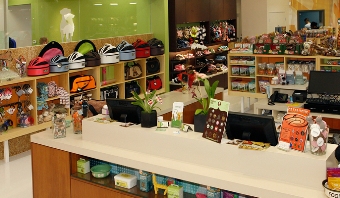 Courtesy of Healthy Spot
7. Pets: Healthy Spot
Treat your pet right by a trip to Healthy Spot. Focusing just on dogs and their needs, the store offers a range of premium products and services designed to make your canine companion happy and healthy. Ride the wave of natural, organic and raw food for your dog. At Healthy Spot, they vend a full variety of wholesome, organic food lines, plus safe and eco-friendly toys, treats, training tools, and grooming products and services. With the number of pet food recalls, you want to be sure your pet has high-quality products. The store claims to have such good service they will know you and your dog by name on just your second visit. Or you can make yourself an online customer by checking out their e-store. They also try to make a difference by breeding social awareness of compassion and canine education for the community.
8. Coffeeshop: Literati Café
Taking its name from "literati," meaning the literary intelligentsia, this family-owned café was created to nourish the bodies, minds, and spirits of creative writers, artists and thinkers. Free of preservatives, fillers or additives, their menu of organic fresh salads, sandwiches and pastries hit the spot. Wherever possible they use organic, locally grown, farm fresh produce, and offer a range of vegetarian and gluten-free menu items. Indulge yourself with breakfast items such as chocolate chip pancakes or a shrimp omelet, or check out the lunch menu for spinach lasagna or turkey meatloaf. The whole place is sustainable down to the details, with filtered water; shade-grown, free-trade coffee; and fresh squeezed juices. Get your work done with free Wi-Fi. And right next door is a casual bar and grill, known as Literati 2, which offers a full-service restaurant and bar.
9. Yoga: Passport to Prana
Passport to Prana is bringing you yoga classes with a twist. Buy a pass and receive a free yoga class at every one of the participating yoga studios. This pass lets you shop around. Whether you are seeking a slow, meditation-like experience or want to bust a move, there is sure to be an option on the list to suit your style. With a range of studios, you can enter in your location and churn up a lengthy list of quality classes. You can then use your bar-coded card to enter whatever yoga studio is participating. The creators are hoping to expand your yoga horizons by joining together as a community. The passport is $30 plus any applicable taxes and is valid in Los Angeles locations until November 2011.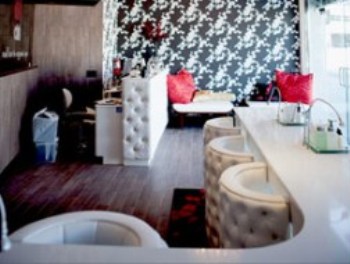 Courtesy of CHI Nail Bar
10. Nails: CHI Nail Bar & Spa
At CHI Nail Bar & Spa, they profess that outer beauty is a reflection of inner health and balance. Using the latest beauty methods combined with ancient remedies, they rejuvenate the body naturally. As advocates of natural treatments, the spa only uses organic ingredients developed from the botanical punch of our plants and seas. This premier full-service nail salon offers sustainable opportunities to get pampered, from nail enhancements, reflexology and gel manicures to facials, waxing and massage. Spoil yourself through therapeutic hand and foot treatment such as a jasmine green tea soak for your feet or a soy paraffin masque for your face. They also offer environmentally friendly alternatives to traditional nail polish and fake tips through minx nails, a flexible polymer applied to nails like a sticker.
Tagged in: nails, spa, yoga, environment, organic, los angeles, restaurant, la, groceries, pet, produce, sushi, florist, coffeeshop, brunch, eco-friendly,