LUX Loves: Dior Does It Again…On Film
French fashion. Those two words evoke endless meaning in the minds of women everywhere, whether they follow fashion or not, visions of fabulousness springing from that Gaulian lineage no doubt dance in their heads.
And who better to keep molding la mode than Christian Dior? The designer became a star practically overnight when he opened his couture house on the avenue Montaigne in Paris in 1947 (he was only 30), and turned the world upside down when he debuted his first collection, termed, "New Look", full of overly full feminine skirts, the following year. It was called "revolutionary" by those who witnessed it. Just ten short years later, the master of couture unfortunately died suddenly. His pupil, Yves Saint Laurent, however, carried on in his wake, and the house of Dior has been leading the fashion flock ever since.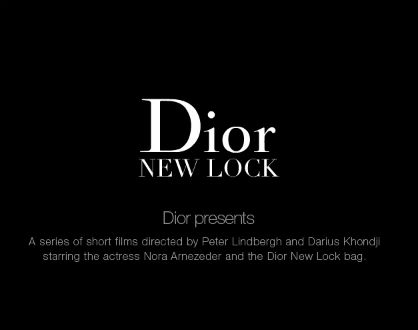 Now, a short series of films has debuted on the company's website to showcase the Dior New Lock Inspiration Collection, the stunning new handbags of the season. One look at the glorious objects and there is no question that the Dior genius is alive and well. The films, created by Peter Lindbergh and Darius Kondji, and featuring 21-year-old French actress and singer Nora Arnezeder, are indeed short—snippets, in fact—but brilliant ones at that. Arnezeder is caught, as it were, walking down the street, out during the day, around a pillar in a room, holding her dog (in the bag, of course), going into a beautiful building on the Seine at night, sporting the Dior New Lock Bag all the while. We catch just a glimpse of the pretty French girl where and when we can. Entitled, appropriately, Day, Light, Avenue, Flash, Grey, Black/White, Reflection, Front Row, Night, each delivers to the viewer in a real commercial sense how to see oneself carrying the bag in any situation (after all, they are in the business of selling); it also transmits how fleeting a moment can be, real life caught on film, the beauty of woman—with Paris as its backdrop. The Dior films also reflect the mélange of masters who produced the films: Lindbergh is known the world over for his own genius, having been one of the top fashion photographers for over three decades and having shot every top model, male and female. Kondji is an international filmmaker who's worked in many realms, thankfully the French fashion one mostly, having shot the recent Chanel Rouge Coco advertisement video with another French actress, Vanessa Paradis (Mrs. Johnny Depp). Most of all, these films make one want to rush out and buy a Dior New Lock bag immediately upon viewing. Keep the French fabulousness coming.
Tagged in: handbags, dior, french fashion, vanessa paradis, darius kondji, dior new lock inspiration collection, nora arnezeder, johnny depp, peter lindbergh,