LUX Style: biker chic
Leather, chains, studs and spikes have been appearing on the catwalk and are currently trending on the streets and store shelves. This moto-inspired look incorporates harsh black fabrics and metallic studs with simple silhouettes and solid colors to craft a modern bad girl vibe. Showing fierce yet polished edginess, the biker chic look will have you ready to hop on the nearest motorcycle and ride in style!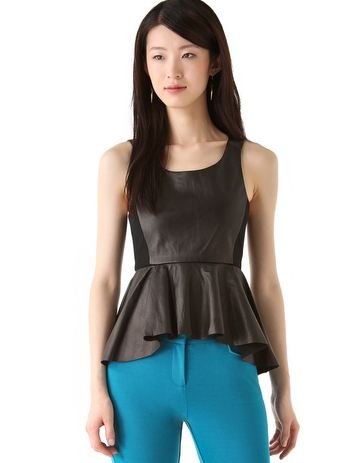 This Rebecca Minkoff Monroe tank blends glazed black leather with girly peplum. The slick material is mixed with jersey insets contouring the sides and flared asymmetrical peplum to create a more feminine take on the biker chic style. Pair with dark jeans and booties and you're ready to party.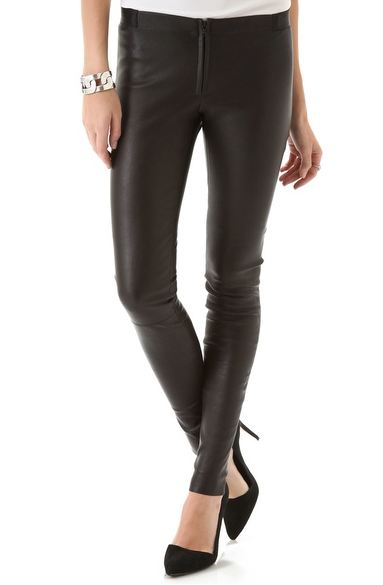 Look sexy as ever in these Alice & Olivia front zip leather leggings. The sleek silhouette of the soft and buttery stretch leather will elongate while the subtle elastic insets will make this pair of pants easy and comfortable to wear anywhere around town.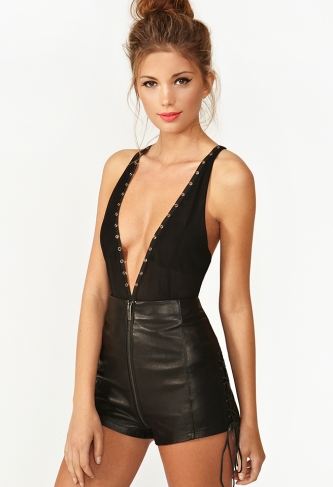 Slip into these Matrix leather shorts from the Nasty Gal Collection when going out to that next hard rock concert. This rad pair of shorts is made of soft, black leather and features a high waist and lace-up corset sides. Don't leave out a stretchy black body suit or cropped rocker tee when sporting these wild shorts.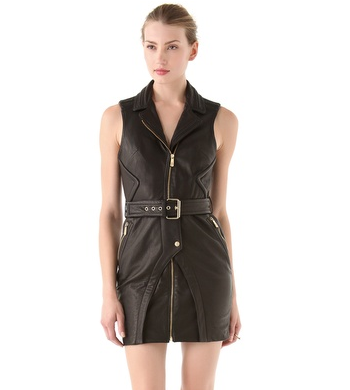 Faith Connexion brings you this glamorous yet dangerous leather dress inspired by the motorcycle jacket. Perfect for a rock-n-roll concert, the dress displays zip pockets resting at the hips and a zip-flap closure. Tie your look all together with the optional leather belt.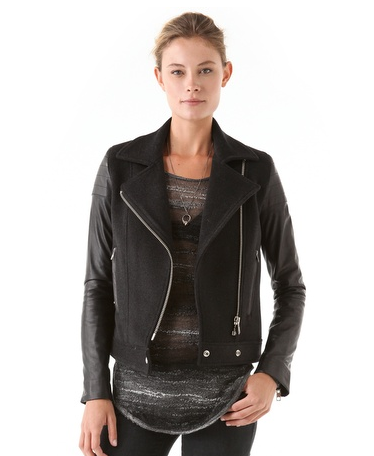 Be prepared for the crisp fall weather when wearing this Nicholas Chelsea biker jacket. Featuring an off-center zipper, notched fold-over collar, brushed felt bodice and supple leather sleeves, this slim moto jacket is a classic and urbane addition for your fall wardrobe.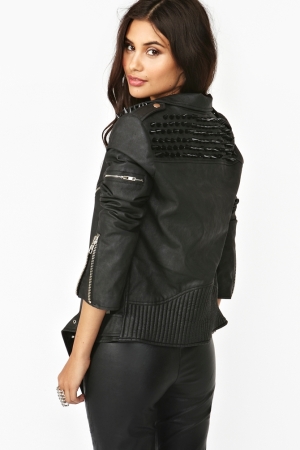 Feel as bad as can be in this spiked moto jacket from the Nasty Gal Collection. Exposing black spiked detailing along the shoulders and upper back, this leather moto jacket will make you the leader of the pack. Pair it with a white muscle tee and tight blue jeans to channel your inner James Dean.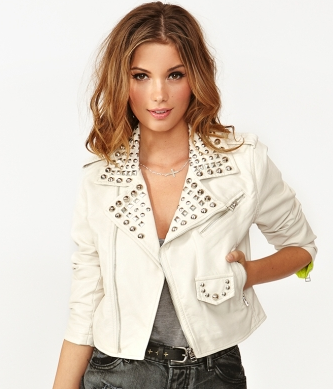 Make the bad boys come hither when you're strutting around in the Nasty Gal Collection studded moto crop jacket. The cropped fit and ivory color keeps the jacket looking cool while the vintage-inspired vegan leather, silver studded detailing and zipped cuffs retain a classic feel. Toss it on over a tank and pile on studded cuffs and rings to master the bad girl part.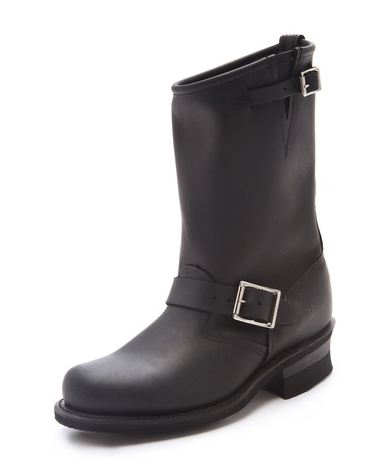 Exude a daring look when zipping by on the back of a motorcycle wearing these classic Frye Engineer boots. The leather material, thick rubber soles and buckle straps at the calf create a
rugged, mid-height boot ready to pair with any leather jacket and a stud-embellished skirt.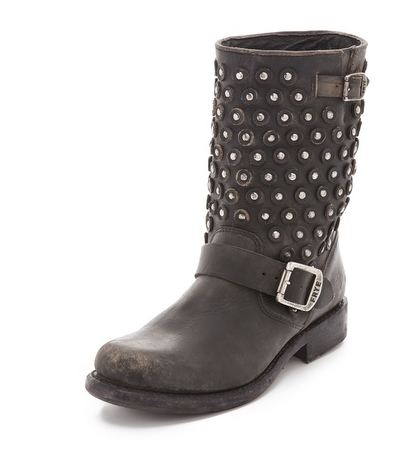 The Frye Jenna disc short bootie puts a modern spin on the classic motorcycle boot by displaying scuffed and scratched black leather and oxidized and hammered studs on the top half. These boots are also accented with a buckled ankle strap across the middle and a smaller strap over the gusseted top line for a touch of industrial hardware.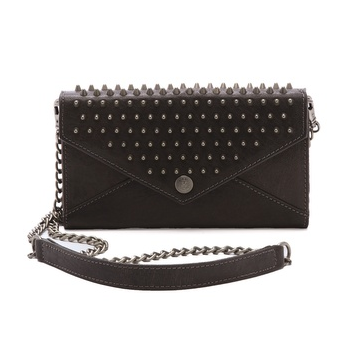 Parade your biker chic style by wearing this Rebecca Minkoff studded chain wallet over your shoulder. This punk rock wallet has distressed metal spikes, pebble leather, an envelope opening and a detachable chain strap so you can also carry it as a clutch when playing up your nighttime ensemble.
Tagged in: trends, guides, lux style, studs, spikes, leather boots, leather jacket, chains, biker jacket, biker chic, motorcycle,