LUX Style: The understated sandal
Spring is nearly in bloom and the idea of the sun shining warm and brightly is synonymous with breezy sandals. It's time to ditch the boots for something fun, flirty and understated. Yes, the understated sandal that we mentioned in our Spring 2012 Footwear Runway Trends has officially hit stores. The easy, uncomplicated sandal keeps ensembles so effortlessly clean – right on target with what's trending. These simple, chic single soles or barely-there platforms are completed with minimal straps and make chunky platforms look like old news.
Clean and sophisticated, Giuseppe Zanotti's leather sandals, displaying the thinnest possible straps, are exactly what shoe dreams are made of. The sandal features metal heel cap plates and a sleek stiletto heel. For a monochrome Spring look, pair these Zanotti's with neutral leather-cropped leggings and a button-up chiffon top. On the flip side, the sandal's subtle color can also complement zesty, loud neon sweatpants. Toss on a denim shirt for a cool vibe.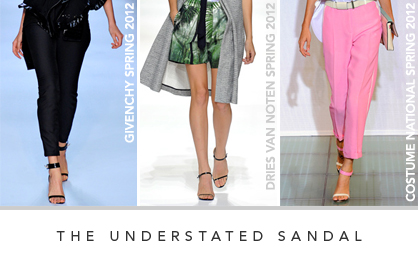 LadyLUX via Style.com
If neutrals and brights are your thing, KORS Michael Kors ankle-strap sandals have built-in colorblocking. The heel and slight platform make a bold, metallic fuchsia statement against the basic tan leather straps. Amp up the color-injected shoes with a fun, all-over floral print dress – and don't stress if fuchsia isn't in the pattern. The colors don't have to match; they just have to complement each other.
Leopard is always a neutral, so it's wise to invest in a pair of heels boasting the print. Giuseppe Zanotti's leopard print sandal in patent leather is unexpected and presents a crisscross vamp and buckled ankle strap for a perfectly classic look. And because the playful print pairs well with just about everything, make a statement by styling with pistachio-green pants or play it cool with leather skinny pants that unzip at the ankles.
Who knew basic and Velcro could be so stylish? Clearly, Alexander Wang did with his Colette sandals. They feature a thin vamp strap, an ankle strap with Velcro closure and a 3.5-inch heel – shockingly low for the fashion-forward designer. These minimal sandals would flatter fitted jeans or easily accompany a cascading gown. Dressed up or down, the Colettes just work.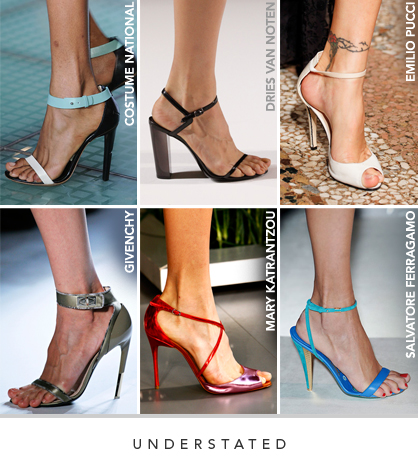 LadyLUX via Style.com
Springtime is about lively, spirited possibilities and Kors Michael Kors cork platform sandals embrace that notion. Patent leather is emphasized on the skinny straps and stiletto heel and playfully contrasts against the cork. These sandals can be casually paired with daytime outfits of polka-dot print shorts or ikat skirts.
A bit more aggressive than the rest with wider straps and an ankle cuff, L.A.M.B.'s Mya sandals will definitely get you noticed. The two-tone sandals spotlight snake-embossed panels and a covered heel. Let the ankle cuff accentuate your legs when styled with sweet rompers in sunflower shades.
This article was contributed by Annette Tang of the VersaStyle. You can follow Annette and her fashion adventures on Twitter at @theversastyle.
Tagged in: trends, guides, shopbop, footwear, alexander wang, spring 2012, giuseppe zanotti, l.a.m.b, kors michael kors, understated sandal,