LUX Travel: 5 Best beachfront resorts
It's only natural that LadyLUX brings you top-notch beachfront resorts for the summertime.
If a room with a great ocean view or a hotel close to a beach isn't good enough for you, here are five resorts that are located directly on the sand. From Mexico, Florida, Greece, Hawaii and Fiji, one of these beachfront resorts has the greatest ocean views of all. Trust us—these resorts will make your summer beach dreams come true!
Al Cielo Hotel, Mexico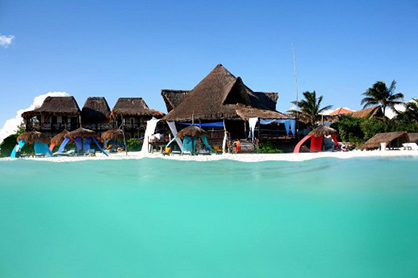 via Al Cielo
The Al Cielo Hotel on the Xpu-Ha Beach in Mexico is a beachfront boutique hotel twenty minutes south of Playa del Carmen in the peaceful Mexican Riviera. Compared to the large-scale resorts of the Riviera Maya, this charming resort provides a more intimate experience. With four rustic and elegant rooms titled Earth, Air, Fire and Water, guests can expect them all to be air-conditioned with king-size beds, and complete with terraces and colorful hammocks. Set directly on the beach, your private villa will be ninety feet from the edge of the beach and your terrace will be five steps away from the sand. With ultimate exclusivity, guests will receive individual attention from the Al Cielo staff about nearby tours and soothing spa services.
To book your beachfront stay at the Al Cielo Hotel , visit www.alcielohotel.com.
Shelborne South Beach, Florida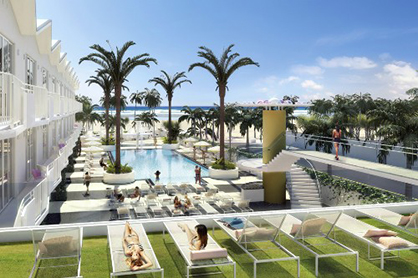 via Shelborne South Beach
As one of the few true oceanfront properties in South Beach, the Shelborne South Beach Hotel was originally a 1940s Art Deco haven. The hotel reopened in 2011 after a two-year, $20 million rejuvenation to expose the new tropical and relaxed grounds. After you spot the perfect private beach cabana and unwind in a warm Jacuzzi, swim out into the pool that reaches right up to the beach line. As South Beach's most stunning resort, the Shelborne offers posh Premiere Suites with unparalleled views of the Atlantic Ocean.
To book your beachfront stay at the Shelborne South Beach Hotel, visit www.shelborne.com.
Knossos Beach Bungalows, Greece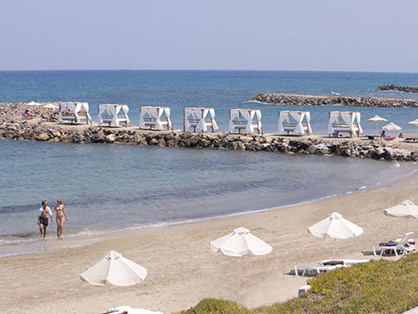 via Knossos Beach Bungalows
The Knossos Beach Bungalow resort might be located seven miles away from Crete, but the sand is only three feet away from your private deck. Filling the Grecian beach paradise are terraced rows of 120 white-washed mini villas. Don't miss out on the waterfront rooms and suites that feature private sun decks. If you ever get tired of the beach, don't worry—there are three pools, three bars and three restaurants to fill up your day with extra activities.
To book your beachfront stay at the Knossos Beach Bungalows, visit www.knossosbeach.com.

Crusoe's Retreat, Fiji
via Crusoe's Retreat
If an intimate beachfront resort is calling for you, then Crusoe's Retreat in Fiji is your ultimate location. Located on Fiji's famous Coral Coast, Crusoe's has 29 bures (traditional huts) that are located right on the sand. The resort is situated right next to an authentic Fijian village where you can learn about their ancient customs. Complimentary resort activities include sea kayaking, snorkeling, beach volleyball and bush hikes.
To book your beachfront stay at Crusoe's Retreat, visit www.crusoesretreat.com.

Napili Sunset Resort Maui, Hawaii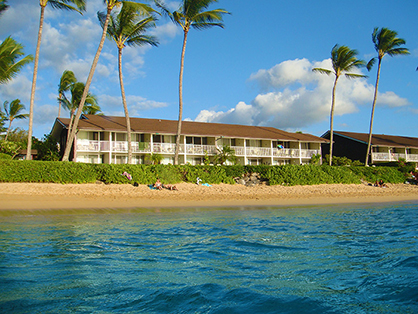 via Napili Sunset Resort Maui
Located on one of the best beaches in all of Hawaii, the Napili Sunset Resort Maui is known for golden sand, snorkeling, surf and sunsets. Whales and dolphins are sometimes seen swimming by the bay. The resort's two tropical-themed beachfront buildings are set so close to the beach that once you walk out of your lanai and across your private lawn, your feet will be planted on the beautiful sand of the Napili beach, which is about ten feet from your room entrance.
To book your beachfront stay at the Napili Sunset Resort Maui, visit www.napilisunset.com.

Tagged in: lux travel, travel guide, oceanfront hotels, knossos beach bungalows, 5 best beachfront resorts, al cielo, napili sunset, shelborne south beach, crusoe's retreat,