LUX Travel: LadyLUX's favorite cities to visit
October is one of the best months of the year to travel and many tourists may need destination ideas. To help travelers out, the LadyLUX staff shares their favorite cities to visit plus their top picks on where to stay, dine and special sites to see.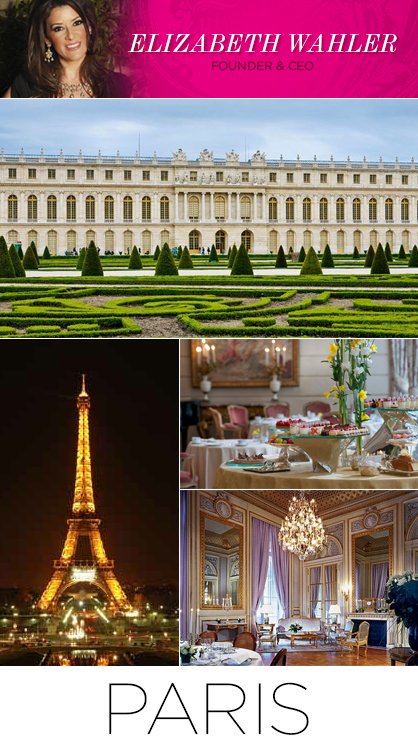 Paris: a place to indulge, marvel and daydream -- fabulous any time of year for inspiration, folly and experiences. I hope you enjoy my city favorites as much as I do!
Drink
Hotel Costes: A see-and-be-seen kinda place. If you can, make reservations for the terrace whenever possible -- the seating doesn't get any better than this!
Eat
Chez Georges: A venerable institution, loved by Julia Child, serving traditional French fare. A favorite amongst visiting fashion week editors.
Chez André: Open since 1937, Chez André is a Paris classic favored by celebrities.
Cafe La Favorite: Popular amongst the trendy and chic -- a lively atmosphere accompanies their international cuisine and strong libations.
Stay
Hotel de Crillon: One of the oldest luxury hotels in the world boasting an unprecedented location and service.
The Four Seasons Hotel George V: Phenomenal service, exquisite decor.
Le Bristol: Opulent and considered to be one of the best Paris has to offer.
Hotel La Belle Juliette: Located in Saint Germain, this newer hotel is full of color, pink to be exact. Enthrall your senses and stay at this fabulously appointed boutique hotel.
Do
High Tea at the Ritz: Make a point to visit the Ritz Paris and experience their High Tea service. This is where the custom of drinking tea was adopted by Parisian society. Elegant fun!

Visit Sainte Chapelle: A magical destination-- founded by King Louise IX, constructed to be the chapel for the royal palace and to house sacred relics. If you can, attend a musical performance. The acoustics are amazing!
Chloé exhibit: The very first exhibition dedicated to Chloé celebrating 60 years of fashion culture. Running from 9/29/12 - 11/18/2012.
Shop
Colette: A fun shopping experience, curated with zeitgeist selling clothing and accessories, the Colette store features an exhibition space, bookshop and a water bar.
Le Bon Marché: The city's first department store -- a must-see and a luxury destination.
Ladurée: Beautiful and yummy macaroons.
Visit
Monet's Giverny: Breathtaking. Visit the home and garden's of Claude Monet. A must-see for art, history and nature lovers.
Palace of Versailles: After visiting Giverny, plan a stop at the Palace of Versailles before heading back to Paris. Full of amazing history, gilded gold and exquisite gardens. Make sure to visit the Marie-Antoinette estate and the labyrinth at the gardens at Versailles.
Paris Flea Market: If you can find it, make the Paris Flea Market a must-do on your list and indulge in outdoor fun and French antiquities. I once found a pair of pink glittered Go-Go boots from the 70s. Fun!
Art
Musée Marmottan Monet: The Monet collection is phenomenal and not to be missed.
Musée National Picasso Paris: Scheduled to reopen Summer 2013 -- if you are visiting Paris next summer, you MUST put this museum on your to-do list.
Musée d'Orsay: An absolute MUST -- the museum building was originally a railway station. See the Impressionism and Fashion exhibit, September 25 - January 20, 2013.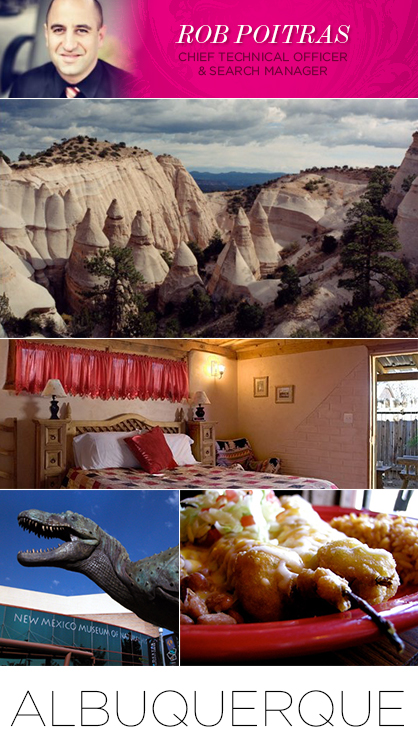 Albuquerque is a great city because of the cultural significance and its unique Southwestern feel.
My must-visit places for Albuquerque:
Visit
The New Mexico Museum of Natural History is fun for kids and adults with a huge T-Rex exhibit and artifacts from early local settlers.
See
The Tent Rocks national park is an unreal and very unique place to hike in New Mexico. The park features gorgeous rocks carved from the river.
Eat
Los Cuates New Mexican Food has the best green enchiladas.
Stay
I like staying at a bed & breakfast like Adobe Nido Bed & Breakfast in the historic part of Albuquerque.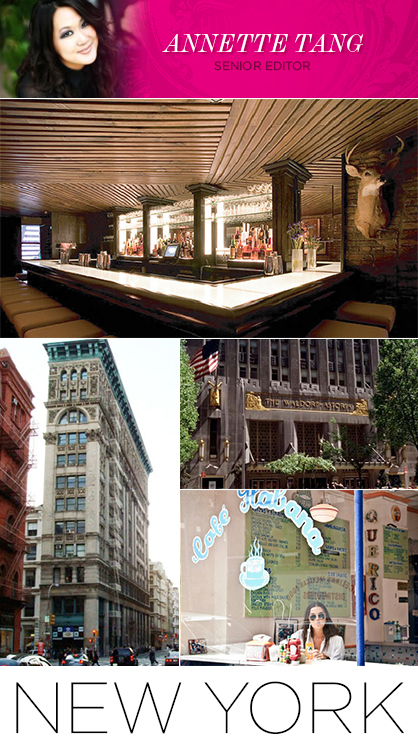 New York is like an awesome playground to me with all the amazing restaurants, bars and shopping. The city just fuels my soul.
Stay
Whenever I visit, I stay at the Hudson Hotel or the Waldorf Astoria if I'm with my boyfriend. I love the chic modernity of the Hudson while he prefers classic New York.
Drink
There are so many places to grab drinks in the city but Angel's Share and PDT (Please Don't Tell) are my favorite speakeasies. Angel's Share is tucked away in a Japanese restaurant behind an unmarked wooden door while PDT's secret entrance is through a phone booth. Both have amazing drinks!
Eat
For high-end dining, I really enjoy the Four Season's Pool Room. The food is delicious and the service there is top-notch. They do much of their service tableside, which makes for an intimate experience. Every time I'm in NYC, I always have to swing by Café Habana for their corn and skirt steak!
Shop
Shopping in New York is a favorite pastime of mine. I love roaming around Soho or the Meatpacking District for inspiring boutiques. When I'm there, I always try to stop by OAK NYC, Zoe and of course, Barney's New York for shoes!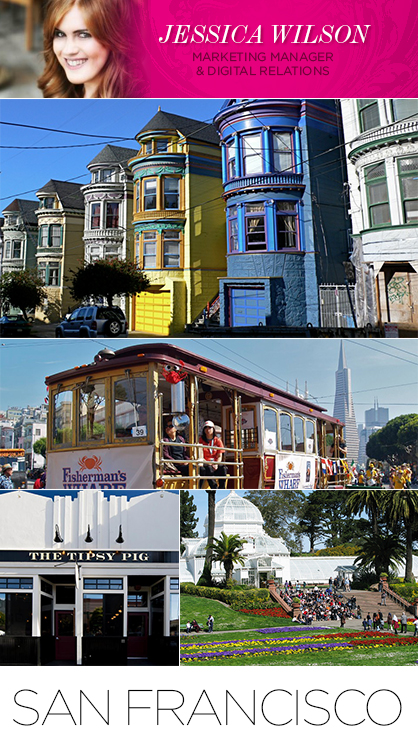 When it comes to cities, it doesn't get much better than San Francisco. I love the energy of the city and the people, the open minds and all that each district has to offer. Not only is it beautiful, but there truly is something for everyone. Whether you're into nature, art, sports, entertainment or nightlife, there is no shortage of things to do in this amazing city. Here are a few things to try if you're in town:
Spend the Afternoon in Golden Gate Park:
Golden Gate Park is the city's largest outdoor spot. This beautiful oasis boasts numerous popular attractions, museums and gardens. It's also the perfect spot to stop and have a picnic. Relax the day away before hitting the town at night.
Walk around the Haight-Ashbury District:
Haight-Ashbury is all about peace and love and I can't get enough of its bohemian ambiance. The neighborhood is home to beautifully restored Victorian houses, boutiques, restaurants and hip cafes. If you find yourself hungry, make sure to check out Best of Thai Noodle for the best Panang Curry you've ever had!
Stop by The Tipsy Pig:
A hot spot day or night, this gastrotavern is a great spot to grub and socialize. I suggest stopping by for Sunday Brunch. Grab a seat on the outdoor patio, treat yourself to a "spicy mary" and enjoy the sunshine. Tip: Although not a brunch food, order a side of the bacon mac & cheese; you won't be disappointed.
Visit Fisherman's Wharf:
Home to many San Francisco attractions, this can be an all-day adventure! With a beautiful view of the Golden Gate Bridge, dozens of restaurants and street performers galore, let your senses guide the way. Check out the sea lions at Pier 39, do some wine tasting, rent a bike and have a bowl of clam chowder.
Don't forget to ride a cablecar!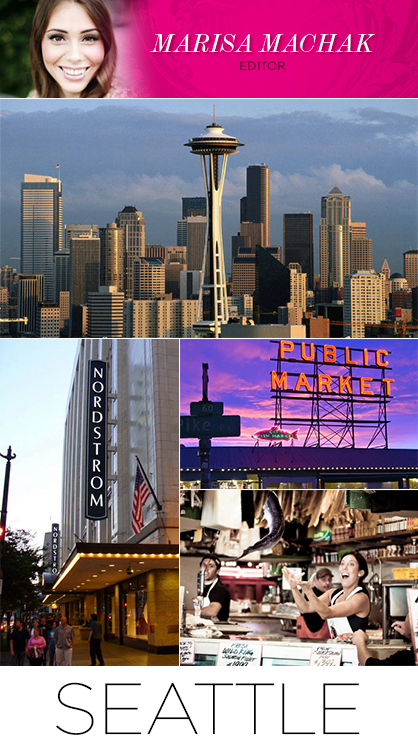 Seattle is my special city to visit. I used to travel to Seattle as a child to see family and my love for this city will never fade away. The crisp weather, cool downtown vibe and the beautiful landscape of the snowcapped mountains are what make me adore this amazing city.
See
A favorite place to hang out in Seattle is Pike's Place Market. This open-air farmers market is home to some great fresh produce and the memorable Pike's Place Fish Co., where fishmongers entertain customers by throwing fish around. Don't miss drinking a fresh cup of coffee at the original Starbucks right across the street from the market place.
The Seattle Center is the city's entertainment hub and is a must-see when visiting. There are four museums, eleven theaters, five gardens, over a dozen restaurants and everything for art and culture lovers. The main site of the Seattle Center is the famous Space Needle and my favorite tourist spot of the city.
Eat
Be sure to eat at the SkyCity Restaurant at the very top of the Space Needle for an unforgettable dining experience with a 360 degree view of the entire city.
Shop
My favorite place to shop is at the Nordstrom in Downtown Seattle. This multi-level flagship department store will blow you away with the endless array of clothing, accessory and shoe options.
Visit
If you have time to leave the city for an outdoor adventure, visit the base of Mt. Rainier. Located just outside Seattle, this gorgeous snowy mountain is actually an active volcano and a Washington state national park. Whatever time of the year you visit Mt. Rainier, your experience will be gorgeous!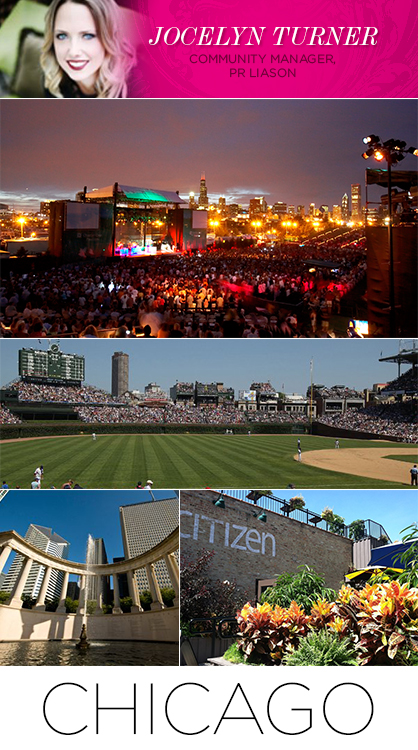 Chicago is my favorite city. In the winter, the city is covered with snow. During the holiday season, there is amazing shopping, ice skating, museums, lights and festivals. In the summer, after months of cold and hibernation, the whole city comes outside to enjoy outdoor street fairs, concerts, parks, rooftops and incredible weather. Here are a few of my favorite spots to hit when I'm in town.
Eat & Drink
My favorite restaurant and bar is Citizen Bar on W. Erie. The rooftop has an amazing view in the summer and in winter the New Year's parties are always a blast!
See
Millennium park is a must-see with the Bean, great restaurants and the work of world-renowned architects, planners, artists and designers.
Charter One Pavilion at Northerly Island is a great venue to see a show. The outside seating provides a 360-degree view of the skyline behind the stage.
Visit
Chicago is famous for its love of sports. Wrigley Field is the best baseball field around. The intimate seating feels like you're on the field and the crowd provides an entertaining and fun atmosphere.
Tagged in: guides, new york, new york, lux travel, paris, luxury travel, san francisco, chicago, seattle, albuquerque, favorite cities, ladylux's favorite cities to visit,