LUX Travel: Top 5 California Wineries
If you are not one to spend your Independence Day at the beach or cooking at a barbeque, you can always spend it quietly touring a winery in California. Discover your favorite wine after touring the vineyards, learning the winemaking process and tasting different blends. LadyLUX has found five California wineries in Sonoma, Napa and Temecula that will make your entire wine tasting process enjoyable for sure! Cheers!
Artesa Vineyards and Winery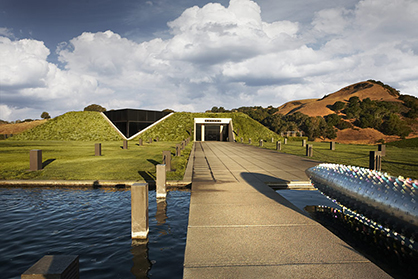 via Artesa Winery
Known as the Jewel of Carneros, Artesa Vineyards and Winery fuses architecture, artistry and winemaking in Napa Valley. The avant-garde estate is set high on a hilltop with panoramic views of Napa Valley, San Francisco Bay and its vineyards. Artesa Vineyards is owned by the Raventos family of Spain whose winemaking history dates back to the mid-sixteenth century. The winery takes its name from the Catalan word for "handcrafted" and focuses on producing small, ultra-premium lots of Chardonnay, Pinot Noir, Merlot and Cabernet Sauvignon.
To make your wine tasting appoinment today, visit www.ArtesaWinery.com.
Ledson Castle Winery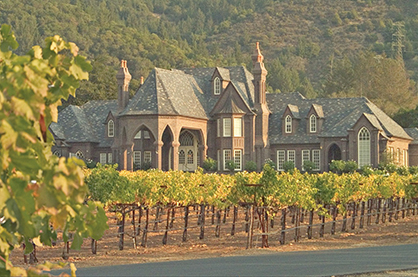 via Ledson Castle Winery
Located in the heart of Sonoma Valley, Ledson Castle Winery is just a short one-hour ride north of San Francisco. This 16,000-square foot French Normandy Winery is globally known as "the Castle" and offers a breathtaking backdrop for an afternoon picnic or a weekend getaway. The impeccable grounds of rolling vineyards and picnic areas are shadowed by one-hundred-year-old majestic oak trees. The winery boasts beautiful, handcrafted tasting bars, a number of wine club programs and over 70 different wines to choose from. The Castle itself is an architectural work of art featuring sweeping staircases, marble fireplaces, cathedral-style windows and over five miles of ornate wood inlays and mosaics—a perfect setting for a first time wine tasting or romantic retreat.
To make your wine tasting appointment today, visit www.Ledson.com.
Mumm Napa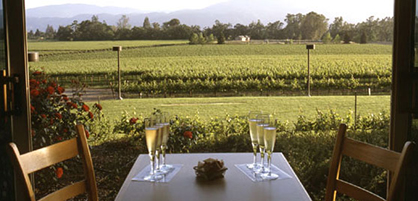 via Mumm Napa
Famously known for producing sparkling wines, the Mumm Napa vineyard and winery is filled with rich history and still sources all of its grapes entirely from Napa Valley. With three different tasting experiences, the winery provides personal table service at the beautiful outdoor patio, the enclosed tasting salon or the newest Oak Terrace. While at the Mumm Napa, take a guided tour of the vineyards and winery, stroll through the Fine Art Photography Gallery and browse through the wine shop to choose your favorite sparkling wine as a souvenir.
To make your wine tasting appoinment today, visit www.MummNapa.com.
Arrowood Vineyards and Winery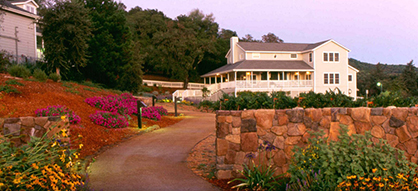 via Arrowood Vineyards


Richard and Alis Arrowood crushed their first grapes and founded the Arrowood winery in 1986. Located on a hillside overlooking the Sonoma Valley, Arrowood Winery is modeled after a New England farmhouse. With its winemaking facilities hidden from view, the building is surrounded by lush countryside perfect for a wine tasting setting. Bright and airy tasting rooms overlook the vineyards and distant rolling hills. Visitors may take private tours and can even taste special wines, many of which cannot be found anywhere else. Their philosophy is simple: "Produce classic varietal wines with grapes grown exclusively in Sonoma County's diverse climates, with as little intervention as possible."
To make your wine tasting appoinment today, visit www.ArrowoodVineyards.com.

Falkner Winery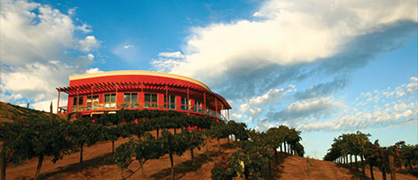 via Falkner Winery

Falkner, one of the top Southern Californian wineries, is nestled in the South Coast community of Temecula. The winery is located near the crest of a 1500-foot hill offering visitors a spectacular view of the valley below. Wine tasting areas are available inside and outside with grassy, tree-lined picnic areas to maximize visitors' enjoyment of wine, food and nature. The winery is dedicated to producing high quality wines and a tasting room that will generate fun and excitement. Be sure to taste their award-winning 2006 Syrah-Rock Creek, 2006 Meritage-Bordeaux Blanc, 2009 Sauvignon Blanc, 2009 Rosato and their specialty blended wines.
To make your wine tasting appointment today, visit www.FalknerWinery.com.
Tagged in: lux travel, california, wine tasting, wine, wineries, napa, sonoma, top 5 ca wineries, temecula, vineyards,