Luxury home collections expand internationally
As design week in Milan approaches on April 12 to 17, designers are scurrying to increase their home collections by beefing up research, production and distribution. Emerging economies—including China, South America, Russia, India and the Middle East – are offering more retail opportunities, and fashion houses are sitting up and taking advantage.
"The name of a brand in itself is not enough, you need quality," Alberto Vignatelli, founder and owner of Club House Italia, which has been producing and distributing home collections for Fendi, told WWD. "There's a lot of improvisation out there, but if there is a serious, high-quality offer, the home business is on an upswing. Last year was positive for fashion's luxury brands and for furniture as well. Our sales grew 30 percent in 2010 and, already this year, we've seen a 20 percent increase."
Designing for hotels and private residences has proved to be a profitable option, allowing brands to gain visibility and back up their labels' message.
"Hotels allow us to verify what works, to put everything into focus and to help us create and experiment," said Rosita Missoni, who oversees home goods, to WWD.
Toward that end, Missoni opened the doors of its first hotel, in Edinburgh in 2009, in a deal with Belgian Rezidor Hotel Group, with a few more projects to come, including in Kuwait and Turkey. The new hotel in Kuwait boasts 250 rooms, 30 suites, three restaurants, a ballroom, a pool and a cactus garden with views of the Persian Gulf. Designwise, the palette is mainly gold and azure, the windows are decorated with brightly colored fringes instead of curtains and local Serena stone gives a nice touch.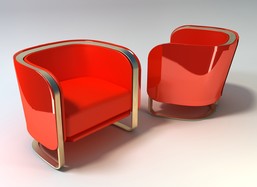 Versace chairs via WWD
Versace, which makes more than 60 percent of its home line in house, is also taking the opportunity to develop its home collection, including its line of furniture and décor for private residences.
"There is an increased new demand, and we are boosting our production to meet this request," said CEO Gian Giacomo Ferraris to WWD.
Their line of furnishings, designed by Donatella Versace, concentrates on bright colors such as red lacquer and a gold metal band, taking inspiration from the asymmetry of the dresses and structured around Versace's famed Greek frieze motif.
Giorgio Armani has also dabbled in the hotel business, opening a hotel in Dubai in April 2010. Located in the Burj Khalifa tower, the world's tallest building, it is fully decked out, with eight restaurants and a spa, and the rooms equipped with Armani Casa linens, custom furniture and Armani Privé toiletries in all the bathrooms.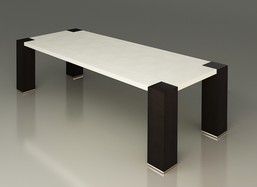 Table from Armani via WWD
And more resorts are on the way from Giorgio Armani SpA, which in a partnership with Emaar Properties, will be launching a number of hotels in major cities around the globe.
Armani said of his new line, "As in previous seasons, Armani/Casa is all about the pursuit of symmetry and harmony, and achieving a synthesis that expresses warmth and well-being. The collection is made up of disciplined shapes, linear but soft, that convey substance, security and elegance."
Etro is also included in the long chain of companies looking to grow their business by expanding to markets in China and the Middle East. Although most famous for its textiles, Etro plans to extend its range to sofas, armchairs, chairs and beds, all of which will be displayed at the Salone del Mobile next year.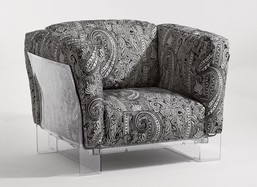 Chair by Etro via WWD

"Last year was positive and 2011 kicked off with gains in our home line, but given the uncertainties connected to politics and the economy, it's difficult to make forecasts," Jacopo Etro, creative director of the label's textile, accessories and home department, said to WWD. He reports the wholesale volume of the home collection comes in at about $21.1 million at current exchange, representing 5 percent of all wholesale proceeds.
But Etro is also different from the pack in that, in contrast to Missoni, Versace, Armani and several others, the company is not that interested in entering the hotel business. It prefers to stick to suplying interior decoration services to clients such as the Radisson Royal Hotel Moscow.
"I think it's strange for a luxury company [to appear on hotels]. Hotels must be managed a certain way and I'm not sure this could work in the long run for a luxury brand," Etro said to WWD.
Tagged in: home, design, versace, giorgio armani, hotel, missoni, etro, expand, international,