LUX City Spotlight: Melbourne
March is the month of madness for Australia because of its Melbourne Food & Wine Festival, Australian Grand Prix and L'Oreal's Melbourne Fashion Festival, which is currently in full gear. As Australia's prime city of fashion, art, style and culture, Melbourne offers so much more than the typical tourist sites in Sydney. LadyLUX has created an insider's guide for the Melbourne "It" crowd with places to shop, stay, eat and see. We can't seem to get enough of this up-and-coming city known for both hip and first-class experiences for locals and visitors alike.
Stay: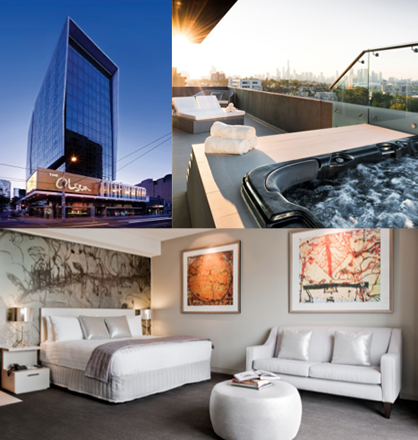 Set right in Melbourne's outdoor shopping hotbed of the prestigious Chapel Street, The Olsen Hotel offers guests the best of South Yarra accommodations with a 15-story building of 239-premiere suites infused all encased in white-shaded glass. Paying homage to one of Australia's most prolific artists, John Olsen, this artsy boutique hotel exemplifies natives' charm, wit and passion for life through its spectacular design, furnishings and the world's largest glass-bottomed pool. Guests will especially enjoy the décor of murals, sculptures and large prints—all works of art from Olsen himself.
Shop: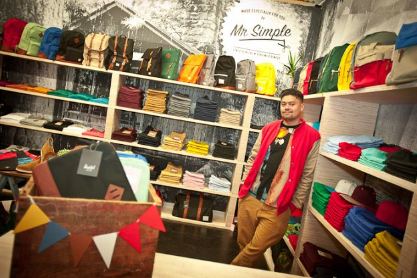 Although the South Melbourne Market offers the freshest produce and even cooking classes, it's also one of the best places in Melbourne to shop for style! This market is also home to SO:ME Space, an innovative and ever-changing home for young fashion designers in the heart of South Melbourne. The shops feature independent and emerging designers all around Australia striving to bring design, fashion and creativity together.
Another great place for shopping is on Chapel Street in South Yarra, which features new and hip stores. Visitors in need of some trendy style have endless options of boutiques, such as the fashionable Cylk flagship retail store, Hunki-selling sunglasses and an off-beat accessories and the Sydney-based spectacle shop, Bailey Nelson. Other cool snack shops for pre- or post-shopping eats are The Red Balloon, featuring artisan candy; The Brownie Bar with yummy chocolate pastries; and Fruiteria, which offers freshly pressed juices.
Eat: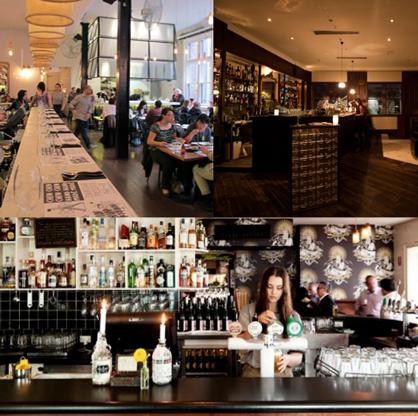 Melbourne is a haven for cute cafes, romantic wine bars and gorgeous waterfront restaurants. But some restaurants and bars stand out above the rest. Visitors craving Asian food with a twist have to make a reservation at Chin Chin. This Asian-fusion restaurant is a favorite among Melbourne it-crowds because of its modern take on street-inspired Thai and Vietnamese food.
A well-known speakeasy bar in Melbourne has to be The Everleigh. Serving up Prohibition-era-inspired drinks such as their famous Buster Brown, this second-floor cocktail bar showcases vintage chandeliers, leather booths and a wood-paneled bar.
For pub classics with a crafty twist, it-crowd foodies go to the Grace Darling Hotel for some pub grub. The restaurant and bar lets guests nosh on seasonal produce, free range and organic fare, and sip on various drinks from the boutique wine list and international brews. Guests cannot miss out on the in-house-made pickles, preserves and local cheeses.
See: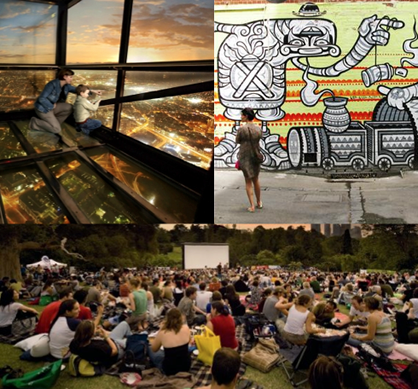 As an awesome Australian city, Melbourne has so many interesting things for visitors to do and see. The first thing on the long list is to go and peruse some cool authentic Melbourne street art. There are many back alleys and hard-to-find areas that are totally worth the search featuring murals and spray art. Visitors can get a tour of the entire area led by an elite street artist who will guide the group through Melbourne's hidden underground treasures.
A night at movies just doesn't cut it in Melbourne. Visitors can follow the locals and attend the Opel Moonlight Cinema. As Australia's favorite open air movie theater, the cinema screens advance previews, contemporary, cult and classic movies on the Central Lawn at the Royal Botanic Gardens.
An impressive spot for a photo opportunity is Eureka Skydeck 88. Both a tourist spot and an awe-inspiring experience, the Skydeck allows visitors to literally reach for the highest point of the Southern Hemisphere while they stand in an all-glass viewing platform.
Read more LUX Travel
Read more LUX City Spotlight
Tagged in: guides, lux travel, travel, luxury travel, australia, hotels, melbourne,