Mercedes-Benz Fashion Week Australia Spring 2012: Camilla
Launched eight years ago, Camilla is an Australian brand with a unique approach that projects a colorful, playful and luxurious lifestyle. The brand came to life when designer Camilla Franks first explored her passion for theatrical artistry. She quickly captured the attention of the Australian market when she embraced her creative spirit and crafted elaborate costumes for her productions. Franks' designs have since evolved into beach and resort collections as well as ready-to-wear that cater to all of her client's needs.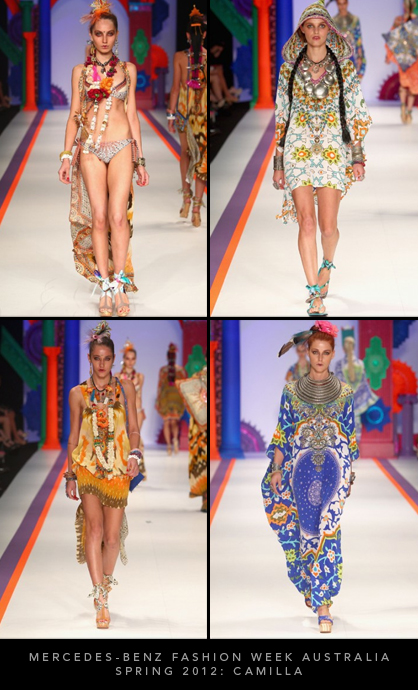 LadyLUX via Mercedes-Benz Fashion Week Australia
Over the eight years, she has produced nine collections and now presents her Spring 2012 ready-to-wear line at Mercedes-Benz Fashion Week Australia. The vibrant collection infused a resort influence into its ethnic, tribal theme. Franks celebrated the season with vibrant colors of blue, turquoise, pink, orange and yellow displayed throughout various bold prints. Caftans, maxi dresses and capes paraded the Australian runway boasting the wild assortment of intriguing shades, tribal patterns and interesting textures. Triangle-top bikinis and one-piece suits offered silhouettes for summer days at the beach.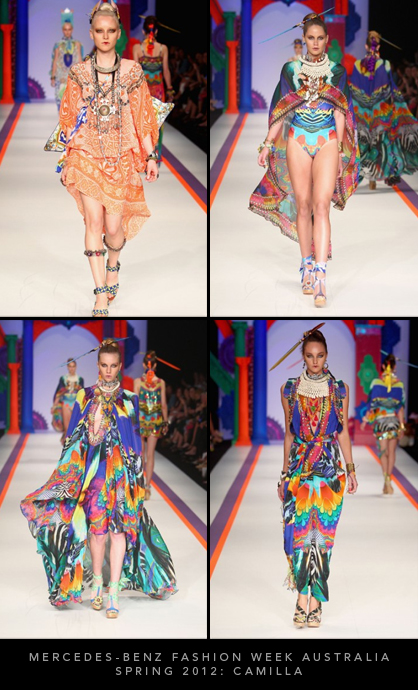 LadyLUX via Mercedes-Benz Fashion Week Australia
To further invigorate the theme, Franks accessorized the looks with African-inspired jewelry and sash-tie footwear. Oversized collared necklaces, beaded bib styles, disc necklaces and large pendants were layered to create an overwhelming effect. Wrists embodied the same idea with large cuffs and bangles combined. Models wore their hair in up-dos complete with feathers speared through the high buns. The Australian designer rounded off the styling with platform sandals in the same prints and patterns as the apparel, with the majority of the silhouettes featuring ankle ties.
Franks bright, unique style stands apart from the Down Under's usual sleek and avant-garde aesthetic. Her adventurous designs celebrate women, self-expression, beauty and individuality.
Tagged in: spring 2012, runway, australia, sydney, ready-to-wear, fashion week 2012, camilla, fashion week spring 2102, mercedes-benz fashion week australia,