Mercedes-Benz Fashion Week Australia Spring 2012: Ellery
No stranger to the Australian runways, Ellery has quickly become a favorite with celebrities and fashionistas since its launch in 2007. Designer Kym Ellery has epitomized the modern avant-garde aesthetic by reinventing silhouettes with full, exaggerated lines. For the Fall season, the collection embodied voluminous shapes in jackets, dresses and skirts that shined in gold and pale blue metallics. Ellery continued the foundation for Spring but with a fresh palette and more airy or built-out silhouettes.
LadyLUX via Mercedes-Benz Fashion Week Australia
Presented at Mercedes-Benz Fashion Week Australia in Sydney, the Spring 2012 collection took on a futuristic yet ladylike tone with metallic silver materials and exaggerated shapes. Fabrics with sheen were contrasted with soft, vibrant suedes, sheer mesh and subtle prints. Ellery maintained her strong structures through blouses with clean shoulder lines; loose yet strong menswear-style vests; tops and jackets with firm peplums; origami constructed dresses; and bold-shoulder bomber jackets. Button-up blouses paired with peplum bloomers, sporty jackets combined with bootleg silver trousers or shorts, and boxy tops with bloomers created matching suede sets.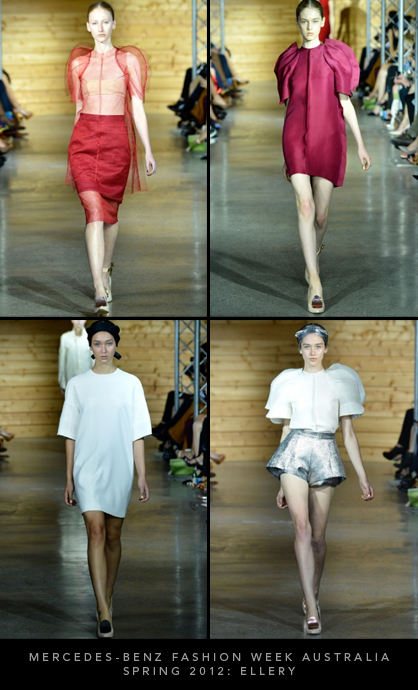 LadyLUX via Mercedes-Benz Fashion Week Australia
Taking the futuristic theme to the next level, Ellery crafted dramatic, amplified shoulders on tops and dresses in silver, red or white. The styles received pleating or boning to create the dimensional look. Several pairs of shorts also got the same treatment, displaying rigid, flared out hemlines. With sleek hair parted in the middle and minimal makeup, the elements for the theme were on-point.
In each powerfully unique shape, Ellery's expert tailoring and construction skills shone through. The pieces exhibited a refined style that is only possible with her experience. And despite the grand structures, the designer still managed to have a lightness about the collection. Ellery is nothing short of impressive.
Tagged in: runway, spring 2012, australia, sydney, ellery, ready-to-wear, fashion week spring 2012, kym ellery, mercedes-benz fashion week australia,