Mercedes-Benz Fashion Week Swim 2013: Suboo
Unleashing a hybrid ready-to-wear and swim collection at Mercedes-Benz Fashion Week Swim, Suboo designer Sue Di Chio presented new swimwear filled with her signature clean lines, original bright prints and wearable silhouettes that compliment both the Southern and Northern hemisphere summer lifestyles. Suboo offered viewers colorful and stylish swimsuits and kaftans that could be worn in the pool, at the beach and on the streets.
A key trend within the fresh Suboo collection was thick black trim. The black trim was strategically placed over floral and geometric printed swimsuits for a flattering effect on the models' bodies. This modern take on the already classic and feminine swimsuits showed true Suboo fashion.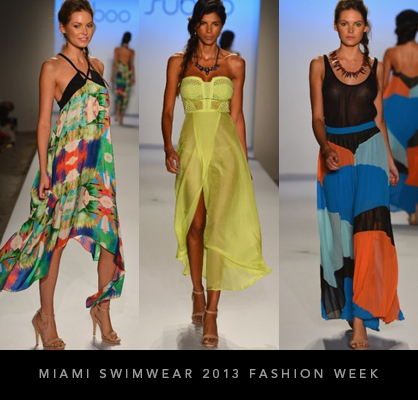 In addition to swimsuits, models paraded down the runway in chic cover-ups, kaftan dresses and skirts. Floor-length cover-ups boasted A-line skirts with elastic black belts while others displayed high-low hemlines with exotic and colorful designs. Other cover-ups included long, white vests with draw-string ties. One cover-up that stood out from the rest was a strapless canary yellow dress with eyelet detailing on top.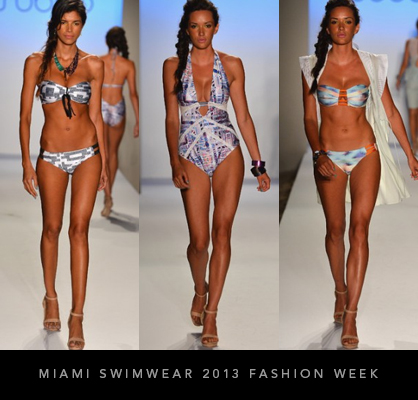 Prints that graced one-pieces and bikinis were anything but boring. Black and grey geometric prints, purple, elaborate white and blue prints, and calming orange and blue feather stroke prints that took to the catwalk were aesthetically pleasing. One-piece suits and bikini bottoms displayed cut-outs and multiple straps.
Accessories paired with swimsuits and cover-ups included gold metallic cuffs, enlarged beaded stone necklaces, thin-chained necklaces with single drop stones, simple gold drop earrings and nude-colored platform heels with ankle straps.
Makeup involved bronze and pink shades while models' hair was styled into single, braided ponytails that hung down in front of their shoulder.
Suboo's 2013 line created a renewed sense of ready-to-wear and beachwear because of the versatile, beautiful prints and crafty kaftans and cover-ups.
Read more about Mercedes-Benz Fashion Week Swim.
Tagged in: swimwear, runway, swimsuits, prints, miami swim, bikinis, kaftans, suboo, suboo australia, cover-ups, mercedes-benz fashion week swim miami 2013,