Mercedes-Benz Fashion Week Swim Miami 2013: White Sands Australia
White Sands Australia designer Leah Madden continues to mimic the timeless '40s pin-up girl style but has kicked her new collection up a notch. Entitled "The Violet Hour," Madden's swimwear made a splash on the 2013 Mercedes-Benz Fashion Week Swim runway with its ultra-glam colors, cuts and prints.
The Australian native once dreamed of creating a swimwear line that was glamorous and fashion-forward. Madden did just that and began receiving attention from top fashion magazines such as Vogue, ELLE, Glamour, Cosmopolitan and Sports Illustrated. While she has progressed as a designer, she still preserves her signature cuts and keeps all body types in mind.
White Sands is "designed for the woman who is a little sexy, a little fun, always fashionable and savvy enough to know quality when she sees it. White Sands is quintessentially glamorous, always with an eye to fashion and a nod to the carefree style that is so Australian," the White Sands website states.
From tiny Brazilian cut bikinis and beautifully shaped maillots, White Sands uses exclusive prints on divine Italian lycra fabrics. Madden and her team is committed to providing excellent quality swimsuits and giving fashionistas a flawless fit.
By keeping women's insecurities in mind and working to enhance their beauty with self-confidence, Madden knows exactly how to dress and cater to women. She also understands how to bring out a woman's true character with her trendy swimsuits.
"I think that some swimwear is so small and you're revealing so much, that it's such a personal thing. Some girls feel like they need more lift in the bust or more coverage, or maybe some girls really love their body and they're confident and they want a tiny little triangle bikini," said Madden. "We can be anything. We can be sexy and strong, we can be sweet and pretty. We can look sweet and pretty when actually we're a little bit naughty."
When it comes to designing her swim collection from scratch, Madden goes above and beyond, testing every idea that comes to mind, whether it be new colors, fabrics or details.
"It's so much work. It's kind of a twelve-month process. I'll start designing; I'll start choosing which prints and colors … I'll try all prints and I'll try all colors and it all comes together and now we're here," said Madden.
When Madden's "Violet Hour" collection hit the runway at the Raleigh Hotel in Miami, the feminine and glamorous vibe could be felt throughout the venue.
"It's inspired by weekends away with my lover, sharing leisurely hours in the sun, sunset cocktails and romantic evening hours together. I chose two floral prints as my love has been surprising me with endless amounts of the most heavenly flowers for the last six months," said Madden. "I have been in a constant state of bliss, with bunches of the most beautiful flowers to look at every day, romantic surprises, champagne and chocolates. I'm in love with being in love and the collection is a reflection of that 'falling in love' euphoria."
In addition to swimsuits, the collection offered cover-ups featuring a ladylike floral print in white and purple flowers and a pink and black floral print. Each cover-up provided models a chic alternative to their itty bitty bikini with hems at both knee- and floor-length.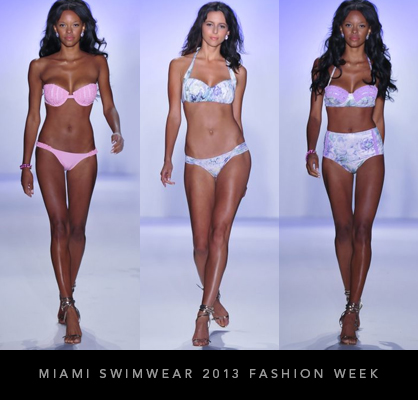 Many vibrant bikinis featured the white and purple floral prints, while others flaunted solid pastel pinks and sorbet greens. Each bikini boasted a different cut or shape, whether it was bandeau, rouched, high-cut, high-waisted or halter.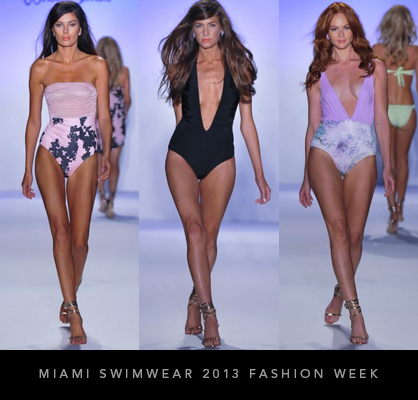 Though the collection as a whole was impressive, there were a few standouts. One pieces exhibiting deep V-necklines and pops of pretty pink hit the perfect girly note, while a classic black one piece with halter straps exuded a sexy, confident vibe. Additionally, one pieces providing more coverage in shiny pastel pink fabrics radiated a rosy glow.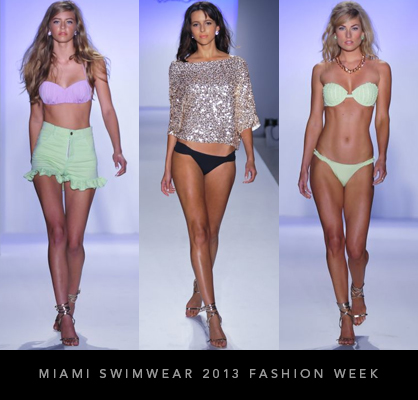 Madden added in some statement pieces to mix up the collection. She gave some edge to her line with a pair of funky ruffle-bottomed lime shorts, a few bikinis of the same lime color and a sparkling silver sequin shirt with three-quarter sleeves.
Models wore simple accessories of thick gold chain link necklaces and bracelets, large sparkling stud earrings and silver ankle strap stiletto heels to guide all eyes to the swimsuits. Makeup was kept simple with rosy and bronzed cheeks, pastel pink eye shadow and pink lip gloss.
With a collection as glamorous and fresh as "The Violet Hour," the future of White Sands Australia is looking pretty bright with swimwear that looks good in and out of the water.
Read more Mercedes-Benz Fashion Week Swim coverage.
Giveaway info:
In honor of Swim Fashion Week, LadyLUX is teaming up with White Sands Australia to bring you this Silk Rose Print Dress that is the perfect cover up for a beach day and night out! The dress is worth $100 and is from the Supper Club Collection. Here's how to enter: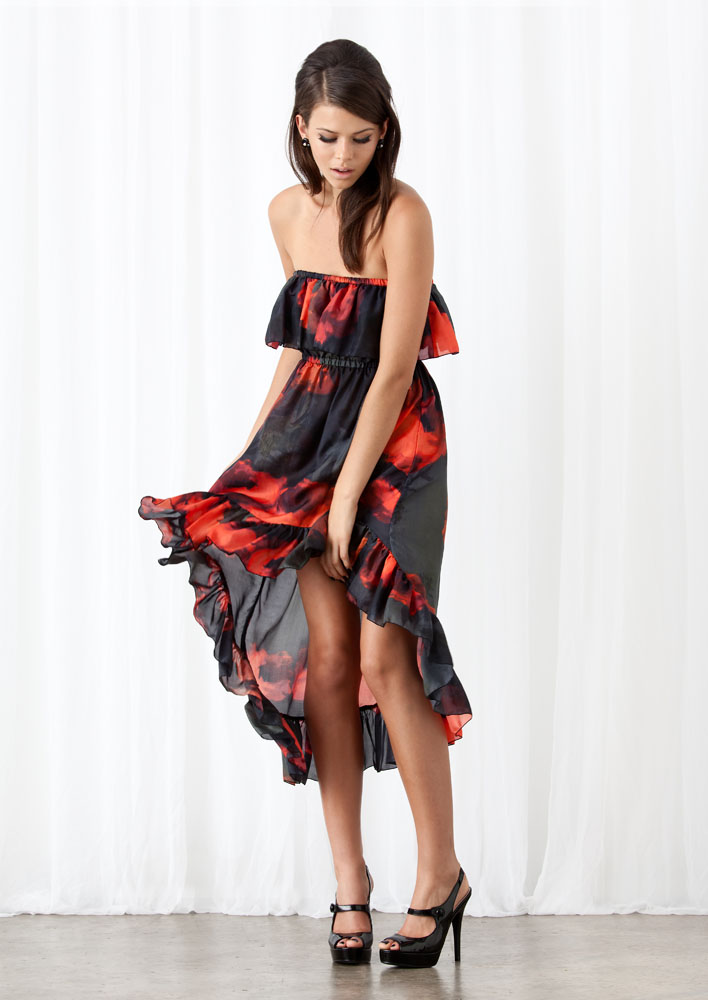 1. Like LadyLUX on Facebook here.
2. Enter your email to receive our weekly LadyLUX Newsletter here (top right).
3. Comment under this picture with your contact info and size (XS, S, M, L).
The contest ends Wednesday, August 1st at 12 p.m. and will be announced via Facebook.
Good Luck!




Tagged in: swimwear, runway, swimsuits, miami, miami swim, raleigh hotel, white sands australia, white sands, violet hour collection, designer leah madden, mercedes-benz fashion week swim 2013, mercedes-benz fashion week swim,