Mercedes-Benz Fashion Week Swim Miami 2013: Wildfox Swim
As one of the more memorable collections of Mercedes-Benz Fashion Week Swim Miami 2013, the Wildfox Swim collection was brought to life on July 23 by designers Emily Faulstich and Kimberley Gordon, who really know how to put on a swimwear show. Known for its vintage-inspired soft fabrics and unique designs, Wildfox's new collection didn't fall short and the runway was filled with great style, quality and plenty of amusement.
The show started off with red, white and blue flag-inspired swimsuits. The first model to grace the runway sported a high-cut one-piece swimsuit blazing the United Kingdom flag, a long blue wig and red knee-high boots. Models that followed looked like modern day super heroes wearing red, white and blue bikinis with American stars and stripes and white knee-high boots. These Americana-colored swimsuits instantly brought a playful feeling to the show as models frolicked down the runway, some making clawing motions to mimic a wild fox.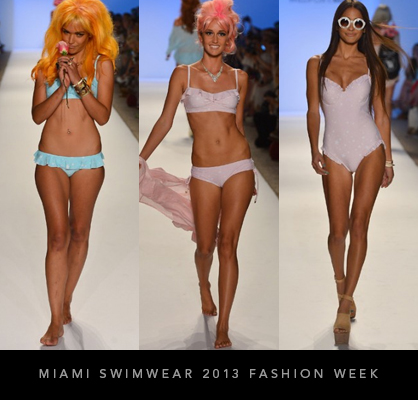 The collection transitioned into sweet and feminine bikinis of cotton candy hues in pastel pinks and blues. Some bikinis featured ruffles, shimmering fabrics and high-waisted bottoms. Models let their girly girl side shine as they flirted with the camera. Some held a single pink rose and sniffed it with delight as they flaunted their pretty swimwear down the runway.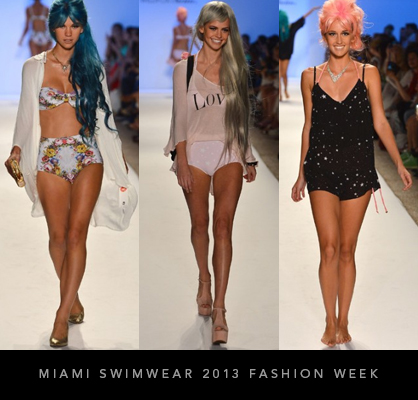 Swimsuits and cover-ups with lettering made an impact throughout the show. A black scuba-inspired one-piece read "Vacation, Get a Tan, Swim Forever, Margarita," in all caps. A memorable cover-up was a sheer, long-sleeved pastel pink shirt that read "love" in all caps. Other swimsuits and crop tops featuring the Wildfox name made it clear that the label has left an impression on the swimwear industry. There were even gold necklaces with charm letters spelling out the Wildfox name. Other swimsuits displayed a black galaxy-inspired fabric with glowing Milky Way swirls and stars.
Accessories and makeup gave the show a '60s vibe with the wigs, short bangs, thick-rimmed circular sunglasses, silver booties, tall go-go-esque boots and black winged eyeliner. The most fun accessories were, of course, the blue, pink, and yellow wigs in long, medium and bob hairstyles. Some models had props that brought life to the show, such as rolled-up towels carried down at their side, black drawstring backpacks and single roses.
The Wildfox Swim collection brought true swimwear style and entertainment to Miami. The 2013 Wildfox runway show will not be forgotten by fashionistas in search of something daring and different.
Read more about Mercedes-Benz Fashion Week Swim.
Tagged in: swimwear, runway, swimsuits, miami swim, bikinis, wildfox swim, wildfox, mercedes-benz fashion week swim 2013, one-pieces,