Milan Fashion Week: Jil Sander, Emilio Pucci & Moschino S/S 14
Unforgettable designs from fashion powerhouses were part of the scene during fashion week in Milan, with Jil Sander, Moschino and Emilio Pucci showing a blend of new and iconic designs in their S/S 14 collections.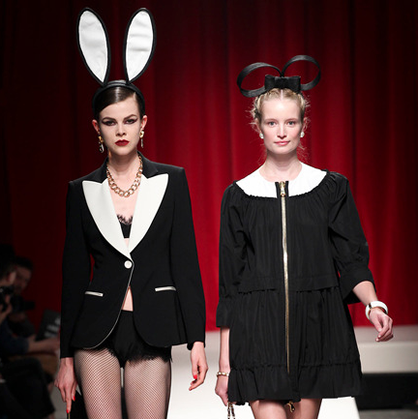 Moschino went with a good girl/bad girl theme, with models displaying the saintly and the naughty versions of each look. Bad girl: playboy bunny ears, black and white tuxedo jacket, black lace boy shorts. Good girl: whimsical fascinator ears, prim black and white trapeze style dress accented with a gold neck-to-hem zipper. Since good girls wear white and bad girls apparently wear lots of black, those were the key colors for the S/S 14 season, with accents of red and plenty of gold bling. Sweet floral prints and ruffles also made an impact, with the daisy dress and rose patterns making an appearance. The good news? Both good girls and bad girls alike can rock the biker look.
Minimalism and Jil Sander go hand-in-hand, and the S/S 14 collection featured sheer layers, full skirts, floral prints and crop tops. The effortless designs were classic Sanders, with basic shades of white, navy and black taking center stage, but soft pastels making an occasional appearance. Pinafore tops were charmingly paired with cropped pants and feathered skirts and offered a fresh take on the iconic designer's style. Jackets are always part of Sander's repertoire, and they were perfect as usual, cut to dip in front and ease up aerodynamically in the back for an architectural vibe.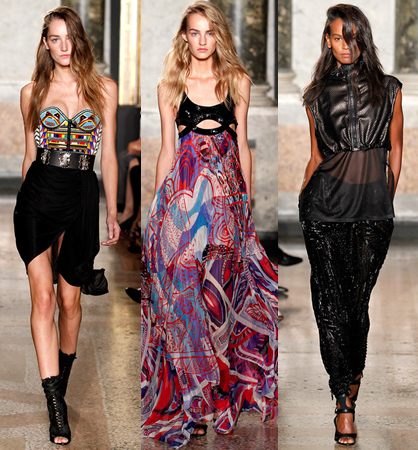 On the Emilio Pucci runway, streetwear was king, and gym clothes were elevated to runway status. Basketball, scuba and boxing gear were mixed with Masai embroidery in the S/S 14 collection. Standouts included a beaded bustier dress with a draped silk jersey skirt, and long dresses in beaded basketball mesh. Running shorts were featured in a liquid silver material, and there was a weightless feel to many of the pieces. And as for evening wear, a ball gown with a flowing Pucci print skirt was particularly memorable.
Read more Milan Fashion Week
Tagged in: spring 2014, ss 14, fashion week, runway, emilio pucci, mfw, moschino, jil sander,