MFW S/S 14: Giorgio Armani
Giorgio Armani always brings a glamourous, poised collection to the runway. His S/S 14 collection radiates his iconic style. Bright colors, soft prints and strategically tailored pieces were captivating.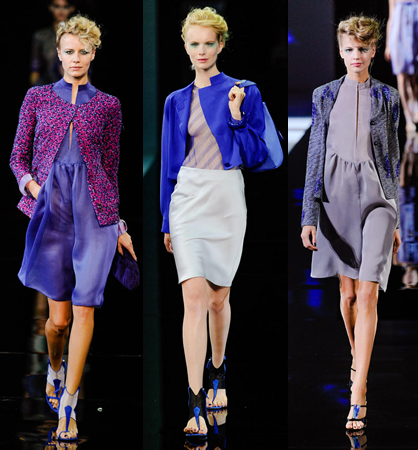 Giorgio Armani brought an assortment of light, airy jackets to the runway. The collars were short and softly draped over the collarbones to create a shawl effect. Hemlines of the jackets and cardigans fell lightly against the hips. Some looks were cropped, highlighting the natural, cinched waist.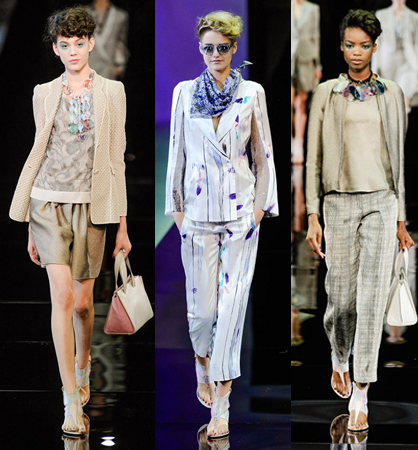 Armani also brought a borrowed-from-the-boys vibe. Billowy shorts hit mid-thigh while pants were neatly tailored and were tapered and cropped at the ankles. Soft menswear checks and subdued floral prints graced the pajamas suits in tans and pale blues. These looks gave the business woman a chic twist that will carry her off the clock.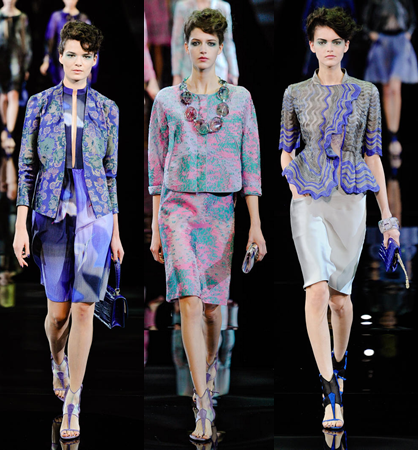 For prints, Armani brought a mix of floral and painted-on looks. The floral prints graced silk chiffon with oversized blossoms. Jackets were covered in what looked like soft layers of a flower bed. Using a more abstract look, Armani portrayed painted lines as a wet brushstroke feel covered jackets and dresses alike. Hot pink, bright blue, lilac and pale mint mixed together to give dimension and character to the prints. We can't wait to incorporate both feminine prints and menswear styling with Armani next spring.

Read more Milan Fashion Week
Tagged in: trends, spring 2014, ss 14, runway, floral, giorgio armani, mfw, armani, prints,