MFW: Etro and Versace S/S 14
Milan Fashion Week is going strong as we head into the weekend. S/S 14 collections are dripping in bold assortments of prints. Etro's 70's vibe and Versace's biker glam style caught our attention. Come see why.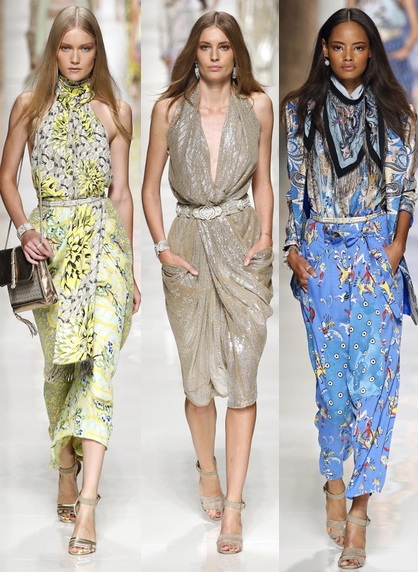 Etro brought the 70's fashion era back to life through their S/S 14 collection. Paisley prints and exotic flower blooms popped off each other in a patchwork print effect. Their silhouettes were relaxed. Halter top necklines were paired with flowing pencil skirts and tapered, cropped pants. Etro took its primary color pallet and gave it a soft twist with lemony yellows, coral reds and sky blue pieces. Metallic gold was the ultimate 70's glam feel that polished off the collection. We're all about going back in time to reinvent our style next spring.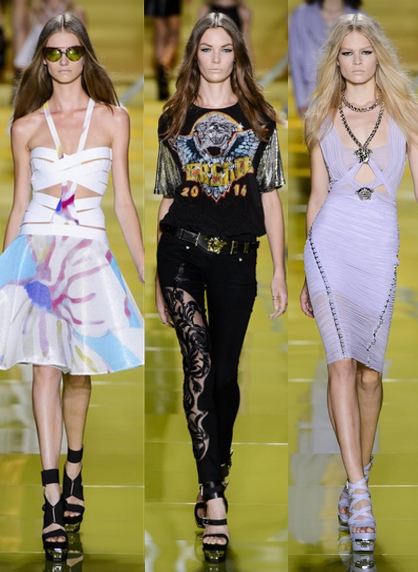 Versace brought out its notably daring sex appeal in a biker chic collection for S/S 14. Biker motif prints and graffiti-like abstract prints set the edgy tone for the show. Both pencil skirts and full skirts touched on a more feminine, glam rock feel. An abundance of crossing straps kept the audience engaged in the details of each look. Bondage dresses and crop tops were embellished in chains, oversized zippers and metal hardware. Versace mixed in an assortment of fabrics to keep a balance between structure and ease. Bring the biker chic look to your spring wardrobe with whites, blacks, lavender and ice blues.
Read more Milan Fashion Week
Tagged in: trends, fashion, spring 2014, ss 14, runway, versace, mfw, etro,