Miami Swim Fashion Week 2012: Caffé Swimwear
Every woman needs one glamorous swimsuit to add to her summer wardrobe. Since 2004, Caffé Swimwear has been providing beachwear and accessories to the fashion-forward looking for laid-back luxury, reported Mercedes-Benz Fashion Miami Swim Fashion Week. Colombian designer Paula Saavedra created a heat wave when she unveiled her 2012 collection. These swimsuits are intended for the jet-setting lifestyle and will make women want to head off to a tropical beach to show off their hot bikinis.

Caffé wowed the crowd from the start of the show when the first model appeared in a water-colored cover-up. Other looks featured sheer fabrics with pastel colors, blue leopard prints and floral designs. A memorable addition was a floral-patterned wrap that extended around the neck and flowed down the back into a fluid cape. Sensual cover-ups were carefully draped over each bikini to accentuate the models' curves.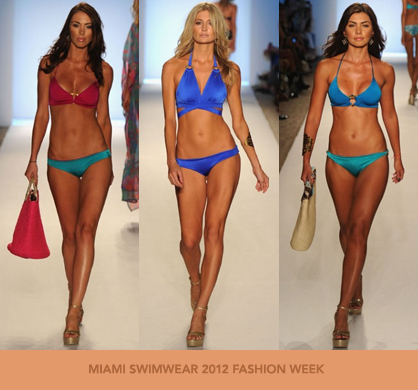 via Mercedes-Benz Fashion Week Swim
Jewel-tone bikinis and mismatched separates in rich blues, pinks and greens caught eyes throughout the show, adding pops of bright colors while displaying simple cuts. For extra sparkle, gold rings fastened bikini tops together under the bust line and on the straps.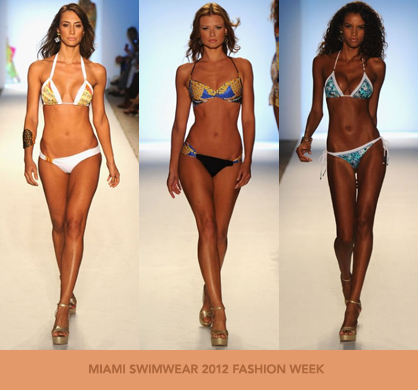 via Mercedes-Benz Fashion Week Swim

Various floral print two-pieces with beaded and woven accents added an interesting twist. Although these exotic suits boasted classic fits and lines, they made a loud statement with their wild prints.

Models strutted down the runway in golden accessories such as chandelier earrings, thick gold cuffs and sky-high platforms. Their locks were curled into tousled waves to complete their luscious appearance.

This high-end brand continuously appealed to glamour girls as each swimsuit glided down the runway on the model. Without a doubt, Caffé Swimwear made its mark by bringing lux swimwear to Miami Swim Fashion Week.
Tagged in: collection, runway, swimsuit, miami swim, bikini, miami swim fashion week 2012, jewel tones, caffe swimwear, cover-ups,