Miami Swim Fashion Week 2012: Zingara Swimwear
Mercedes-Benz Miami Swim Fashion Week got an eyeful of prints and polish when Zingara Swimwear arrived on the runway. The female creators offered the perfect mix of Gypsy inspiration and Italian design in creating their handcrafted, embroidered swimwear for the 2012 season, reported Mercedes-Benz Fashion Week Swim. With a flair for fun patterns and classic cuts, Zingara presented a collection perfect for women seeking a simple swimsuit with a sexy twist.
Zingara grabbed everyone's attention during the show by its use of bold prints. Many itty-bitty bikinis displayed various geometric shapes and flirty designs, such as paisley and leopard. With a few monochromatic pieces as the exception, each bikini flaunted feminine and multicolored prints. These daring swimsuits created an exotic ambiance that set the mood for the entire show.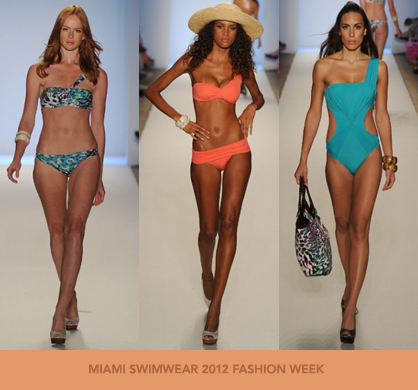 via Mercedes-Benz Fashion Week Swim
Even more original suits featured included spottedlike, single-strap bandeau tops and one-pieces with cutouts. These one-piece suits caught the eye with sexy, but still demure, outlines. Intricate detailing like ruching and folding was used to hug the models' curves and create subtle texture, while bright pinks, oranges and blues gave a tropical pop of color that relieved the many elaborate prints.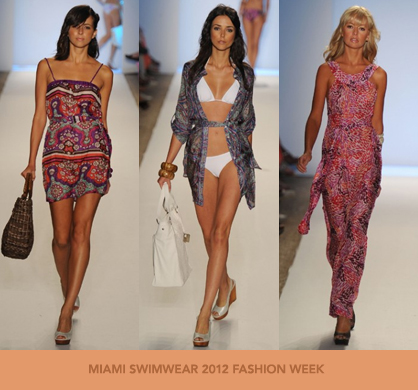 via Mercedes-Benz Fashion Week Swim
In addition to the many sultry swimsuits, cover-ups and cascading dresses formed a dramatic part of the collection. Pieces such as a spaghetti strap dress, button-down belted shirt and halter gown displayed striking prints in feminine pinks and deep earth tones. Some cover-ups were paired with a simple white bikini to create an effortlessly glamorous look.
To focus all eyes on the swimwear, accessories were minimized, with wide-brimmed straw hats, a few large bangles, wood-handle beach bags and peep toe sling-back wedge heels all making an appearance.
Each swimwear piece was designed for women looking for a fabulous-fitting swimsuit without any fuss. Although this show did not make as loud a statement as other collections, Zingara definitely left its mark at Mercedes-Benz Miami Swim Fashion Week with its chic cuts, colors and signature prints.

Tagged in: fashion week, swimwear, runway, swimsuits, swim, miami, miami swim, bikinis, miami swim fashion week, zingara,