Miami Swim Fashion Week 2012: L'Space
Most runway shows are all about the cut, the style and the fashion. At the 2012 L'Space fashion show for Miami Swim Fashion Week, the idea of a runway show was redefined. Equally as exciting as the designs themselves, it was the entire experience that truly brought designer Monica Wise's swimwear show to the next level.
One of the most fun and flirty collections of the week, L'Space crafted an entire show around the idea of travel and vacation, reported Mercedes-Benz Fashion Week Swim and The Fashion Spot. What theme could be more appropriate for swimwear? Models bounced down the runway smiling and carrying cameras, umbrellas and luggage with sand spread across the models' bums as if they had just been sitting on the beach.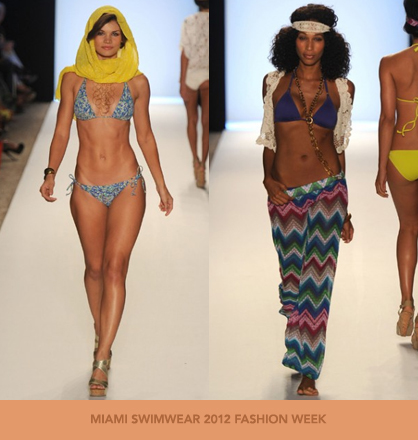 via Mercedes-Benz Fashion Week Swim
Wise used her accessories and headwear to give the collection an "around-the-world" feeling. With the show featuring everything from turbans to floppy hats to cowboy hats, by the end of the experience, the audience really did feel as if they had gone on a worldwide swim fashion adventure.
The collection was a mingling of bold colors with Aztec-like patterns and stripes, a look favored by Wise. Fringe on one-piece, two-pieces and cover-ups alike was another huge trend to hit the L'Space catwalk. The designer also introduced more cover-ups that ranged from shorts to long shirts and dresses, giving her line added versatility and variety with a resortlike aesthetic.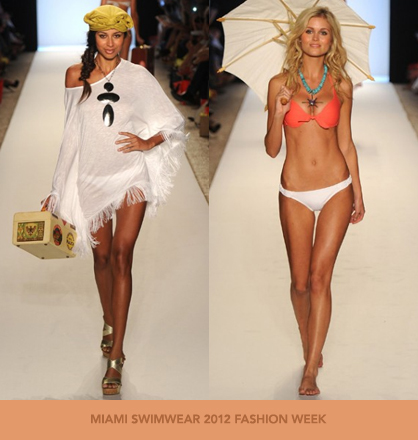 via Mercedes-Benz Fashion Week Swim
With her must-have designs and desire to explore new boundaries – both figuratively and literally – it's clear that L'Space and designer Monica Wise have set the standard for swimwear designers.
This article was contributed by Dani Smith. To read more from Dani, follow her adventures on Twitter at @Danilaexoxo.
Tagged in: fashion week, swimwear, runway, swimsuits, swim, miami, miami swim, bikinis, miami swim fashion week, l*space, l'space,