Miami Swim Fashion Week 2012: Mara Hoffman
Swimwear is all about bright colors and look-at-me designs, and it was apparent at Miami Swim Week that no one knows this better than Mara Hoffman.
Known for her ability to finesse bold colors with daring prints, Hoffman created her largest line to date for Miami Swim Week 2012: 39 pieces of poolside, statement-making swimwear fashions, reported Mercedes-Benz Fashion Week Swim and Stylelist.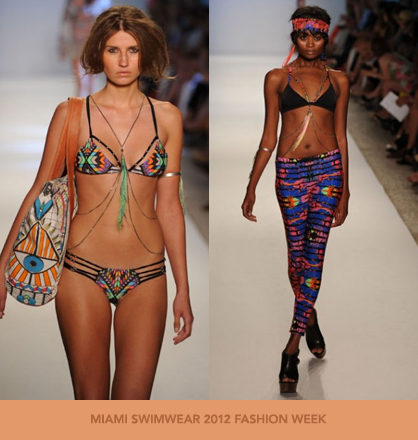 via Mercedes-Benz Fashion Week Swim
Bright pinks, blues and greens were juxtaposed with South-American tribal and Egyptian-influenced prints, creating an exotic feel. The designer also integrated the high-waisted bottom in a number of pieces. Combined with the vibrant colors and tribal prints, the high waist gave a final touch of '70s bohemian chic to the collection.
Just as adventurous as her color and print choices was her detailing. From slashing the sides of suits to adding beading, there's no doubt that Hoffman's swimwear was designed to wow from both afar and up close.
While the swimsuits were the focus of the show, Hoffman's cover-ups definitely shared the limelight. Dresses, tunics, wraps and even pants all made a splash. From light and flowy full-length resortwear to long, fitted skirts, these cover-ups were made to take you from the beach to dry land looking as chic and sophisticated as ever.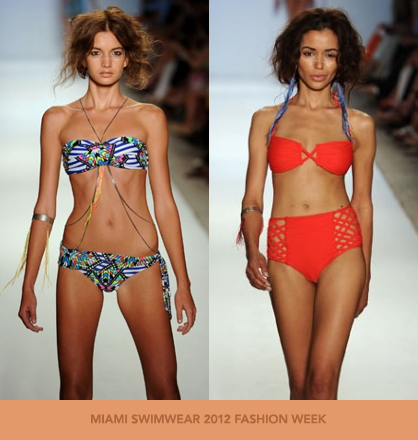 via Mercedes-Benz Fashion Week Swim
With her bright, bold and beautiful designs, Mara Hoffman's designs truly epitomize swim fashion.
This article was contributed by Dani Smith. To read more from Dani, follow her adventures on Twitter at @Danilaexoxo.
Tagged in: fashion week, swimwear, runway, swimsuits, swim, miami, miami swim, mara hoffman, 2012, miami swim fashion week, hoffman,