Sneak Peek: MIKOH Swimwear 2011 Collection
At the end of November, MIKOH Swimwear, a company run by two surfing sisters, will debut its second collection.
Known for their seamless bathing suits that are simultaneously simple and trendsetting, the 2011 line, titled "Mare Pacificum" ("Pacific Ocean" in Latin), incorporates two new elements: cover-ups and prints.
Their upbringing and their environment inspire sisters Oleema and Kalani Miller. Born and raised in San Clemente, Calif., both were professional surfers for Roxy in the '90s and early '00s.
"Growing up and living in bathing suits our entire life…that's where we got the idea to start something of our own," Oleema said.
Oleema handles the designs, and her sister covers the business side. Although they didn't go to school for pattern making, they learned the business through experience, living and breathing the swim-and-surf industry for most of their lives.
Oleema admitted that fashion has always been in her DNA.
"I was always into fashion and design," she said. "I always picked out my own outfits when I was little, which wasn't the best idea for my mom to let me wear them."
Their modern designs can morph to fit the style of almost any gal. The best part lies in the details – braided backs, falling strings or side cutouts make each suit one-of-a-kind. Oleema was excited about the additions to the new line, their only line for 2011.
"We didn't have cover-ups or prints in the first season," she said. "We kind of wanted to slowly grow the business and the line itself, and not have everything the first season."
True to their style, the prints are subtle and sophisticated – not busy, bright or trite – in cheeky hibiscus prints. The cover-ups are available in silk or rayon (sold for under $100), offering beachgoers an affordable option that keeps them chic while walking off the beach.
"When you go to the beach, the worst thing ever is when you have to leave the beach wearing your towel," she said. "I used to do that all the time!"
Swim sometimes seems like a market that's oversaturated. Hitting the department stores and trying to find the perfect bikini isn't just frustrating in the dressing room; it's hard to just scour through all the brands. Somehow the Miller sisters have managed to circumvent that curse and separate their brand from the rest.
"More than anything, there are so many swim brands out there. So we wanted to create a line that, when you put something on, you feel really special in it," she said. "It's not like one of those things where you throw it on and feel like everyone else at the pool."
It's also not a bad gig when your job involves a red-eye flight to a private island in the Bahamas, the location of their 2011 shoot.
"It was a dream come true," she said. "To have those opportunities to shoot and work with the photographer that we did… and the models and everything…It was the perfect shoot. It's crazy because I look at some of those photos, and the water looks almost fake because it's so pretty, but that's really what it looks like."
The girls spend a lot of time abroad: Both are dating professional surfers, and they manufacture all their suits in Bali. The 2011 line takes advantage of their travels by incorporating a little inspiration from places they've been, with names such as Santorini, Santiago and Bora Bora.
"It's fun to incorporate those memories we have of places and introduce them into an actual garment," she said.
Oleema found the name, Mare Pacificum, when she was researching images of the Pacific Ocean online. The sea took a major role in sculpting her designs, primarily in the printmaking, with images of kelp and tide lines featured in the new collection.
The sisters are grateful for how far along they've gotten in the last year, with their pieces appearing in magazines and being used in photoshoots. This October they landed their first cover: LeeAnn Rimes on the cover of Shape Magazine.
"I have to remind myself day to day to stop and realize how lucky I am to get to do what I do," the designer said.
What's next?
The designer is working on her 2012 collection and wouldn't say much about it except: "It's definitely the same aesthetic. We're going to revisit another favorite place."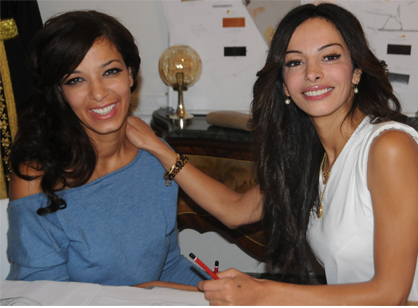 Oleema and Kalani Miller
You can show the Mikoh 2011 Swimwear collection at Shopbop.com.
Tagged in: lux exclusives, lifestyle, swimwear, travel, resort, swim,