Milan Fashion Week Spring 2012: Dolce & Gabbana
The '50s are definitely alive and well for Spring 2012, reported by Style.com. At Milan Fashion Week, retro silhouettes popped up all over the runways, including Dolce & Gabbana's. Domenico Dolce and Stefano Gabbana had plenty of eye candy in their collection, creating a fun flair by juxtaposing amusing vegetable prints and dark ladylike glamour. Leave it to the Italian duo to somehow make vegetables delicious and chic all at once.
The Spring collection celebrated the feminine and flirty styles of the '50s with classic A-line skirts, fit-and-flare dresses, slim-fitted suits and hourglass silhouettes. There was no shortage of sexy bloomers paired with bra tops, and boxy jackets with pencil skirts and dresses. Whether cocktail ready or polished, Dolce and Gabbana revived the decade perfectly.
The show kicked off with a serving of oversized vegetable prints. Zucchini, tomato, chili pepper and eggplant prints paraded down the runway in vibrant red, orange, yellow and green. Blasted all over the '50s silhouettes, the kitschy prints were fashioned into matching produce ensembles, as well as contrasting mix-and-match print suits.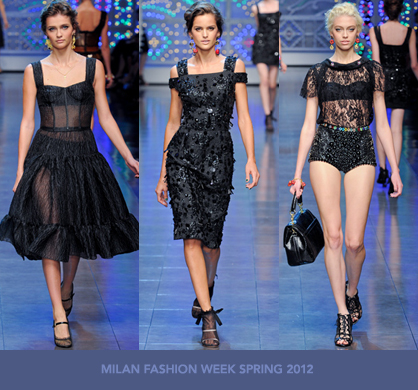 LadyLUX via Style.com
Veggie looks gave way to seductive dark glamour in the second half of the show. The same classic silhouettes turned into a different type of sophistication, with ladylike looks in all-black materials such as eyelet lace, sheer mesh, crochet and brocade. Cocktail dresses and swing coats were further embellished with beaded fringe, sequins, ruffles and floral appliqué. The finale of the show took the adornments to the next level with colorful gem-encrusted corsets and sleek dresses.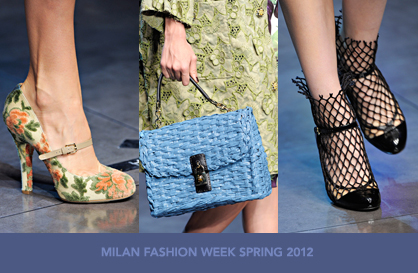 LadyLUX via Style.com
The finishing touches of footwear and accessories seamlessly combined the two worlds of vegetables and glam. Looks were dressed up with sheer lace-up booties, mary janes in prints or with mesh cover-ups, wicker wedges, velvet pumps and chunky platforms.
For bright styles, matching charm bracelets of chili peppers and farfalle pasta combined with garlic clove earrings kept looks playful. On a darker note, long gloves and crochet handbags with fur trim exuded a polished feel.
The sharp contrast between the two themes is perhaps something only Dolce & Gabbana could pull off. The vegetables may not seem like typical inspiration, but the vibrant prints could easily become the next floral.
This article was contributed by Annette Tang of the Versastyle. You can follow Annette and her fashion adventures on Twitter at @theversastyle.
Tagged in: spring 2012, runway, milan, milan fashion week, domenico dolce, stefano gabbana, dolce & gabanna,