Milan Fashion Week Spring 2012: Emilio Pucci
It's a well-known fact that sex sells, and Peter Dundas clearly knew this when creating Emilio Pucci's Spring 2012 line, reported Style.com. The world got a sneak peak of the Gypsy-inspired collection at the Emmys, when Gwyneth Paltrow wore the midriff-baring top and peasant skirt, a signature look from Pucci's runway collection at Milan Fashion Week. Some hated the look, others loved it, but nonetheless, the collection hit the mark with its new trends for the season.
Nomadic groups may have inspired the line, but the craftsmanship was still at couture-level Pucci standards. The crop tops in variations of shoulder-baring peasant tops, capped sleeves or corsets were sexy with lace insets, lace trims and intricate beadwork. Flowing, floor-length skirts and trousers went sheer with matching beaded patterns. Tulle, sheer mesh and lace dramatically combined for the final number: a skirt-tiered wedding gown that could have passed as vintage. The long-sleeve stunner was finished with a sash belt tied into a bow.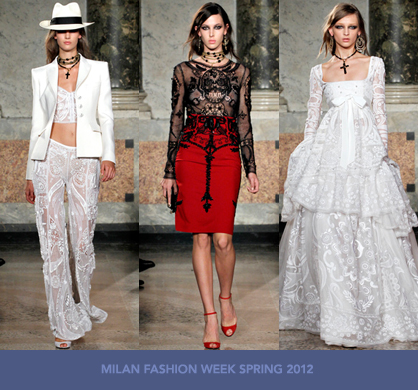 LadyLUX via Style.com
See-through materials and beads aside, Dundas also took a more traditional Gypsy approach, choosing ethnic prints and patchwork in bright yellow, red, green and blue. The prints and patchwork created long-sleeve bodycon and asymmetrical slip dresses, blouses and sash belts for loose-fitting Bermuda shorts.
Endowing a gothic vibe through the lace, gypsy looks were styled with edgy cross chokers wrapped around the neck repeatedly. Single sole sandals maintained the dark mood with super strappy intricate uppers, while patchwork made an appearance again in multicolor snakeskin clutches.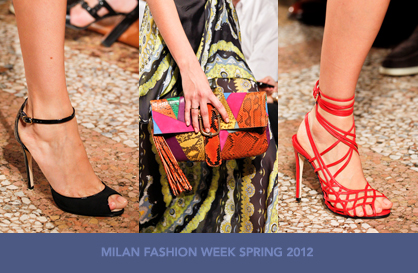 LadyLUX via Style.com
Accessories were also kept simple. Sandals had unadorned vamp coverage and ankle straps. Handbags featuring basic chains straps offered a classic touch, and patent leather combined with wicker for a boxy crossbody bag.
Dundas tackled the Gypsy theme and made it fashionable, and, without a doubt, is fashions will score many more appearances on the red carpet.
This article was contributed by Annette Tang of the Versastyle. You can follow Annette and her fashion adventures on Twitter at @theversastyle.
Tagged in: spring 2012, runway, emilio pucci, milan, milan fashion week, peter dundas,