Milan Fashion Week Spring 2012: Runway Wrap-up
Milan is one of the fashion capitals of the world, and the Spring 2012 runway shows are surely why. With endless catwalk shows from fashion power houses including Gucci, Roberto Cavalli, Dolce and Gabbana, and Versace, there are enough trends that you may be left confused rather than inspired. Luckily, LadyLUX has broken it down for you and picked some of the best trends to be part of your new Spring wardrobe.
Back interest
Focusing on the back details of tops, designers created intricate straps, ruching and patterns for some extra surprise kick. Front sides had minimal design, maintaining simplicity and providing a wow-factor. Fendi took a strappy, knotted approach, while Bottega Veneta chose a ruched, cross-strapped design. Intertwining luxurious material, Gucci created a cutout effect.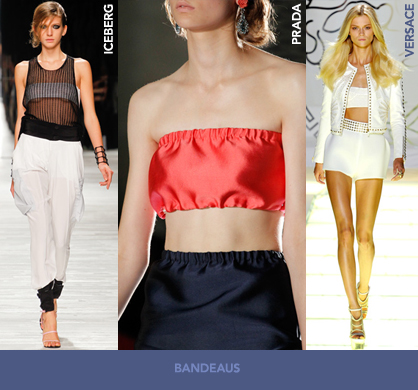 LadyLUX via Style.com
Bandeaus
Flirty with a1940s retro vibe, bandeaus were a popular choice for the Spring runway. Paired with high-waisted skirts, shorts or pants, the tiny top made for some chic outfits. Bandeaus were also the perfect cover-up answer to see-through mesh tops, still producing some sex appeal.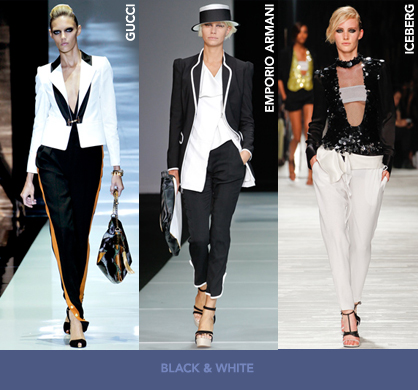 LadyLUX via Style.com
Black and white
There is nothing more stylish than black and white. Designers crafted sleek looks by pairing black blazers with white pants or vice versa. Perfect for minimal sleekness, black and white was also used to create contrast with trims, collars and accessories.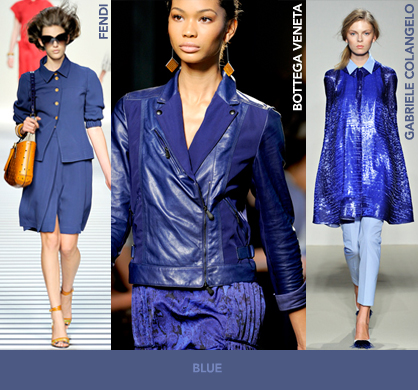 LadyLUX via Style.com
Blue
Blue is the color of the runway this season. From light shades to vibrant cobalt, blue was exhibited in head-to-toe monochrome ensemble dressing. The bright color appeared in cropped cigarette pants, A-line skirts, tough leather jackets, sophisticated button-ups and even plastic cape dresses.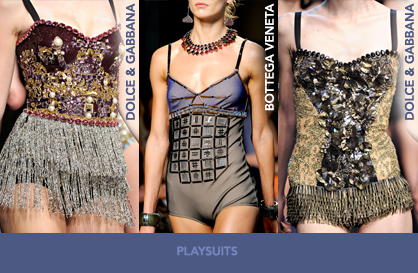 LadyLUX via Style.com
Playsuits
Popular in the 1970s, the playsuit is making a comeback. Part lingerie, part shorts, the flirty silhouette appeared on Bottega Veneta and Dolce and Gabbana's runway. Playsuits were adorned with beads, sequins and fringe for a glamorous touch. To add this runway look to your wardrobe, try styling with wide-leg pants or slim trousers.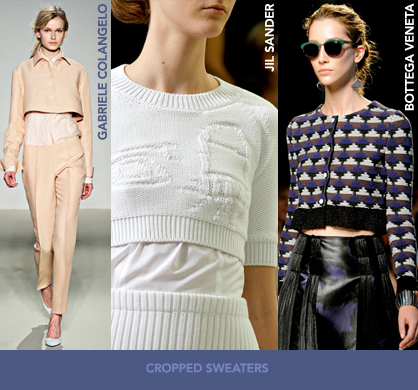 LadyLUX via Style.com
Cropped sweaters
Cropped tops are back this season in a big way and are the perfect way to wear sweaters during spring. Shortened styles came in all colors and prints, working well with fit-and-flair skirts, sleek pants or even worn over maxi dresses. The cropped sweater can be worn by itself, over long tees or layered over button-up shirts for a preppy ensemble.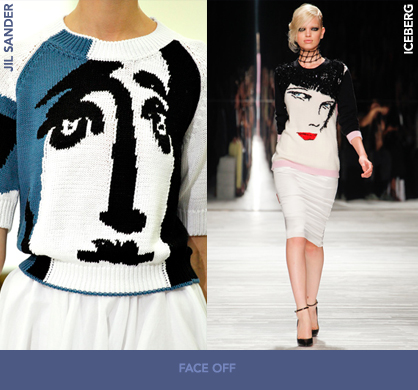 LadyLUX via Style.com
Face off
Gorilla, dog and alligator faces have been seen all over the runway and streetstyle, but now people are getting a turn. Jil Sander and Iceberg crafted an artistic look by using abstract faces prints on sweaters and long-sleeve knits. Sander's hand-drawn melting face was a direct homage to Picasso and was paired with a midcalf-length skirt. Iceberg's version had a more contemporary vibe and referenced actress Charlotte Rampling.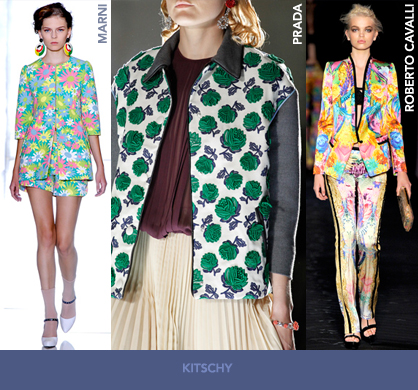 LadyLUX via Style.com
Kitschy
Displaying bright floral prints, eccentric Palm Beach kitschy prints were apparent in boxy jackets, ensemble suits and feminine dresses. There was no shying away from some serious color or a mix of colors. With kitsch, citrus color palettes were key. Prints appeared more playful paired with white, as Marni did. Roberto Cavalli trimmed the loud prints with black for a glamorous evening appeal.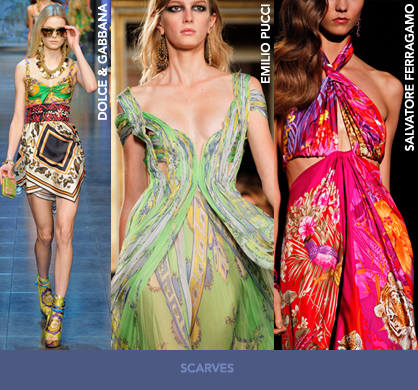 LadyLUX via Style.com
Scarves
Prints played a major role in Milan Fashion Week, and printed scarves were on the top of the list. Designers used printed scarves to create all kinds of dresses, tops and skirts with a nod to '90s luxury. The scarves were wrapped, tied, ruched and combined for every silhouette imaginable.
LadyLUX via Style.com
Shoulder cutouts
Shoulders are sexy and for Spring 2012, designers highlighted the modest body part with peek-a-boo cutouts and slits. Gianfranco Ferre's designs took a more progressive approach with a shoulder slit on one side and sleeveless on the other, while Fendi's version left just enough skin showing for a subtle effect. Blouses showed the sexy style, and for a fresher take, blazers also displayed cutouts.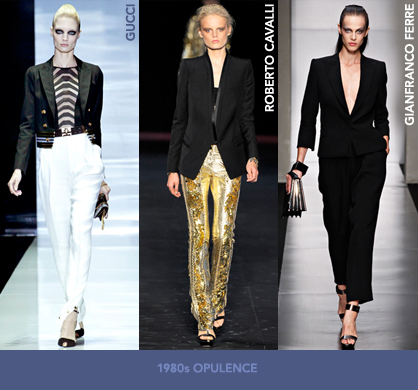 LadyLUX via Style.com
1980s Opulence
Gucci, Roberto Cavalli and Gianfraco Ferre were all onboard with bringing back the glamorous days of the 1980s. During this time of extravagance, shiny gold, sleek black and clean lines were crucial to achieve glam with a hard-edge. Designers looked to Gianni Versace for vintage inspiration, fashioning looks that were tailored, streamlined and fuss free.
This article was contributed and photographed by Annette Tang of the Versastyle. You can follow Annette and her fashion adventures on Twitter at @theversastyle.

Tagged in: trends, gucci, spring 2012, runway, fendi, versace, milan, milan fashion week, guide, roberto cavalli, marni, emporio armani, jil sander, bottega venta, gianfrance ferre, iceberg, dolce & gabanna,