Mishka Piaf designer Michael David Wilson talks jewelry, must-haves and more
At barely three years old, jewelry brand Mishka Piaf has caught the attention of editors, stylists and celebrities with its flair for drama. Behind the over-the-top style and success of the line is the talented Michael David Wilson, a one-man team who not only designs the stunning pieces, but handcrafts each one and coordinates marketing and PR for the brand. He could easily be described as a whirlwind of energy, but it's that energy that got him to where he is: adorning supermodel Naomi Campbell in Mishka Piaf jewels for the cover of Schön! Magazine, creating masterpieces for Britney Spears and Azealia Banks, and styling jewelry for actress Jordin Sparks on Teen Vogue.
As ecstatic as Wilson is about his success, he remembers to stay grounded and never take his opportunities for granted. The designer is currently looking ahead to pave his future with half a dozen brewing ideas, including campaigns featuring hairy men, who he insists are the latest craze.
In between his hectic schedule of meetings and before he takes off for some globetrotting, Wilson stops by LUX headquarters to enjoy sweet treats, jewelry fun time and a lighthearted Q&A.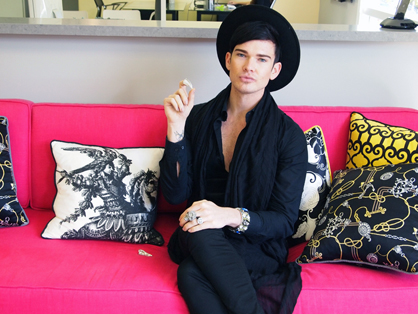 Michael David Wilson
LL: What are five things you can't live without? Must-must-haves.
MP: My iPhone – I'm a phone freak. Everything is on my phone – my eyebrow gel, my mascara, my passport, my checkbook. And of course Mishka Piaf jewelry! Six things!
LL: You are going on vacation for a month or so. What are your plans and where are you going?
MP: It's really a business trip. I say vacation but it's business. Being away is the "vacation." I'm going to China, Taiwan, India. I need to go back to the Middle East in the next few months too – Dubai, Lebanon, Jordan. I think that's it for the year.
LL: That's all you say.
MP: Last year was crazy too.
LL: What have you done this summer so far? How have you been spending your summer days when not slaving away for jewelry?
MP: Honestly, in the past two weeks I just realized its summer. I've done photo shoots.
LL: Fun things! Not work!
MP: I don't do fun things! I go to the spa or rent classic films but I don't do much. Fun is work.
LL: That's an honest answer. What is your closet like? Describe it and all the goodies inside.
MP: Well, there was an extra bedroom, which was the gym but we took everything out and now it's my closet. I have tons of fur, leather jackets, a couple pairs of high heels that I love – Yves Saint Laurent pumps, Christian Louboutin and some crazy Finsk wedges. I love to vacuum in those.
LL: Love Finsk! You should always vacuum in heels; that's what they're there for!
MP: They work out the leg perfectly! I love dancing in the mirror and making a mess in my closet. I'll try things on: heels, heels, heels, blow dryer, blow dryer! Just crazy. Fashion!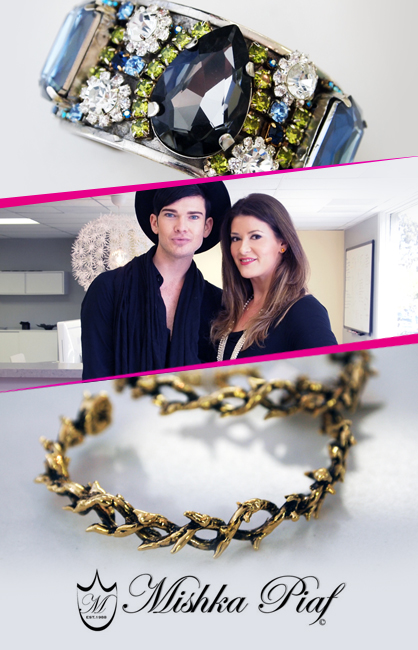 LL: What is your "Can't live without piece"?
MP: Umm…hmm…
LL: These are meant to be fun not hard!
MP: I know, I just love everything, but my favorite isn't something to wear. It's my Versace bedding. It's my favorite because I can take pictures of myself and have this beautiful print in the background. And the only two people I know with the same classic Versace "V" pillow are the closest people in my life. I went into my stylist's home and I saw the pillow and said, "I have the same pillow!" We connected eyes and we knew we're soul mates.
LL: Soul mates via Versace.
MP: Yes!
LL: What are three things people don't know about you?
MP: I have a huge social anxiety. I will show up to places but I don't like to be around a lot of people at once.
LL: That's funny that you say that considering your job.
MP: I know - especially around men, but women are ok. They know how to express themselves. Social anxiety when I have to go to events. I hide behind makeup and beautiful clothing and people think, "Oh he's too good for everyone." But I'm not.
I'm also a very sensitive person despite that I spill out this image of power and confidence.
LL: One more.
MP: I love getting in trouble.
LL: I love how you say that after you say you have social anxiety and are shy. How so?
MP: Driving. I never look at the speed. If there is a party, I make sure everyone around me is partying extremely hard till the sun comes up. Just fun stuff.
LL: What are three random talents that you have?
MP: I was a figure skater. I did it for three years. I can do double salchows. My teacher was Russian though so I never knew the correct terms. I just learn from example. It got scary towards the end though. I won't push myself through certain things. I see the metal on my feet and I see images of blood. I used to be a professional equestrian show jumper. I was riding since I was eight until my teens.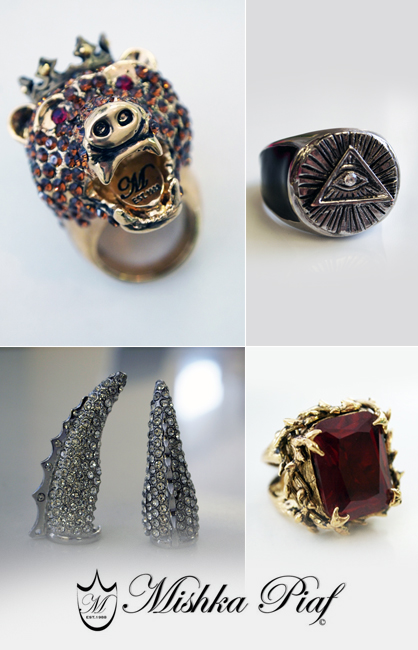 LL: That's amazing and really random. What were your horses' names?
MP: I had Dudley, which was the first one. Player was my number one horse from Australia. He had these branding marks on him like tattoos – very sexy. People thought he was insane but I loved his intensity and he would clear jumps by a foot. Brabus was the last one from Germany. He was very strong but had no sensitivity so I couldn't deal with him. After him I thought, "Let's get a car and start driving."
LL: One more.
MP: I can quickly understand different languages without ever speaking it through hand gestures and tone of voice. I used to live in Japan in the summers because my aunt was a teacher there. So I would stay there and watch Japanese cartoons. By the time I would leave I could understand these stories. I can use this in Italy, everywhere.
LL: Who is the most inspiring jewelry designer that you look up to?
MP: I have a few. I love Alexis Bittar. First of all, he's handsome and his work is beautiful. The team of Chanel jewelry – love them. And Peter Cark Fabergé.
LL: What do you have planned for next season for Fall 2013?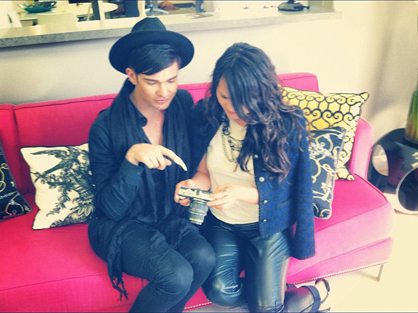 MP: I think I am bringing fantasy into reality: majestic creatures, sirens, a little more sexual – as far as some of the necklaces will be sharp points coming down to the cleavage to emphasize what is where. I am very last minute with my ideas so we will see.
LL: We met last year at Fashion's Night Out. What are your plans this year?
MP: We did! You looked so fabulous! We were gorgeous! This year, I will be traveling still so I will have to look up what is going on.
Tagged in: lux exclusives, jewelry, necklace, rings, earrings, jewelry designer, laguna beach, handmade jewelry, michael david wilson, mishka piaf,